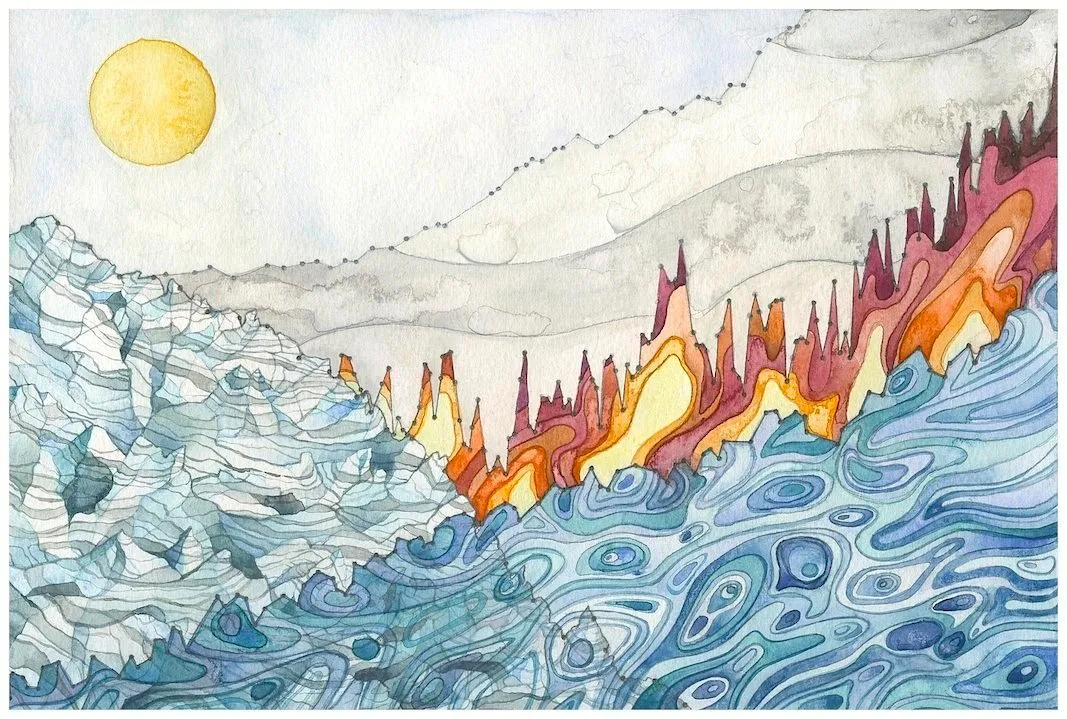 (Artwork: 'Landscape of Change,' by Jill Pelto, and found here.)
Sunshine and heat this late-afternoon Thursday here in California's Central Valley — today is one of the steps on a rising-temperature stairway we're going to experience in the next couple of days. Although we're in the high 80s right now, maybe triple digits by Saturday.
Preview to a supposedly way-hot, more-than-unusual summer, kicking off officially calendar-wise just next week.
And to escape the shitty,  orange-flavored news cycle of the T-Rump — I'm so freaking sick and tired of that fat ass peckerhead topping the news cycle and being shoved into our faces like a fart-fixated steam roller this past week, and all the outlying horror stories that buzz around it like flies on a pile of dog shit spattered unevenly on a hot sidewalk — and instead take another glance at some other shitty news on climate change, and that festering, rising heat.
Despite the science, T-Rump and Republicans are not only in a fight to end American democracy and freedom as we know it, but also to stifle/straddle/siphon-off anything having to actually do with preventing or halting our planet's rising temperatures — either outright climate-change denial or just bullshit-pretend concerns, MAGA asses are deeply-dangerous to all Americans and in the really, really short, long run, all of humanity.
An example is Mike Pence claiming the climate-change situation is being exaggerated — via The New York Times last weekend:
His (Pence) response reflected what has become a pattern among Republican officials. Many of the candidates acknowledge that climate change is real, in contrast to party members' years of outright denial. But they have not acknowledged how serious it is, and have almost universally rejected the scientific consensus that the United States, like all countries, must transition rapidly to renewable energy in order to limit the most catastrophic impacts.
And the T-Rump: 'He rolled back more than 100 environmental regulations, mostly aimed at reducing planet-warming emissions and protecting clean air and water; appointed cabinet members who were openly dismissive of the threat of climate change, including Scott Pruitt as head of the Environmental Protection Agency; and withdrew the United States from the Paris Agreement, under which almost every country had committed to try to limit warming to 2 degrees Celsius above preindustrial levels.'
So the environmental fight is waging, not only on the political, democratic front but also in our quick shift to extreme weather brought about by climate change. And this year might be the start of something shitty bad — the El Nino climate phenomenon has officially arrived, raising fears of extreme weather and more temperature records.
Climate and weather are indeed a hot-rising subject — just today via France24:
"The world has just experienced its warmest early June on record, following a month of May that was less than 0.1 degrees Celsius cooler than the warmest May on record," said Samantha Burgess, deputy director of the Copernicus Climate Change Service (C3S).

"Global-mean surface air temperatures for the first days of June 2023 were the highest in the ERA5 data record for early June by a substantial margin", Copernicus said. Some of the unit's data goes back as far as 1950.

Copernicus recently announced that global oceans were warmer last month than in any other May on record
The future is right now:
"The long-term trend is not going to stop. We are stair-stepping up on our way to much warmer oceans and a much warmer climate."@Weather_West explains how #ElNino, #ClimateChange & bad luck have conspired to fuel extreme weather lately.

cc @zteirsteinhttps://t.co/GoJJFguSxP

— SEI Climate (@SEIclimate) June 15, 2023
Informative piece at Grist from Tuesday:
Experts say recent extremes are being influenced by a hodgepodge of distinct factors. Climate change is involved, but natural variations in global weather, and an unfortunate dose of serendipity, are also at play.

"Global warming itself hasn't suddenly accelerated this year," Daniel Swain, a climate scientist at the University of California, Los Angeles, said in a live briefing on Monday. "Part of what's going on is random bad luck."

Last week, the U.S. National Atmospheric and Oceanic Administration announced that El Niño conditions — above average sea-surface temperatures that spur higher-than-usual warmth in many parts of the world — were officially present in the Pacific Ocean. The swing from La Niña, El Niño's opposite extreme, to an El Niño means a much warmer year is in store for the entire globe. But the cycle, which is associated with extremes such as drought and severe storms, also has localized impacts. In eastern and southern Africa, the Horn of Africa, Latin America, the Caribbean, and parts of the Asia-Pacific region, El Niño can spur famine, outbreaks of infectious disease, and heat stress. The natural weather phenomenon may also be having an impact, Swain said, on record-breaking land surface temperatures in Canada that have helped to fuel its devastating fire season so far.

At the same time, scientists have been keeping tabs on a separate phenomenon unfolding in the Atlantic Ocean. Temperatures in the Atlantic hurricane region have been anomalously high for three months now. They are currently 82 degrees Fahrenheit on average — 35 percent higher than a prior record set in 2005.

"There has never been any day in observed history where the entire North Atlantic has been nearly as warm as it is right now," Swain said. The rest of the Atlantic Basin — the Gulf of Mexico and the Eastern Seaboard — is also warmer than average, which means an active Atlantic hurricane season may be on tap. Generally, El Niño suppresses hurricane activity in the Atlantic and leads to a more severe typhoon season in the Pacific, but above-average Atlantic Ocean temperatures may negate El Niño's dampening effects and fuel big Atlantic hurricanes this year.

[…]

The bad news is that climate change, which experts say contributed to the formation of this year's El Niño and may be behind the record-breaking ocean temperatures in the North Atlantic, is still churning in the background. It isn't going away anytime soon.

"The long-term trend is not going to stop," Swain said. "We are stair-stepping up on our way to much warmer oceans and a much warmer climate."
Another scare jolt:
"we're seeing numbers that aren't just off the charts, they're off the wall the chart is tacked to. It seems increasingly likely that 2023 will turn out to be the hottest year yet"https://t.co/fq6AvFbtr1 pic.twitter.com/QfWeT3WlEp

— Bill McKibben (@billmckibben) June 15, 2023
Noted climate activist McKibben is also worried — his Substack post this afternoon:
We've reached the scariest moment yet in the climate saga: I noted in mid-April that there were all kinds of signs that a rapid increase in global warming was underway, and every day since has borne out that warning. We now have truly remarkable data about sea surface temperature—across the world's oceans, and especially in the north Atlantic, we're seeing numbers that aren't just off the charts, they're off the wall the chart is tacked to. It seems increasingly likely that 2023 will turn out to be the hottest year yet, even though a true El Niño won't be fully underway till late summer or autumn.

All of this is terrifying—but far far worse is the fact that the world isn't reacting rationally to it. The fossil fuel industry and its financial backers are, if anything, backsliding: tearing up their modest promises to make some kind of actual change. The rapid warming over the next couple of years is likely to be our last opportunity to really act coherently as a civilization to reduce the magnitude of this crisis, and so far we are blowing it.
Go read the whole piece. Worrisome and doomscrolling personified without the doomscrolling.
Wild but CGI, which could be reality:
Disturbed, or not, yet here we are once again…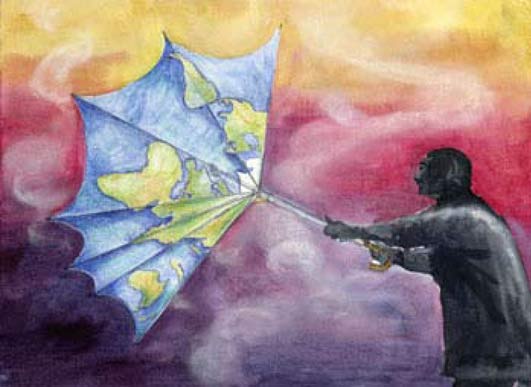 (Illustration out front from the UN's International Children's Painting Competition, and found here.)