As we await news on the submersible, known as "Titan," missing since Sunday on a sight-seeing trip to the deep-sea-sunken Titanic, there was a couple of incidents in the House today that kept the interests nauseatingly viable — both stories on the shittiness of House Republicans and their wayward agenda of spite and arrogant ignorance.
First off, a first time in a long-time for a censure of a House member, this time, Adam Schiff for having the audacity (and intelligence  — they didn't say) to investigate the T-Rump during his two impeachment cases a couple of years or more ago.
Oh, the "shame" of it:
NEWS—

House Republicans have SHAMEFULLY voted 213-209 to censure Rep. Adam Schiff to please their cult leader Donald Trump.

Republicans were livid that Schiff effectively investigated Donald Trump and exposed their party's criminal behavior.

This is an utterly disgraceful and… https://t.co/bJ4yC0NHCm

— MeidasTouch (@MeidasTouch) June 21, 2023
Details via The New York Times this afternoon:
The censure passed by a party-line vote of 213 to 209 with six Republicans voting "present." The measure had the backing of Speaker Kevin McCarthy after its lead sponsor, Representative Anna Paulina Luna, Republican of Florida, altered its language to remove a multimillion-dollar fine some Republicans viewed as unconstitutional.

"Adam Schiff launched an all-out political campaign built on baseless distortions against a sitting U.S. president," Ms. Luna said. The censure accused him of engaging in "falsehoods, misrepresentations and abuses of sensitive information" as he sought to unearth connections between Mr. Trump and Russia.

It is rare for a member of Congress to be censured, a punishment that amounts to a public reprimand. The House has censured members just 24 times in the chamber's history, and typically only after a finding of wrongdoing. Before Mr. Schiff, just two members of the House had been censured in almost four decades.

Democrats erupted in chants of "Shame!" at the Republicans after the vote, and surrounded Mr. Schiff in a protective circle as he walked to the well of the House to receive the censure. Representative Eric Swalwell, Democrat of California, called out that the proceedings were a "disgrace."

Five of the six Republicans who voted "present" are members of the Ethics Committee. Such a vote is traditional to maintain independence in such cases for ethics panel members, who would have the task of investigating Mr. Schiff.

Mr. Schiff, who is seeking a Senate seat and has cited the censure against him in fund-raising efforts, said he was being made a target solely because he had stood up to Mr. Trump.

Mr. Schiff led the first impeachment prosecution against Mr. Trump and served on the House committee investigating the Jan. 6, 2021, attack on the Capitol.

"You honor me with your enmity," Mr. Schiff told the Republicans from the House floor, pointing out that Mr. Trump had been indicted over charges that he mishandled classified documents.
Turnabout is fair play, at least according to House Republican nutters, who are aching to impeach Joe Biden and others in his administration, as per Lauren Boebert seeking an impeachment vote on Biden this week. At the same time, similar MAGA nutcase Marjorie Taylor Greene wants to do the same to FBI Director Christopher Wray. Funny, though: Boebert and MTG are feuding over who is the biggest piece-of-shit from a tiny space in the House. I say Boebert.
Feud of the f*ckless:
Saw this one coming. It's been building for a long, long time. This movement will tear itself apart because they are all narcissistic, attention-starved, serial grifting, psychos. https://t.co/0ZWvGmCfuu

— Ron Filipkowski (@RonFilipkowski) June 21, 2023
Today they went full-on 'Mean Girls' out in the open — via The Daily Beast:
According to two sources that saw the exchange and a third familiar with the matter, the back and forth began when Boebert approached Greene—then seated in the chamber—and confronted her over "statements you made about me publicly." All three of the sources said Greene called Boebert a "bitch." One of the sources said Greene called her "a little bitch."

According to two of the sources, Greene then stood up and alleged that Boebert "copied my articles of impeachment," to which the Colorado lawmaker fired back that she hadn't even read Greene's resolution.

"I've donated to you, I've defended you. But you've been nothing but a little bitch to me," Greene told Boebert, according to a source who witnessed the exchange. "And you copied my articles of impeachment after I asked you to cosponsor them."

The name-calling was confirmed by another GOP lawmaker and another source who witnessed the exchange.
Meanwhile, in another corner of the House — per Mediaite:
Fox News legal analyst Jonathan Turley said John Durham looked about as "comfortable as a Benedictine monk in a strip club" while testifying before Congress.

John Durham — the special counsel appointed by Trump Attorney General Bill Barr to investigate the origins and conduct of the Trump/Russia investigation — testified at a contentious House Judiciary Committee hearing Wednesday.

Durham's report generated wildly disparate reactions in the conservative and non-conservative media and agreement from legal experts like Mediaite founder Dan Abrams that there was no "knockout punch" against the FBI, and most of the problems identified in it were remedied following an OIG report. But lawmakers on both sides made clear they weren't done litigating the issues in that report.
Another day in the life of democracy in peril.
Mean girl bitch:
Freedumb, or freedom, or not, yet here we are once again…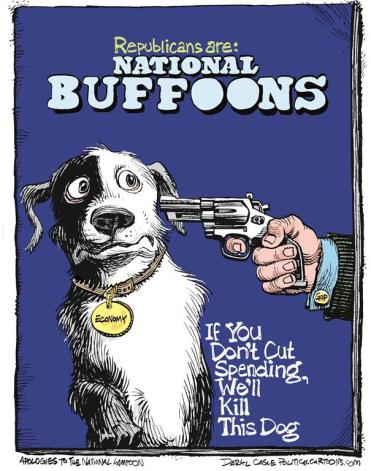 (Illustration out front by Daryl Cagle and found here)