Cool despite the heat this noon Wednesday here in California's Central Valley. We're in a brisk, wonderful respite from hot-as-shit temperatures this week (high today in the low 90s), all made nicer still by a crisp, sweet breeze. When that 'breeze' evaporates, though, that sunshine starts to quickly scorch and the only livable space outside is in the shade.
In a few days, however, the insidious summer routine is expected to return with a vengeance — a triple-digit thermal reading creates scorching misery and suffering.
Yeah, I'm a baby — a whine-cry of woe while the earth is being highly kindled.
Climate change is starting to literally have a field day.  This summer is apparently the opening gate to an accelerating shift in heat from high, to higher still — records are created to be broken, and then, broken again.
The problem is that the whole affair is man-made, from years and years in front of the warming, and now here at the dead end:
Let's be clear: GOP and conservative climate change deniers and do-nothings are endangering us all. They are a threat to the human ecosystem. https://t.co/aVwUtKvzuY

— David Corn (@DavidCornDC) July 5, 2023
Nutshell via Axios this morning: 'The globe set a record for the warmest June since at least 1940, new and emerging climate data shows, obliterating the previous milestone from 2019. Separately, the globe set new single day records for the hottest day yet measured, on July 3 and 4.'
Further via the Guardian, also this morning:
World temperature records have been broken for a second day in a row, data suggests, as experts issued a warning that this year's warmest days are still to come – and with them the warmest days ever recorded.

The average global air temperature was 17.18C (62.9F) on Tuesday, according to data collated by the US National Centers for Environmental Prediction (NCEP), surpassing the record 17.01C reached on Monday.

Until the start of this week, the hottest day on record was in 2016, during the last El Niño global weather event, when the global average temperature reached 16.92C.

On Tuesday, the World Meteorological Organization, the UN's weather body, confirmed El Niño had returned. Experts predicted that, combined with the increased heat from anthropogenic global heating, it would lead to more record-breaking temperatures.

"El Niño hasn't peaked yet and summer is still in full swing in the northern hemisphere, so it wouldn't be surprising if the record were broken again in coming days or weeks," said Dr Paulo Ceppi, a lecturer in climate science at the Grantham Institute, Imperial College London.

Dr Karsten Haustein, a research fellow in atmospheric radiation at Leipzig University, said: "The coming days will probably see a small downturn, but since the annual global temperature maximum is at the end of July, more days are likely to be warmer than yesterday (given that El Niño is now pretty much in full swing) …

"Chances are that the month of July will be the warmest ever, and with it the hottest month ever … 'ever' meaning since the Eemian, which is indeed some 120,000 years ago."

[…]

"The temperatures creating these record-breaking days match exactly expectations under human-caused climate change," said Ilan Kelman, a professor of disasters and health at University College London's Institute for Risk and Disaster Reduction.

"As the rising temperatures drive worsening heatwaves, including terrible humidity, we expect to see substantial increases in related deaths. Many people cannot afford indoor cooling and some people must be outside for work. Heat-humidity then becomes the silent killer, since we often do not realise how many people are in lethal difficulty, especially when it does not cool down at night."
Despite actual reality, Republicans are horribly catastrophic not only for democracy but all of humanity's well-being, too (The Hill, also this morning):
Climate change has become personal, with slightly more than four out of ten registered voters agreeing with the statement: "I or my immediate family have been negatively impacted by strange weather." One can only assume that number has risen after recent events.

It's a message Republicans don't seem to have heard. With their new majority, congressional Republicans made the decision to pick a high-profile fight over energy and climate change right out of the gate with H.R. 1., their pro-fossil fuel energy bill. They proposed in their debt ceiling bill to roll back the clean energy components of the Inflation Reduction Act.

Republicans clearly think this is a winning political issue for them. The National Republican Congressional Committee recently circulated a memo signaling its intention to use votes against H.R. 1 to go after vulnerable Democrats. Meanwhile, Republicans such as Sen. Ron Johnson (R-Wisc.) continue to blithely dismiss the threat of climate change.
And a lead into another frightful, environmental-red-flag scream:
"June 2023 may be remembered as the start of a big change in the climate system, with many key global indicators flashing red warning lights amid signs that some systems are tipping toward a new state from which they may not recover." https://t.co/HjuUjIShjD

— David Wallace-Wells (@dwallacewells) July 4, 2023
Scary details via Inside Climate News from yesterday:
June 2023 may be remembered as the start of a big change in the climate system, with many key global indicators flashing red warning lights amid signs that some systems are tipping toward a new state from which they may not recover.

Earth's critical reflective polar ice caps are at their lowest extent on record in the satellite era, with the sea ice around Antarctica at a record-low extent by far, spurring worried scientists to share dramatic charts of the missing ice repeatedly. In the Arctic, the month ended with the Greenland Ice Sheet experiencing one of the largest June melt events ever recorded, and with scientists reporting that June 2023 was the hottest June ever measured, breaking the 2019 record by a "staggering" 0.16 degrees Celsius.

"With the record warmth in June, 2023 as a whole is now the odds-on favorite to be the warmest year on record," climate scientist Zeke Hausfather wrote on Twitter.

Globally, the oceans set records for warmth on the surface and down to more than 6,000 feet deep throughout the month, with temperatures so far above the norm that the conditions elicited more graphs showing the anomaly. They've been shared thousands of times by scientists, policymakers and the public. And in Canada, forest areas about the size of Kentucky have burned, choking huge swaths of central and eastern North America with acrid wildfire smoke, with some of the haze even reaching Europe.

There was record-breaking heat on nearly every continent during the month, according to independent climate statistician Maximilian Herrera. Along with the deadly late June heat in Mexico and the South-central United States, extreme readings have been widespread in remote Siberia, with hundreds of daily heat records, including readings higher than 95 degrees Celsius close to the Arctic Circle. "The heat will just get worse," he posted on Twitter.

[…]

"These extraordinary extremes could be an early warning of tipping points towards different weather or sea ice or fire regimes," said University of Exeter climate researcher Tim Lenton. "We call it 'flickering' when a complex system starts to briefly sample a new regime before tipping into it. Let's hope I'm wrong on that."

In the meantime, the tropical Pacific Ocean is shifting into the warm El Niño phase of a two- to seven-year Pacific Ocean cycle that can boost the average global temperature by 0.2 degrees Celsius, enough to stoke the planet's fever to a dangerous new high.

"The onset of El Niño will greatly increase the likelihood of breaking temperature records and triggering more extreme heat in many parts of the world and in the ocean," said World Meteorological Organization Secretary-General Petteri Taalas. "Early warnings and anticipatory action of extreme weather events associated with this major climate phenomenon are vital to save lives and livelihoods."
Other than that, what the shit?
And CGI into actuality:
Beach-front property, or not, yet here we are once again…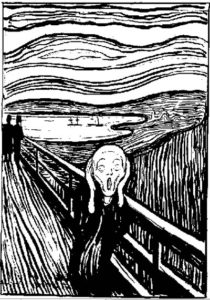 (Illustration out front: Edvard Munch's 'The Scream,' lithograph version, found here.)