Misintentions turning into a hoax upset the InterWebs yesterday and suckered me this morning.
Off this tweet:
?????????

Friday Fun: Mike Pence takes a direct hit from a water balloonpic.twitter.com/loeMq9p52X

— Roshan Rinaldi (@Roshan_Rinaldi) July 14, 2023
In my context, during my early news scroll routine this morning, I came across the tweet at Balloon Juice supposedly depicting Mike Pence getting hit in the head with a water balloon — wonderful, and such a scene couldn't have happened to a nicer asshole. And the girl's delivery was so freaking-fucking right on target.
And the cosmic coincidence for me of the two 'balloons.'
So enthralled, a blog post with this tweet as 'art' would be so in line — I copied/pasted the tweet and then worked to add text or maybe some other 'art' to accompany it.
However, as I surfed about the InterWebs, I discovered from some source or another, can't recall where, that the guy in the picture wasn't actually Pence, but some other political guy from Long Island.
I deleted the whole business and started a new post which was the one published about noonish.
However again, I found out this afternoon after surfing about, the Interebs was duped, too, bigly.
Via Mediaite last night:
In reality, the video was filmed at the annual Stewart Manor Fourth of July parade on Long Island, and the man who was pelted by the balloon is a local government official of Nassau County. It is reportedly a tradition at the end of the parade for firemen, officials, and families in attendance to engage in a water balloon battle.

Bruce Blakeman, the Nassau County Executive who actually got his head wet by the balloon, posted the video to Twitter on Wednesday along with a lighthearted joke about the young girl's incredible throw, "The Mets and Yankees could certainly use her!"
Blakeman's tweet:
The @Mets and @Yankees could certainly use her! pic.twitter.com/2U6HiOErq2

— Bruce Blakeman (@NassauExec) July 12, 2023
There are examples at the link of the InterWebs responding to it being Pence, for instance:
give this girl the cy young for hitting mike pence in the melon with a water balloon pic.twitter.com/vfurgNF8Z6

— belt sanderson (@avoidthehanoid) July 14, 2023
The fact-checking site, Snopes, rated the video as 'Miscaptioned.'
Duh! What can you say — way-most-likely we're all highly disappointed it wasn't Pence.
And to coax-hoax us out of this shit tale, an ancient Glenn Miller tune, 'Fooled,' and feeling sad:
Perfect-pitch strike three, or not, yet once again here we are…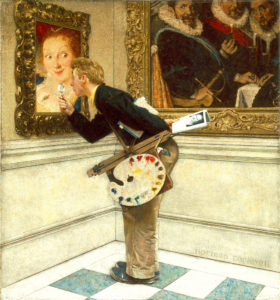 (Illustration out front: 'Art Critic' by Norman Rockwell, found here.)