Sunshine with an odd feel for autumn this noon Friday here in California's Central Valley — yet it's summer in a notable hot spot and yet what can you say?
In the near-avalanche of news items this morning on a shitload of topics, here's a view of the absurd, ludicrous and downright freaked — a quick view of why Ron DeSantis is a disaster of a politician.
Watch all the way to the end, hilarious the serious expectations of the dumb-ass folks in the background:
OMG this is hilarious. Casey strikes again! Good luck to the consultants trying to pry the mic out her hand this fall! pic.twitter.com/URYWnIDf0Q

— Ron Filipkowski (@RonFilipkowski) August 4, 2023
Even Ron himself appears bored, impatient, and sick of this shit. The entire Republican party is in the same fix– they are just babbling incoherently about nothing and really have no idea how to actually govern. The problem is there's way too much T-Rump and way too many T-Rumpers involved; there's now really nothing the party bigwigs can do about it.
T-Rump, of course, will run his own show no matter what.
A glance at the twisted, obnoxious blubberings — Casey DeSantis full scale — of how the T-Rump looks in the cloudy skies of the future. The GOP is fucked — via The Washington Post yesterday afternoon:
The strategy offers a small consolation to the former president, who spent Thursday suffering once again from the small indignities faced by indicted federal defendants. He was arraigned after roughly an hour-long wait inside a Washington courthouse just blocks from the site of the Jan. 6, 2021, attack at the U.S. Capitol by a pro-Trump mob. Trump spent the time occasionally rapping his knuckles on a table.

Trump has said that he wanted to subpoena people about the 2020 election and argue that he won, as prosecutors allege that he knew he lost and that his claims were false, according to people close to the former president, who like others spoke on the condition of anonymity to describe private conversations.

But the prospect of revisiting the validity of the last election has delighted Democrats, on top of causing consternation among Republican strategists, who see other, much more politically fruitful focal points for 2024. There are mountains of evidence — provided by top leaders in his campaign and government — that the election was not stolen from Trump, and the indictment paints a damning portrait of a man who was frequently informed of that reality.

By the time Trump left Washington on Thursday, after pleading not guilty, rain had started, and he left his car and was handed an umbrella by body man and co-defendant Waltine "Walt" Nauta, who then stood unprotected from the weather. Trump did not give a long, defiant speech as he did after the previous indictment, and he ignored shouted questions from reporters gathered on the tarmac.

"This is not the place that I left," he said.
In his face, Nancy Pelosi's message to Republicans:
Nancy Smash has said it's "heartbreaking" for the country with T-Rump's latest indictments, but what are you going to do?
Heartbreaking, or not, yet once again here we are…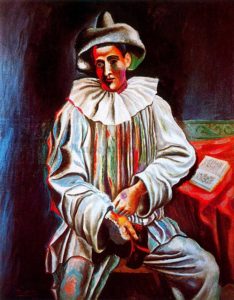 (Illustration out front: Pablo Picasso's 'Seated Pierrot,' found here.)