Even on the weekend, the legal wars of the T-Rump continue in a notice of how much a violent-inciting piece-of-shit the Orange Turd actually is within the framework of threatening people who oppose him.
Although just earlier on Thursday during his arraignment, the T-Rump was instructed/warned by Magistrate Judge Moxila A. Upadhyaya not '"… to try to influence a juror, or to threaten or attempt to bribe a witness or any other person who may have information about your case, or to retaliate against anyone for providing information about your case to the prosecution, or to otherwise obstruct the administration of justice,"' T-Rump went on his social media shithouse and did exactly that, not acting the I-don't-give-a-shit fool again, of course.
So early last night:
There it is.

Special Counsel has just alerted the DC federal judge about Trump's social media post today

====> pic.twitter.com/jRazFamTZb

— Scott MacFarlane (@MacFarlaneNews) August 5, 2023
If nothing else, T-Rump is habitual — via The New York Times:
The federal prosecutors overseeing the indictment of former President Donald J. Trump on charges of seeking to overturn the 2020 election asked a judge on Friday night to impose a protective order over the discovery evidence in the case, citing a threatening message that Mr. Trump had posted on social media.

By mentioning the incendiary post in an otherwise routine request seeking to keep Mr. Trump from making evidence public, the prosecutors in the office of the special counsel, Jack Smith, were drawing the attention of the judge, Tanya S. Chutkan, to Mr. Trump's longstanding habit of attacking those involved in criminal cases against him.
T-Rump's people responded the Truth Social post was (not with a satirical laugh, though) '"…the definition of political speech." ' Out there if nothing else.
Further on the filing: '"If the defendant were to begin issuing public posts using details — or, for example, grand jury transcripts — obtained in discovery here, it could have a harmful chilling effect on witnesses or adversely affect the fair administration of justice in this case," reads the filing, signed by special counsel Jack Smith.'
Yet apparently that 'political speech' bullshit didn't stick — Judge Chutkan's quick turn-around this morning:
WASTING NO TIME:

Judge Tanya Chutkan orders Trump and defense to respond by Monday to special counsel motion seeking order that Trump not post or disseminate evidence (including grand jury transcripts) from his 2020 election conspiracy case pic.twitter.com/SSoD60uhus

— Scott MacFarlane (@MacFarlaneNews) August 5, 2023
Notes on the frightful threats via former White House press secretary Stephanie Grisham: '"I think it's chilling … Legally it doesn't seem like it's very smart, but how is that not intimidation? What other people are going to take a message from that? … I just don't understand, does somebody have to get hurt before people take this kind of online intimidation seriously? … I know he's pointing out prosecutors, but as somebody who gets death threats every other day, it makes me nervous … It should make anybody who had ever spoken out against him nervous, and that's a lot of people."'
Further:
Smart move by Jack Smith here, getting Trump's threats into the record.

Trump lawyers are already trying to walk back the threat, but it's too late for that. https://t.co/O4waxYlERT

— Angry Staffer ? (@Angry_Staffer) August 5, 2023
Subtext via CNN:
Smith's team is also making the unusual request of asking the judge to impose the proposed discovery disclosure rules before allowing Trump's lawyers to weigh in themselves with a court filing. To explain why they were seeking such a maneuver, prosecutors outlined the back-and-forth they had behind the scenes with the Trump team over their proposed order. And they pointed to comments Trump's attorney John Lauro made at his arraignment Thursday stressing that the defense would not be able to propose a trial date or expected length, as the judge has requested, until they had a chance to review the scope of evidence involved in the case.

Smith's filing said that once US District Judge Tanya Chutkan approved their proposed protective order, prosecutors could begin turning over "a substantial amount of discovery" to the defense. The prosecutors argued that if Trump wanted to change the restrictions she approved, he could come back to the court to ask for the order to be modified.

The federal judge overseeing Trump's January 6 court case moved quickly on Saturday to respond to the prosecutors' motion requesting limits on what Trump's team can do with evidence that will be shared with them.

Chutkan ordered Trump's legal team to state its position on the motion by 5 p.m. ET Monday.
We'll see how this plays out in the short, long run. The shit will never stop until T-Rump is jailed, or dies, whichever comes first — either one would work.
Threats, or just inciting violence, or not, yet once again here we are…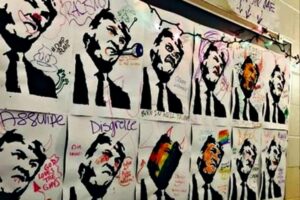 (Illustration out front is of a New York state high-school student exhibit: 'The piece was displayed during student-driven art show at Shenendehowa High School. It consisted of at least 12 identical black-and-white pictures of Donald Trump. There was also a sign above the pictures that read, "Draw on Me." Using markers from the art classroom, Isome students opted to scribble critical messages and profanities on the pictures' — and found here.)