Quick is apparently Jack Smith's motif in the T-Rump insurrection case.
In the 'Protective Order' filing for this afternoon, T-Rump's lawyers want as much shit possible to be made public (CBS): 'In a 29-page court filing on Monday, Trump attorney Todd Blanche and John Lauro argued for a much narrower protective order than Smith had proposed, saying "a less restrictive alternative that would satisfy any government interest in confidentiality while preserving the First Amendment rights of President Trump and the public."'
They can't win in the courtroom, so it must be played out in the public domain.
Bullshit says Smith:
Jack Smith's team files a quick reply to Trump's response to the motion for a protective order. Opening paragraph (below) says it all. pic.twitter.com/cefEYXjuyH

— Joyce Alene (@JoyceWhiteVance) August 8, 2023
T-Rump seems to have no way out of the courtroom.
JACK'S NOT WASTING TIME —

Special Counsel Jack Smith just FIRED BACK at Donald Trump's bizarre response to the DOJ's request for a protective order.

And he's not mincing any words.

We've got the full filing. https://t.co/jBj9xEfC3O

— MeidasTouch (@MeidasTouch) August 8, 2023
Details via Meidas Touch this evening:
Jack Smith wasted no time responding to Trump's filing earlier today requesting to weaken the DOJ's motion for a protective order over all discovery.

Smith's response claps back at Trump, stating bluntly that Trump wants to try the case in "the media rather than in court."

Smith goes on, "the defendant's proposed order would lead to the public dissemination of discovery material. Indeed, that is the defendant's stated goal; the defendant seeks to use the discovery material to litigate this case in the media."

The original DOJ filing requested heightened security around witnesses and documents after Trump posted a threat on his Truth Social account. Although Trump may certainly have access to everything as the defendant, this would prohibit him from showing them to anyone else, reading them to someone, or disclosing in a speech or interview what is in there.

Trump's team asked that certain documents be made public. They also accused Biden of trying to profit off of Trump's indictment by selling "Dark Brandon" mugs.
Crock of shit — you can read Smith's full response at the above link.
Public shame, or not, yet once again here we are…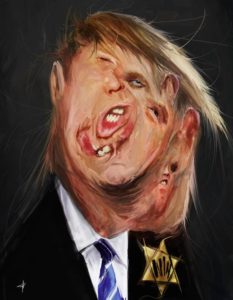 (Illustration out front: 'President Trump,' by Jonathan Bass, found here.)