Hot and humid this late-afternoon Monday here in California's Central Valley — we're at 101 degrees right now, most likely the high for the day as we begin a short (three/four day) triple-digit episode with cooling temps coming hopefully by Friday. And then it's still beyond heated with temperatures in the 90s.
This summer there's no winning in the hot zones everywhere.
As we await news out of Georgia for possible indictments against the T-Rump — especially after the circulation this afternoon of a supposedly '"fictitious document"' that got the media all excited, but apparently turned out to be inaccurate, or something (tengrain has the best layout of the story) — the wildfire in Hawaii also has the T-Rump up in alarm over the incompetence of Joe Biden in causing the tragedy to unfold.
Although T-Rump seems not to understand being an asshole (or theatening witnesses) doesn't look good:
Trump says what happened in Maui never would've happened if he was president, and Biden and the Gov of Hawaii won't help and just want to blame global warming. pic.twitter.com/mULOTWE6dn

— Ron Filipkowski (@RonFilipkowski) August 14, 2023
Update from The Washington Post late this afternoon:
The death toll from Maui's wildfires, now at 96, is expected to rise as specialist search teams comb through the scorched ruins for human remains, Hawaii Gov. Josh Green (D) said in a video update Monday. "They will find 10 to 20 people per day probably, until they finish," Green told CBS News. "And it's probably going to take 10 days." He added that it's impossible to guess the final death count.

While Green said the fires were a natural disaster and "it's unlikely that much could've been done except moving people out before," locals are expressing outrage over authorities' failure to provide advance warning, a clear evacuation plan and timely first-responder assistance.

Fire officials said in a Monday news conference that the Maui blaze "quickly outpaced" all suppression efforts during its early hours. As of Monday morning local time, efforts were still underway to contain the fires.
Except maybe in the wilted, crazed minds of a big chunk of Americans:
False posts about the wildfires in Maui, Hawaii, including claims they were orchestrated using an energy weapon or a laser beam, or by a group of celebrities, have racked up millions of views.

We've fact-checked some of the most viral false claims.https://t.co/Qj5TC1yy99

— Shayan Sardarizadeh (@Shayan86) August 14, 2023
Just this from the idiocy per the BBC story noted above:
Alongside the "directed energy weapon" rumours, speculation spread in viral posts that some of the island's rich inhabitants and second-home owners deliberately started the wildfires to grab valuable land in Lahaina.

One viral video includes claims by a podcaster that native landowners in Maui have refused to sell land to investment management companies and rich locals. He notes the false "directed energy weapon" rumours before going on to speculate that there might be something to them because news outlets have called the rumours "conspiracy theories".

Another viral thread was seen 10 million times on an X account that frequently spreads false information debunked by Community Notes. It includes a list of wealthy people who purportedly own property on Maui, a video including aerial footage of Lahaina, and claims that the pattern of destruction is suspicious.

The cause or causes of the fires on Maui are still unknown, but no real evidence has emerged to suggest they were deliberately started as part of a land grab.

X did not respond to a request for comment Monday.
Reality is not so subtle or bland:
(1 of 5) IT'S OFFICIAL:

Earth just had its hottest July in 174 years.

4th consecutive month of record-high global ocean surface temperature.

Antarctica #SeaIce coverage had a record-low in July for the 3rd consecutive month.https://t.co/lRgypbiSed@NOAANCEI #StateOfClimate pic.twitter.com/n1ud8u87x2

— NOAA (@NOAA) August 14, 2023
In the same language from the past couple of months, more hottest-ever records — via NBC News this morning:
The planet had its warmest July on record "by a long shot" — and very likely also had its warmest-ever month in 174 years of record-keeping — according to NASA and the National Oceanic and Atmospheric Administration.

The striking data, presented Monday by scientists from both agencies, indicate that last month smashed Earth's previous July record by more than one-third of a degree Fahrenheit — a figure that may seem small but represents a staggering leap in the context of global records.

The new milestone follows what was the hottest June in recorded history, and is just the latest in a series of worrying climate extremes in recent months, including record-warmth across the world's oceans.

"Last month was way, way warmer than anything we've ever seen," Sarah Kapnick, NOAA's chief scientist, said Monday in a news briefing, adding that July is typically the planet's warmest month of the year. Given that, "it's very likely that July 2023 was hotter than any month in any year since at least 1850," she said.

NASA and NOAA together found that last month's average global surface temperature was 2.02 degrees Fahrenheit above the 20th-century average. This was the first time an average July temperature recorded 1.8 degrees Fahrenheit, or 1 degree Celsius, above the long-term average, according to NOAA.

[…]

Carlos Del Castillo, chief of the Ocean Ecology Laboratory at NASA Goddard Space Flight Center in Greenbelt, Maryland, said the past 10 years have been the warmest decade for the world's oceans since the 1880s. This trend in ocean warming carries far-reaching consequences, he said.

"As the oceans heat, the water expands, and when you combine that with the melting of ice over land, that contributes to increases in sea-level rise," Del Castillo said, adding that rising seas can trigger coastal flooding and coastal erosion. Changes in ocean temperatures can also have enormous impacts on marine species and their broader ecosystems, he said.

The new July records were driven by long-term, human-caused global warming but were also amplified by a naturally occurring climate pattern called El Niño. This phenomenon is characterized by warm ocean surface temperatures in parts of the Pacific Ocean and tends to boost global temperatures and influence weather conditions around the world.
In that scope of reality, the Maui wildfires are part-n-parcel of climate change's impacts on just about every section/part of the earth. No matter what the T-Rump might blubber.
However, what about a 'subliminal mindfuck America' by way of Green Day:
Conspiracy nutcase, or not, yet here we are once again…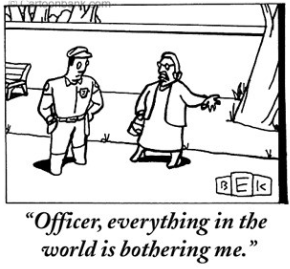 (Illustration out front: New Yorker cartoon by Bruce Eric Kaplan, found here.)