An example of the patients being in charge of the asylum:
Despite tons of bullshit in contrast: 'Speaker Kevin McCarthy on Tuesday opened an impeachment inquiry into President Biden, working to appease far-right lawmakers who have threatened to oust him if he fails to accede to their demands for deep spending cuts that would force a government shutdown at the end of the month.'
All for nonsense and show:
Hmm. Maybe there is a reason McCarthy reneged on his promise to seek a House vote before commencing an impeachment inquiry. https://t.co/oVo8rEqs9X

— davidrlurie (@davidrlurie) September 13, 2023
McCarthy is totally full of shit:
"This logical next step will give our committees the full power to gather all the facts and answers for the American public," he said in brief remarks to reporters. "That's exactly what we want to know, the answers."

McCarthy said allegations that Mr. Biden profited off his son Hunter Biden's foreign business dealings are "serious" and "credible," and directed the House Oversight, Judiciary and Ways and Means Committees to lead the impeachment inquiry.

Despite McCarthy's claims, the investigations mounted by House Republicans into Hunter Biden's conduct have yet to uncover direct evidence of wrongdoing by the president. Mr. Biden has denied any involvement in his son's foreign work, and the White House has said the president is not involved in Hunter Biden's business activities.
And the best approach to this whole sordid affair — John Fetterman:
? oooOoooooOooo https://t.co/34cxg8TFUU

— Senator John Fetterman (@SenFettermanPA) September 12, 2023
In words:
When asked for a response to the news, Fetterman feigned shock and distress.

"Oh my God, really?" he asked, his voice squeaking upward in pitch as he grabbed his head in his hands.

Oh my gosh, you know, oh—it's devastating!" Fetterman went on, before breaking into laughter.

"OooOooo don't do it! Please, don't do it!" he moaned, clutching at his heart as his aide pulled him away. "Oh no, oh no!"

[…]

When Fetterman was asked about McCarthy's plans for the impeachment inquiry last week, he responded: "Go ahead. Do it, I dare you."

"It would just be a big circle jerk on the fringe right," Fetterman added.
WTF!
And as with Benghazi — Hillary Clinton in June 2016 (PBS): '"After more than two years and $7 million spent by the Benghazi committee out of taxpayer funds, it had to today report that it had found nothing, nothing to contradict the conclusions of the independent accountability board or the conclusions of the prior multiple earlier investigations.
I will leave it to others to characterize this report, but I think it's pretty clear it's time to move on."'
Republicans don't know how. And don't want to because they have nothing to move on to.
They need to be voted out of everything.
Any evidence at all, or not, yet once again here we are…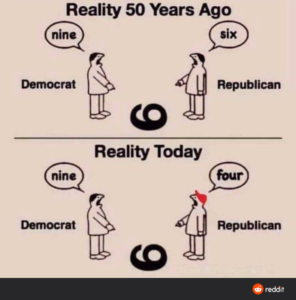 (Illustration out front found here.)