Quiet sunshine with temperatures in the low 90s (which is another world from anywhere near 'hot') this late afternoon Tuesday here in California's Central Valley.
Another day in the life.
And this afternoon, another bit of life action in the fight against COVID — a new booster vaccine okayed by the CDC:
Clinicians: CDC recommends that everyone ages 6 months and up get the updated #COVID19 #vaccine to protect against serious illness. It will be available later this week. The new vaccine targets the most common circulating variants.

Full details: https://t.co/jqvxmjrlxI pic.twitter.com/I7eohAAWJ4

— CDC (@CDCgov) September 12, 2023
Details at The Washington Post late this afternoon:
Virtually all Americans should get an updated coronavirus shot, the Centers for Disease Control and Prevention recommended Tuesday, with the vaccine expected to become available within 48 hours — as the respiratory illness season looms.

Mandy Cohen, director of the CDC, advised that anyone 6 months and older should get at least one dose of an updated shot. Her broad recommendation came after the agency's expert advisers voted for a universal approach to seasonal coronavirus vaccination. The shots are intended to bolster defenses as the nation heads into the fall and winter virus season when influenza and RSV are also primed to be on the rise.

Cohen said the reformulated vaccines can restore protection and provide "enhanced protection" against variants currently responsible for most infections and hospitalizations in the United States. Cohen followed the lead of the agency's vaccine experts who earlier in the day voted for the universal vaccination policy. The move paves the way for some clinicians, pharmacies and other providers to begin administering the shots by later this week. The Advisory Committee on Immunization Practices voted 13-1 to recommend updated shots from Moderna and from Pfizer and its German partner, BioNTech, for anyone 6 months and older.

[…]

"There are robust benefits of vaccination on severe illness, on death, on long covid," said Beth Bell, a global health professor at the University of Washington. "It's important for people to have access if they want it," she said, even though older people like herself are at higher risk of serious illness and death. "The messaging needs to make clear that for older people and those with underlying health conditions, they really need to get a booster."

Matthew F. Daley, a senior investigator for Kaiser Permanente's Institute for Health Research, said the most persuasive argument for the broad recommendation was data showing that half of pediatric covid-19 deaths, while rare, were in children with no underlying conditions. "Those were preventable," he said.
There's Walgreens right down the street — got the original first two shots there in 2021, and the first booster last year (the second booster via the VA, also right down the street) — so I'll make an appointment at the pharmacy store later on and get it done.
Although I've been fortunate — did get COVID earlier this year, but it was mild considering — and at my age, there can be no overboard-abubance-of-caution.
Despite the science (and the history of vaccines actually 'working'), Republicans are on the high horse already: 'Corry Bliss, a Republican strategist not affiliated with any of the presidential campaigns, said that if he were advising a candidate, he would tell them to keep talking about the issue because it is an "incredibly safe" topic with "little downside" for the Republican base. "Primaries, elections in general, are about turnout, and turnout is about motivating and exciting voters, giving them a reason to vote," Bliss said. "And this is a very motivating issue" and "one of the defining culture issues of our time."'
Yet a study released last July indicates a pattern (NBC News):
Overall, researchers found registered Republicans saw a 15 percent higher increase in excess deaths (that is, deaths beyond what would normally be expected) than Democrats over the period studied. Much of that was driven by the time period after April 1, 2021, when the Covid vaccine was readily available. In the period between April 2021 and December 31, 2021, registered Republicans saw a 43 percent higher increase in excess deaths than Democrats did in Ohio and Florida. Much of the difference seems to have been driven by Ohio.

While researchers could not directly tie the increased Republican deaths to vaccine hesitancy, the data showed a clear correlation. The gap in excess death rates was larger in counties with lower vaccination rates, the researchers said. And readers will remember how many Republicans said they were uneasy about the vaccine and were skeptical about getting jabbed.

To test the theory laid out in the paper further, Data Download looked at deaths over the same time periods and used county-level 2020 presidential election results as a proxy for whether a county leaned Democratic or Republican. The data showed a similar pattern, especially where the post-vaccine period was concerned.
Beyond a dangerous virus, a sad-shit state of affairs. No wonder we can't have nice things.
Get the jab, or not, yet here we are once again…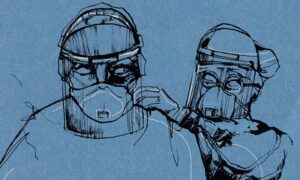 (Illustration out front: 'This Is Why Nurses Do What They Do,' by visual journalist Emily Thomas, and found here.)