Overcast-gray ambiance this early-evening Monday here in California's Central Valley — just a preview for our infamous "Tule fog," a smoke-gray seasonal weather situation coming in a few weeks. There's always a sneak peek for such shit.
Similar to the T-Rump and his whine-filled nasty attacks on everything and everybody. So today, Judge Tanya S. Chutkan slapped a modified gag order on the Orange Turd after his shit-mouth ran shitty in the federal conspiracy to obstruct election case in DC. Chutkan noted the asshole's ways-and-means: '"Mr. Trump is facing felony charges, and he does not get to respond to every criticism … He doesn't get to use all the words … Mr. Trump can certainly claim he's being unfairly prosecuted, but I cannot imagine any other case where a defendant is allowed to call the prosecution 'deranged,' a 'thug' or anything else … I will prohibit statements about potential witnesses or the subject of their testimony … If he wants to criticize Mr. Pence he may do so, but he may not criticize Mr. Pence about the events in this case. Without this restriction there is a real risk that other witnesses may be intimidated, or other witnesses may be reluctant to come forward lest they be subject to the same harassment or intimidation."'
As per the T-Rump course, just a short time later in Iowa:
He cannot help himself. Attacking people who don't do his bidding is his way of life, and no gag order will change that. https://t.co/ACRp2t8dC4

— Aaron Rupar (@atrupar) October 16, 2023
Yeah, a "gag order on speech." he says. Threats, disparaging remarks, thuggery, and catty shit speak is not just all about 'speech' — remember, the asshole '…doesn't get to use all the words.'
Details on the rally per the Iowa Capital Dispatch:
Trump held a rally Monday afternoon at the Horizon Events Center in Clive, where he told Iowans that Democrats and federal bureaucrats have "weaponized law enforcement" against him, repeating claims that the indictments are false allegations.

"I've been indicted more than Alphonse Capone," Trump told the crowd. "It all happened so fast, too – they all happened right before the election."

He claimed there are political motives behind the cases against him, pointing to the timing of the election interference case set to begin March 4, 2024. Chutkan said the start date will not change, saying the trial will "not yield to the election cycle."

"I have a trial scheduled for the day before Super Tuesday," Trump said. "I can't imagine the courts are going to allow that to happen. The day before Super Tuesday? Oh no, that's not political, is it? It's not going to matter though because the people of the country get it."

He also repeated false claims that the 2020 election was stolen by Biden, who he called an "incompetent fool."

Trump said he used to be less critical of Biden, but claimed he is speaking out because the president is corruptly using federal courts and law enforcement against him.

"Out of respect for the office, I never used to talk about him this way," Trump said. "I felt this, but I wouldn't do it out of respect for the office. But once he did that – he did something … that's what you do in banana republics, that's what you do in third world countries."
Gag the gagger.
Nutshell highlights off the order via The New York Times:
It's worth remembering that Judge Chutkan's gag order is the second such order imposed on Trump in the past two weeks. Earlier this month, the judge overseeing Trump's civil trial — in which he stands accused of persistently inflating the value of his properties — put in place a very narrow order that barred Trump from making statements about any members of his staff.

[…]

The Trump campaign has released a statement from an unnamed spokesman denouncing the gag order: "Today's decision is an absolute abomination and another partisan knife stuck in the heart of our Democracy by Crooked Joe Biden, who was granted the right to muzzle his political opponent, the leading candidate for the Presidency in 2024, and the most popular political leader in America, President Donald J. Trump. President Trump will continue to fight for our Constitution, the American people's right to support him, and to keep our country free of the chains of weaponized and targeted law enforcement."

[…]

Trump has made casting himself as the victim of unfair prosecutions a centerpiece of his campaign message. He had been fund-raising off the potential of a gag order even before it was issued. "Today really isn't about gagging me," he wrote in one email to supporters on Monday. "It's an attempt to gag the American people."
The mysterious kicker: 'Judge Chutkan did not immediately address the question of how she will enforce her gag order. She merely said she would assess any consequences for Trump if and when he violates it.'
In the scope of things, T-Rump will play this out to the end, I suppose. He's going to try and get the judge to toss him into jail, maybe. Or he'll just shut up like the whiney, chickenshit little boy he truly is and always has been.
There is great mental disturbance here beyond the legal.
And the legal light of T-Rump's Al Capone remark, supposedly in snarky, smirky mirth:
Gagged, or not, jailed, or not, once again here we are…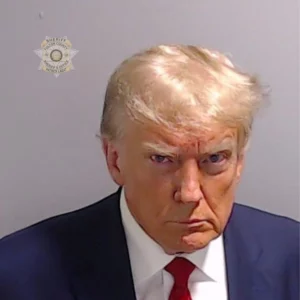 (Creepy, vile, and dangerous image out front found here.)