Election night and the feasting might be lopsided, although the polls have just closed around the country, the forecast is full of tiny hope (New York Times):
Polls have closed in Virginia, Kentucky, Ohio and most precincts in Mississippi, states holding off-year elections that will affect abortion access and shape the national debate about it and that could offer hints of the political environment heading into next year's presidential race.

Both parties are anxiously watching the outcomes as bellwethers of how their messages on abortion, the economy and the Biden administration may be received in 2024.
Yet the blue is outshining the red and that hope shines bright (hopefully):
Abortion the running theme of the night: Rs being dogged by abortion positions to the right of the electorate, even in red states. https://t.co/O4kGI7vK9T

— Josh Kraushaar (@JoshKraushaar) November 8, 2023
Some early results showcase that point (NBC News):
NBC News projects that Democrat Andy Beshear has won the Kentucky race for governor, beating Republican Daniel Cameron.

[…]

Democrat Gabe Amo, the former Biden aide, won a House special election in Rhode Island, holding a Democratic district after former Rep. David Cicilline resigned from Congress this year.

[…]

Democrat Cherelle Parker will be Philadelphia's next mayor after she easily dispatched her Republican opponent, NBC News projects, making her the city's first female chief executive.

[…]

Women and younger voters in Ohio strongly backed a ballot measure that would enshrine the right to an abortion in the state's constitution, the NBC News Exit Poll of early and Election Day voters found.

Three-quarters of voters under age 45 cast ballots for "Yes" on Issue 1, which supports abortion rights. Voters ages 45 and older, however, were evenly split on the issue.

Among young voters, a majority of both men and women voted to support the ballot measure. But among older voters, men were more likely to vote "No," while women were more likely to vote "Yes."
Background from one of the better election-time guys in the news biz, Steve Komacki, earlier this afternoon:
Despite the scream from frothing Republicans, this could be a punch of a night. We'll wait and see.
Meanwhile, poll matters, or not, yet here we are once again…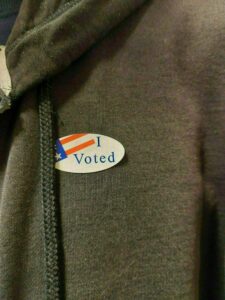 (Image out front is a close-up of my vote sticker from last year.)