(Rosalynn Carter arriving at the Nashville Municipal Airport in Tennessee, Sept.6, 1976 —  image found here.)
Rosalynn Carter has died. She was 96.
A few weeks (or maybe a few days) before that photograph above, as a young journalist, I had interviewed Rosalynn at another airport, the one in Montgomery, Alabama, as she made a quick stop-over during a campaign tour for her husband, Jimmy, who of course as history recorded, was elected president that following November. Memory gaps at my age (75 next week) are frequent and I can't remember too much about the brief question-and-answer session, attended by local media. One item I do remember, however, is her empathetic demeanor, and being really, really petite.
Despite the politics of the occasion, I was the Montgomery Advertiser's police reporter and way-well off my beat. Although I can't remember precisely how I got the assignment to cover Rosalynn's visit, apparently there was no one else around  —  I'd been with the newspaper a bit more than a year at that time (as an entry-level police reporter) — and I do remember scurrying out to the airport a couple of hours before my shift officially started (worked from 4 PM until 1 AM) without any sense of what was happening. I think Rosalynn's visit to Montgomery was a kind of last-minute-added item to her agenda and the newspaper's editors had to scramble around to find someone to cover the thing, which would be quick and easy (supposedly). I really don't remember much about the incident, except it was Rosalynn, and actually became a national political story.
Since Montgomery was Alabama's capitol, newspapers from all over the state had reporters there, the Birmingham News, and the Mobile Press-Register, as examples, along with photographers and guys with TV cameras pointed at Rosalynn as she answered questions tossed at her. I asked a couple (I think) and after a short while the event was concluded and all of the other journalists/photographers/TV camera guys left to return to newsrooms and studios. I do remember feeling I had nowhere else to be so I just waited around/loitered at the airport for no other reason than to just kill time. I was alone.
I guess Rosalynn saw me standing awkwardly outside the terminal's glass side door and wondered what was wrong with that guy. So she pushed open the door and asked me if I had any more questions, appearing to try to understand. And like an idiot, I muttered 'no ma'am,' or words to that effect and didn't say anything else. She smiled, looked at me with a kind of compassionate regard for a couple of seconds, seemed to shrug off the whole concept of me having sense, and went back inside to confer/huddle with her campaign staff. Although I don't remember how I actually felt, it wasn't a journalistic high point. In hindsight, I could really have run with it and hoisted some fashionable political questions. Instead of empty air.
However, I was saved from being a total dipwad by the serendipitous arrival at the airport of Cornelia Wallace, wife of George Wallace. one of Jimmy Carter's opponents in the race for the Democratic presidential nomination in 1976. She had been informed, I guess, that Rosalynn was also at the airport, so came off her small, private aircraft holding her book, "C'nelia," published earlier that year, in a strategically-held spot for photographers to catch. No photographers, though.
No one in the journalistic business was there, but me.
Cornelia was also really nice, too — I became better acquainted with her the following year when she divorced George in a way-public sprawl. I was later called a liar by one of George's attorneys at an appeal court hearing.
Rosalynn and Cornelia chatted for a few minutes on the tarmac, and the scene would have been a photographer's delight, but alas no one was there with a camera.  Just empty-headed/handed me. Eventually, that airport day turned into a nice news grab. My story on Rosalynn's airport visit was compounded by the meet-up with Cornelia and my piece was picked up by the Associated Press (which had an office just off our newsroom) and onto their national wire. I don't remember what I wrote, and I can't find any info on the InterWebs about it — just a faded memory's recall.
There's a ton of news coverage online on Rosalynn's passing. Go anywhere.
She and her husband were extremely, way-unique and we'll probably never see the likes of them again, ever.
Words from The Carter Center:
Former First Lady Rosalynn Carter, a passionate champion of mental health, caregiving, and women's rights, passed away Sunday, Nov. 19, at 2:10 p.m. at her home in Plains, Georgia, at the age of 96. She died peacefully, with family by her side.

Mrs. Carter was married for 77 years to Jimmy Carter, the 39th president of the United States and the 2002 Nobel Peace Prize recipient, who is now 99 years old.

"Rosalynn was my equal partner in everything I ever accomplished," President Carter said. "She gave me wise guidance and encouragement when I needed it. As long as Rosalynn was in the world, I always knew somebody loved and supported me."

She is survived by her children — Jack, Chip, Jeff, and Amy — and 11 grandchildren and 14 great-grandchildren. A grandson died in 2015.

"Besides being a loving mother and extraordinary First Lady, my mother was a great humanitarian in her own right," said Chip Carter. "Her life of service and compassion was an example for all Americans. She will be sorely missed not only by our family but by the many people who have better mental health care and access to resources for caregiving today."
History is what makes us.
Sweet memories long ago, or not, yet once again here we are…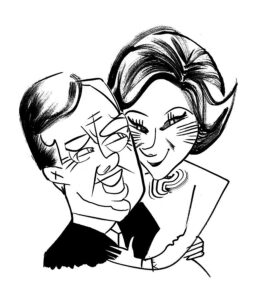 (Illustration out front: 'Jimmy and Rosalynn Carter,' by Tom Bachtell, and found here.)