Fortunately — if such a horrifying situation with the T-Rump could have anything at all to do with anything auspicious — the entire cabal of liars, cheats, dip-shits making-up the T-Rump administration is that they're all total nincompoops, speaking the private parts out loud, being openly criminally crooked. (h/t Mark Sumner at Daily Kos):
The second article of impeachment was for obstruction of Congress: covering up witnesses and documents from the American people.

This morning the President not only confessed to it, he bragged about it:

"Honestly, we have all the material. They don't have the material." pic.twitter.com/DPAEFHIDjS

— Rep. Val Demings (@RepValDemings) January 22, 2020
Some basic detail via Raw Story:
President Donald Trump is now bragging about his blatant obstruction of Congress — while discussing his impeachment trial for obstruction of Congress.
Speaking to reporters at the Davos World Economic Forum in Switzerland Trump boasted about having all the documents – and that the House has none — because he's blocked them from being released.
Trump is being impeached for abuse of power and obstruction of Congress.
He has refused to hand over to Congress hundreds if not thousands of documents, has blocked at least nine administration officials from testifying, and even refused to comply with lawful House subpoenas.
First, Trump lied about releasing the "transcript" of his call with Ukraine President Zelensky.
He has not released the transcript.
He has released a call summary, which even says it is not a transcript.
He told reporters that "all hell broke loose" among Democrats when he released the "transcript," which is also false.
The call summary was what convinced even those Democrats who had been unwilling to support impeachment to support impeachment.
After praising his impeachment attorneys, who lied over and over again while speaking before the Chief Justice of the Supreme Court during Tuesday's Senate impeachment trial, Trump moved on to bragging about obstruction.
"But honestly we have all the material," Trump proclaimed. "They don't have the material," he said, referring to House prosecutors.
T-Rump is an asshole idiot — in the same press babble he also blubbered-revealed a note about revenge in the guise of John Bolton testifying at the Senate trial:
WATCH: President Trump just spoke about his former National Security Adviser John Bolton and whether he should give testimony in the impeachment trial. pic.twitter.com/qNQrmMVTzb

— CBS This Morning (@CBSThisMorning) January 22, 2020
He grasps the scene personally:
Trump said he would prefer to have Bolton and others testify but then added, "The problem with John is that it's a national security problem. … He knows some of my thoughts. He knows what I think about leaders. What happens if he reveals what I think about a certain leader and it's not very positive and I have to deal on behalf of the country?"
The president also noted he and Bolton did not part on "the best of terms."
"You don't like people testifying when they didn't leave on good terms," Trump said.
The T-Rump is a way-vengeful shit, so understands the risk.
Let's see where this shit-show crawls today…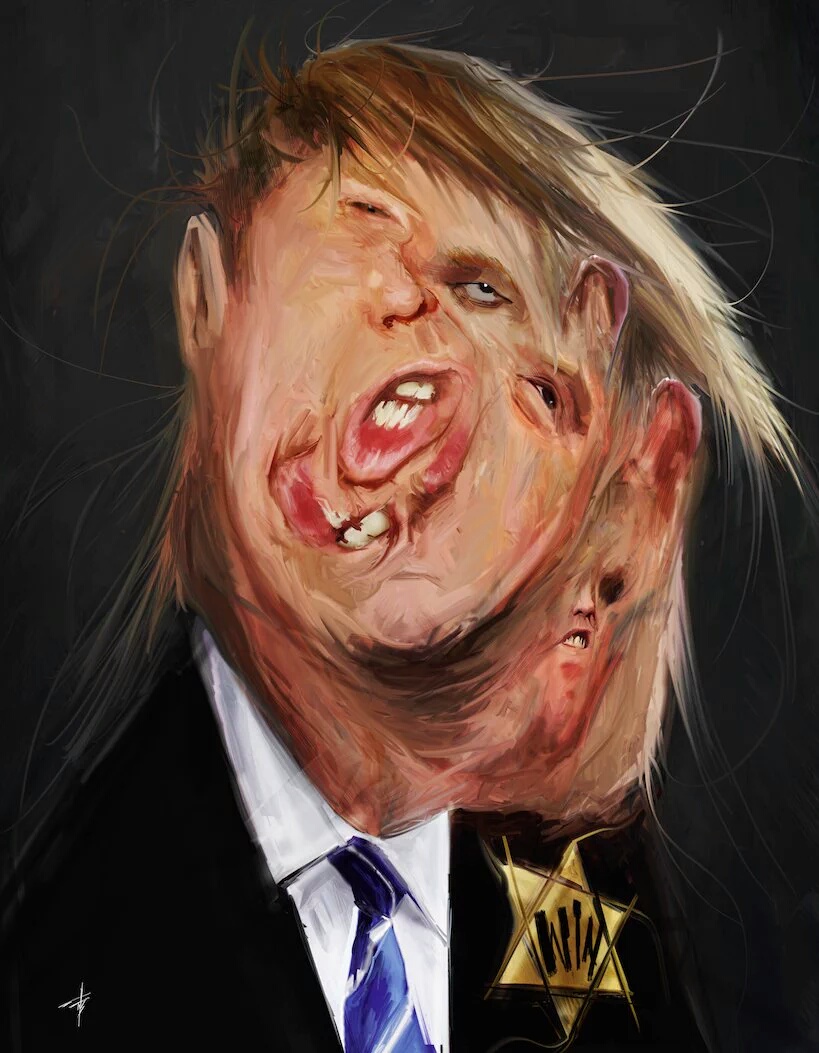 (Illustration: 'President Trump,' by Jonathan Bass, found here).