The T-Rump can't help himself, one truly-vile, nasty-ass piece of work:
Shifty Adam Schiff is a CORRUPT POLITICIAN, and probably a very sick man. He has not paid the price, yet, for what he has done to our Country!

— Donald J. Trump (@realDonaldTrump) January 26, 2020
Schiff responds — via Reuters this morning:
Asked on NBC's "Meet the Press" if he took the Republican president's social media post as a threat, Schiff said, "I think it's intended to be."
As lead impeachment manager, Schiff, chairman of the House Intelligence Committee, played a central role in Democrats' efforts to paint Trump's behavior as dangerous to democracy the Republican-led Senate, where Trump is likely to be acquitted.
While some Republican senators said Schiff had been effective, most appeared unswayed.
The lawmaker from California, a former federal prosecutor, has been a regular target of attack from Trump and Trump's Republican supporters in Congress.
Some Republican senators took umbrage at Schiff's more pointed comments, including that the president could not be trusted to do the right thing for the country and that Republican senators were under extreme pressure to acquit Trump.

Schiff said on NBC he was making the argument "that it's going to require moral courage to stand up to this president."
"This is a wrathful and vindictive president," he said.
"I don't think that there's any doubt about it and if you think there is, look at the president's tweets about me today, saying that I should pay a price."
Trump regularly levels personal attacks against political opponents.
His broadsides against Schiff have included "pencil neck" and "liddle."
Critics accuse Trump of using an anti-Semitic trope in referring to the Jewish lawmaker as "shifty."
The White House did not respond to a request for comment on Trump's Twitter post.
Representatives for Schiff said they had nothing to add to the congressman's comments.

White House spokeswoman Stephanie Grisham told Fox News Channel she had not spoken to Trump about the tweet but, "I think he means he hasn't yet paid the price with the voters."
Yeah-fucking-right!
Beg to differ Ms Grisham, also a T-Rump wanna-be grifter, that bullshit contradicts this contrary reality straight out of your own ass-plainer operation: A new Fox News poll.
Via The Hill: 'The survey, which was released Sunday and conducted as the Senate impeachment trial began in earnest, found that 50 percent of Americans think the Senate should vote to convict and remove Trump, while 44 percent believe the upper chamber should not vote to remove the president.'
Although the numbers are narrow and ran pretty-much divided by party lines, there was this note: 'A majority of independent voters (53 percent) think Trump should be removed, while just 34 percent say he should not.'
And that gives sensibility to a sense of hope/optimism for November. Yet just watched "The Irishman" yesterday and the little, simple gesture or word which can be a bit frightful, if you heard what I'm sayin' — know what I'm sayin'…?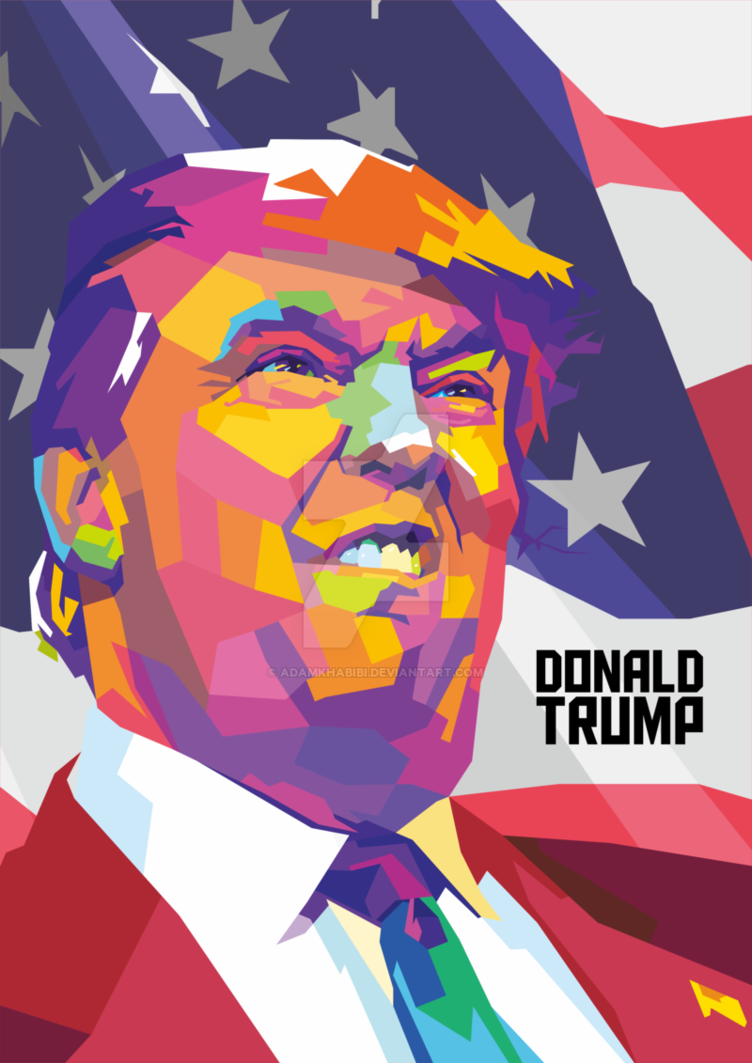 (Illustration above: 'Donald Trump,' by Adam Khabibi, found here).