Playing out in America's TV land today is a clear case of a way-weird George Orwell/Terry Gilliam movie, developing a couple of plot-lines running concurrently — one a perspective in concise, factual-legal summations of the constitutional/legal abuse of power, and obstructed of justice found in the actions of the T-Trump; the second a shit-show of immature driveling,whining incoherently about 'process' and producing absolutely-nothing to rebut the facts.
Right now watching the MSNBC version of the Senate proceeding, with Rep. Val Demings of Florida putting forth the technical detail-facts on the Obstruction of Justice portion of the T-Rump's articles of impeachment.
Earlier during a break, Nicolle Wallace overseeing a panel quick-discussion on the goings-on nailed the frustration, and near-bewilderment, quipping she's astonished by the "…idiocy of the president's defense."
Yesterday, Rep. Adam Schiff led the way with a thorough summary of the overall shit-storm, even once getting a bit choked-up about the whole scene.
Video of Schiff's closing minutes nails the whole ugly story can be found at Digby's.
Needs a watch…
CBS News reports that GOP Senators have been warned by Trump team: "Vote against the president, and your head will be on a pike." How is this acceptable? pic.twitter.com/19TKOn4kSq

— Matt McDermott (@mattmfm) January 24, 2020
A startling report on the reality of the gangland/Mafia-type pressure put on people the T-Rump believes are his enemies, or at least don't spittle-lick his slippers, and back his play. Even as the Senate impeachment trial is in live session, new shit surfaces in the mud-flat pond of nasty, disturbing criminal activity by the T-Rump.
Today, a recording from the files of a surreal Godfather-wanna-be screenplay.
Via HuffPost this afternoon:
President Donald Trump apparently told his associates at a 2018 dinner to "get rid" of then-U.S. Ambassador to Ukraine Marie Yovanovitch, according to an ABC News review of a recording of that dinner.

"Get rid of her!" a voice that appears to be Trump can be heard saying on the recording, ABC reported on Friday.
"Get her out tomorrow. I don't care. Get her out tomorrow. Take her out. Okay? Do it."

During the April 30, 2018, dinner at the Trump International Hotel in Washington, Trump can be heard making the comments after being told Yovanovitch had been bad-mouthing him, ABC reported.
The report backs up claims made by Lev Parnas, an indicted associate of Trump's personal attorney Rudy Giuliani.

The Daily Beast reported Friday that Joseph Bondy, a lawyer for Parnas, said the recording was made by Igor Fruman, another associate of Giuliani. Bondy said Parnas "personally heard" the recording "last year, before he was arrested."
"We have hoped that, to the extent this recording still existed, it would be released to Congress for use in the impeachment trial," Bondy told The Daily Beast.

Yovanovitch this month called for an investigation into whether she was surveilled in Ukraine after the House Intelligence Committee released a collection of documents obtained from Parnas.
Those documents included evidence that Yovanovitch was being tracked, including WhatsApp messages between Parnas and Connecticut congressional candidate Robert Hyde, who had received details about Yovanovitch's location in Ukraine in March.
After presenting a solid case of the T-Rump obstructing justice — denying 71 attempts to gather evidence/information by The House, including seven subpoenas, for instance — Rep. Jerry Nadler is apparently finishing up, though others might follow later this evening, and the case is obvious, a 'normal' jury would take only moments in deliberation to convict the motherfucker. They successfully-ironically utilized Dick Nixon's compliance with testimony/materials requested by his own impeachment process against the T-Rump's stonewalling..
And next per the Washington Post, also this afternoon: 'After the managers, led by Rep. Adam B. Schiff (D-Calif.), wrap up their presentation, lawyers for Trump will get an opportunity to present his defense. Their presentation is expected to start Saturday — which Trump referred to as "Death Valley in T.V." in a tweet — and continue into early next week.'
Not even near Ron Reagan's 'Death Valley Days'….this more a real-weird and terrible Godfather spin-off…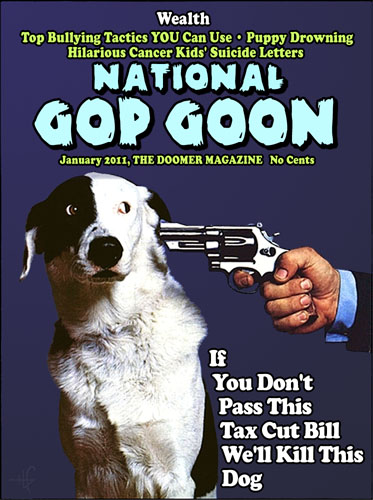 (Illustration found here).