Each day lately seems to bring its own shit-storm of dramatic nuttery.
(Illustration: 'William Barr – Caricature,' by DonkeyHote, found here).
Today's episode concerns the continuing flak off the Roger Stone tribulations, a multi-faceted showcase for how dark the US legal operation has become under the T-Rump, especially in the more-unhinged, nasty-faced bullying form the orange turd has morphed into the eight days since 'acquittal.' Nearly-beyond understanding so much shit in such a small space of time.
Firing people because they weren't corrupt enough, threatening others, lying about not cutting Social Security while the White House budget reflects just that, just generally being a destroyer of worlds — T-Rump is the pits.
And along with him, the asshole-toadies, some who are playing a nefarious shifty-shitty game.
From CNN this afternoon:
Attorney General William Barr on Thursday rebuked President Donald Trump for publicly commenting on sensitive investigations but insisted the Justice Department had acted appropriately after an extraordinary falling out with career prosecutors who had handled the case of Roger Stone earlier this week.
In an interview with ABC News, Barr provided a robust defense of the department's rank-and-file and said Trump's online missives made it "impossible" to do his job.
"I cannot do my job here at the department with a constant background commentary that undercuts me," Barr said.
"To have public statements and tweets made about the department, about people in the department, our men and women here, about cases pending in the department and about judges before whom we have cases, make it impossible for me to do my job and to assure the courts and the prosecutors in the department that we're doing our work with integrity," he said.
The criticism was a notable zag for Barr after days of mounting scrutiny over his role in the fraught decision to publicly disavow prosecutors who had sought a stiff punishment for Stone, a longtime friend of Trump.
The President had tweeted congratulations Barr for the move, provoking protest from Democrats who demanded an investigation.
…
Barr told ABC that he hoped the President would react and respect the criticism of his tweets delivered in the interview.
"I hope he will react," Barr said.
A White House official said Trump is not upset with Barr after his comments to ABC.
Of course the T-Rump can't be upset with constructive criticism, though, he hates to be rebuked in public, so we'll have to see how this plays out in the T-Rump's unprincipled, misguided, vindictive game. Barr is a major player to curtailing accountability on just about anything, so unless the T-Rump's gone completely bonkers, we should see no heavy racket between the two turds.
Another view of this shit, and most-likely near-the-actual scenario for grifters needing more quiet to properly grift — from Aaron Blake at the Washington Post, also this afternoon:
Barr told ABC News that Trump's tweets about ongoing criminal matters — in this case, Roger Stone's — "make it impossible for me to do my job."
"I think it's time to stop the tweeting about Department of Justice criminal cases," Barr said.
Barr clarified that it was Monday night that he made the controversial decision to overrule career prosecutors' recommendation that Stone serve seven to nine years in prison — before Trump tweeted in the wee hours of Tuesday morning in opposition to the recommendation.
…
But it's also important to recognize how much Barr gains by being seen as rebuking Trump — and how much his answers don't really address the true controversy here.
The fact is that, even if Barr made this decision before Trump's tweets and Trump never directly requested the action — even if there is no relation between what happened and what Trump has said — this is still highly problematic.
It's the president's most senior political appointee in the Justice Department personally intervening in an unorthodox manner in the case of perhaps Trump's longest-serving political ally.
It's precisely the kind of case in which you would want to make sure you try doubly hard to avoid even the appearance of political influence of any kind — whether that influence emanated from Trump or not.
Instead, Barr decided this was a situation he needed to get involved in.
And to be clear, Barr confirmed in the interview that he was personally responsible for the decision, which is as significant a revelation as anything else.
…
In fact, you could make a pretty compelling argument that Barr isn't rebuking Trump so much as telling the president how to take the heat off some of Barr's more controversial decisions.
If Trump didn't tweet what he did this week, after all, perhaps the Stone decision wouldn't have blown up as much.
If Barr had a more varied history when it comes to decisions that directly involve the president, it would be easier to accept that this is truly about the independence of the Justice Department.
But Barr hasn't been terribly concerned about the perception that he's not independent before, and we should focus more on his actions than on a rare apparent rebuke of presidential tweets.
Barr's in the same mindset as the T-Rump, though, I wonder what hold or enticement keeps them together.
And just to add some context, a juror from Roger Stone's trial was "appalled" by the T-Rump's tweets:
Seth Cousins, who served as a juror in the Stone trial, told Reuters he was concerned by developments that prompted all four prosecutors to quit the case.
"It feels like something outrageous is going on," Cousins said in an interview.
Stone was found guilty in November on seven counts of lying to Congress, obstruction and witness tampering.
Cousins spoke after Trump posted a Fox News story on Twitter that accused some of the jurors in Stone's case of political bias.
"This is not looking good for the 'Justice' Department," Trump wrote.
Cousins said he was upset by Trump's remarks.
"I think it is appalling for the president of the United States to be attacking American citizens for patriotically fulfilling their duties," he said.
…
In his interview, Cousins said politics was never discussed as the jury deliberated.
"As a whole group, and in every single conversation that I was involved in or overheard, we never discussed politics as a jury. I have no idea what anyone's political affiliation is," he said.
Since the trial, the jurors have kept in touch and have followed recent developments, he said, adding that all of his fellow jurors "echo the sense of being appalled. Maybe a little bit betrayed."
They followed the facts — Stone is guilty as shit, and been guilty for the last 50 years…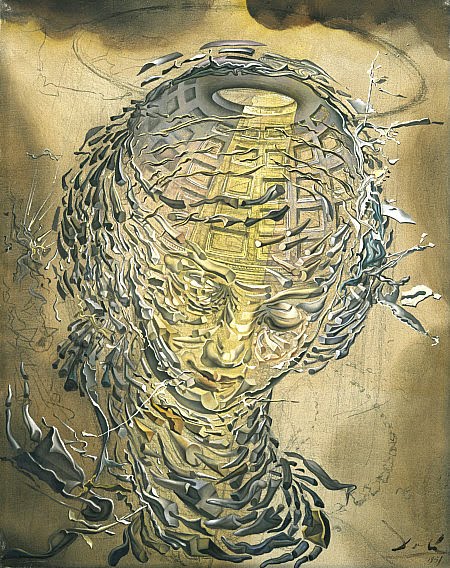 (Illustration: Salvador Dali's 'Raphaelesque Head Exploding' (1951), found here).