The US along with the whole-wide world are in a particular cruel position right now, as the supposed leader of the free world an unhinged, ignorant asshole without a moral sense of action. And so the toady-incompetent liars who work for him:
The U.S. has "contained" the coronavirus, NEC Director Larry Kudlow says. "Pretty close to airtight." https://t.co/LJKSIghL7q pic.twitter.com/mkRzCrHMM1

— CNBC (@CNBC) February 25, 2020
Story via Raw Story this afternoon:
Larry Kudlow, President Donald Trump's top economic advisor, is falsely claiming the U.S. has "contained" the coronavirus, literally minutes after reports broke that the CDC is warning of a spread of the deadly virus that has killed 2600 people, mostly in China.
The U.S. has 53 confirmed cases as of Monday, according to the World Health Organization.
"We have contained this. I won't say 'air-tight,' but it's pretty close to air-tight," Kudlow said on CNBC, where he worked as a financial analyst and TV host before Trump hired him to be his Director of the National Economic Council.
"There will be some stumbles. We're looking at numbers; it's a little iffy," Kudlow continued, referring to the economic, not human impact.
"But at the moment, the numbers that we're looking at … there's no supply disruptions out there yet." Kudlow did classify the human toll as tragic.

The DOW has dropped over 1800 points this week, in less than two full days of trading so far as a result of coronavirus fears.
Many on social media said the administration put Kudlow out to minimize the economic damage, after the CDC warned the American public earlier today that "we expect we will see community spread in the United States" of the coronavirus.
The CDC also added: "It's not a question of if this will happen but when this will happen and how many people in this country will have severe illnesses."
"We are asking the American public to prepare for the expectation that this might be bad," a top CDC official said.
The number of US residents with COVID-19 seems to be spiraling upward — when I posted four days ago on the one up in Humboldt County, total cases were then at 34, including 21 from the cruise ships. Reportedly, there's been at least 2,069 confirmed cases in 33 other countries, killing 33, so far.
Chuck Schumer pretty-much encapsulated the situation: '"Four words describe the administrations response to the coronavirus: Towering and dangerous incompetence."'
Illustration above via Bloomberg, along with this:
Experts are worried that the virus' mild symptoms will cause those who carry it to unsuspectingly transmit it too far and fast.
A 10-year old boy was diagnosed with the coronavirus despite showing no symptoms.
The virus has also been transmitted from an infected mother to her newborn baby in Wuhan.
While Ebola kills half the people who get it and SARS killed 10-percent, the new coronavirus mortality rate appears to be far lower.
About 2-percent of Chinese patients with confirmed cases have died, though some researchers estimate the mortality rate will be closer to 1-percent once all cases are counted.
Before the revision in counting method, the illness's spread seemed to be slowing; with fewer new cases reported each day than in the first week of February.
However, on Feb. 12 Hubei officials began including those who were diagnosed with CT lung scans absent a nucleic acid test, resulting in a jump of nearly 15,000 more cases.
According to the World Health Organization, most of those cases are days or weeks old.
Meanwhile today:
Chad Wolf is what you get when cabinet members are selected because the president likes how they present on Fox News https://t.co/MgqQtqfmSS

— Aaron Rupar (@atrupar) February 25, 2020
Remember this: 'In 2018, the Trump administration fired the government's entire pandemic response chain of command, including the White House management infrastructure.'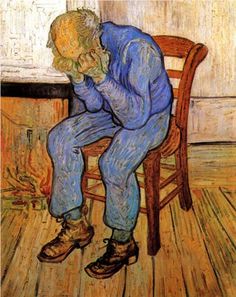 (Illustration: Vincent van Gogh's 'Old Man in Sorrow (On the Threshold of Eternity)' found here).