Little wonder we're having trouble getting a handle on COVID-19 here in the US, bullshit is sinking the playing field, not leveling it (h/t BJ):
New polling on media attention and #covid-19 from YouGov and The Economist:

% who say they are worried about the virus, by media they most pay attention to:

MSNBC: 74%
National newspapers (NYT/WaPo): 72
CNN: 71
Broadcast news: 68
Local news: 57
Radio: 49
Fox News: 38

— G. Elliott Morris (@gelliottmorris) March 18, 2020
Yet the assholes at Fox News shifted their views without missing a beat — this illogical spin-around seen in raw-time:
How Fox News has shifted its coronavirus rhetorichttps://t.co/iWGZqoprvY pic.twitter.com/L9nITMkV6F

— The Fix (@thefix) March 17, 2020
In a world gone crazy and the search for reality (Mother Jones):
Social media and disinformation researchers think that the coronavirus fears are blowing misinformation out to new levels, because of something of a perfect storm: More people are online than ever before, looking for information on exactly the same thing, and lacking clear authoritative sources.
"There's an unprecedented amount of people searching for the same thing and posting about the same thing," Joan Donovan, director of the Harvard Shorenstein Center's Technology and Social Change Research Project, told me over the phone.
"When everyone is looking at the results of an NBA game, you have ways to see if that info is true or not true; you can check NBA.com for the score. Now we lack authority providing information, and you have everyone with an internet connection posting info and their fears. This presents an incredible opportunity for foreign interference and grifters and misinformation."
Indeed, nation-states, grifters, and misinformation have all thrived in this atmosphere.
An 'atmosphere' full of a deadly virus…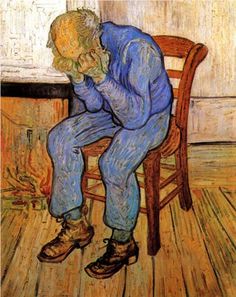 (Illustration: Vincent van Gogh's 'Old Man in Sorrow (On the Threshold of Eternity)' found here).