We're in an era of 'you can't make this shit up,' shit:
Background via the Guardian's live blog this morning:
The Trump Death Clock, the real-time tracker that seeks to put a figure on the number of Americans who have died needlessly during the pandemic as a result of White House inaction, has just gone live in New York's Times Square.
A digital billboard has beamed up on 43rd Street and Broadway in Manhattan that broadcasts in large red numerals the daily estimated count of unnecessary deaths caused by Trump's delay in issuing lockdown guidelines in March.
Today's tally: 44,809.

The billboard is a physical version of a website, TrumpDeathClock.com, that was started earlier this week and that the Guardian was first to disclose.

It is the brainchild of award-winning film-maker Eugene Jarecki and modeled on the National Debt Clock that also has a presence near Times Square.
Jarecki told the Guardian he wanted to hold Trump accountable for "reckless leadership" by giving a real-time estimation of the number of Americans who have lost their lives through federal government incompetence.

He bases the figure, which will update daily on the billboard, on 60-percent of the total real-time tally of deaths from Covid-19 in America.
That proportion was first posited as a rough calculation of unnecessary deaths by epdemiologists.
Trump has so far kept his silence about the death clock.
If he finds out about the new billboard he is unlikely to be pleased, however — it is a mere 13 blocks away from his home in Trump Tower.
Crazy!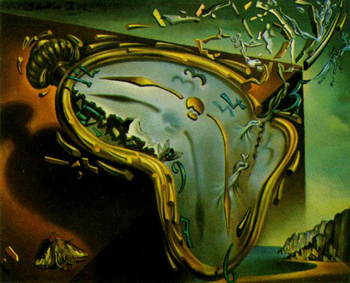 (Illustration: Salvador Dali's 'Soft Watch at the Moment of First Explosion,' found here)