Sunday morning not coming down, but actually going up. We continue to bask in the limelight of Biden/Harris and gag-reflex at the T-Rump as he waltzes to the golf course this morning once again — remember he was in the bunker at Trump National Golf Club in Virginia when notified yesterday Biden had finally been declared winner of the 2020 goat rodeo.
He's fuming on the fairway.
Shit is in the obvious tea leaves of the T-Rump's unabashed baby-whine about being a loser. Even this from yesterday afternoon is child's play:
And after hours of consulting with his top advisors, the President opts to go with the "Giant baby strategy." https://t.co/wd3arqLyp2

— Julius Sharpe (@juliussharpe) November 7, 2020
According to his niece, anywy. Mary Trump knows wacko when she's grown up with it, and is a psychologist to boot. Mary let it all hang in a withering monologue at the Guardian this morning — some details:
This is what Donald's going to do: he's not going to concede, although who cares.
What's worse is he's not going to engage in the normal activities that guarantee a peaceful transition.
All he's got now is breaking stuff, and he's going to do that with a vengeance.
I've always known how cruel he can be.
Shortly after the 2016 election, when I'd see him being particularly cruel, I would think about how he treated my father [Fred Trump Jr, Donald's older brother, who died of alcoholism at 43].
He took away our family health insurance after his father, my grandfather, died — this was when my nephew needed round-the-clock nursing care, which we then couldn't afford.
That is the kind of man he is.
He'll be having meltdowns upon meltdowns right now.
He has never been in a situation like this before.
What's interesting is that Donald has never won anything legitimately in his entire life, but because he has been so enabled by people along the way, he has never lost anything either.
He's the kind of person who thinks that even if you steal and cheat to win, you deserve to win.
…
The fact that the Republicans have done better than expected in Congress and the Senate will have made him extraordinarily angry.
It means that people were voting against Donald Trump in this election, but not necessarily against this party.
That will have added so much salt to his narcissistic wounds.
…
It's not like he has any friends, anyway.
It's grim for him.
Donald Jr, Ivanka and Eric also know their relationship with their father is both conditional and transactional.
I have been saying since 2016 that I was going to have to change my name.
I think they're going to have to change theirs.
I do know, people the world over are sick to their collective bowels with the name. January 20 can't get here fast enough.
If we can handle the interim…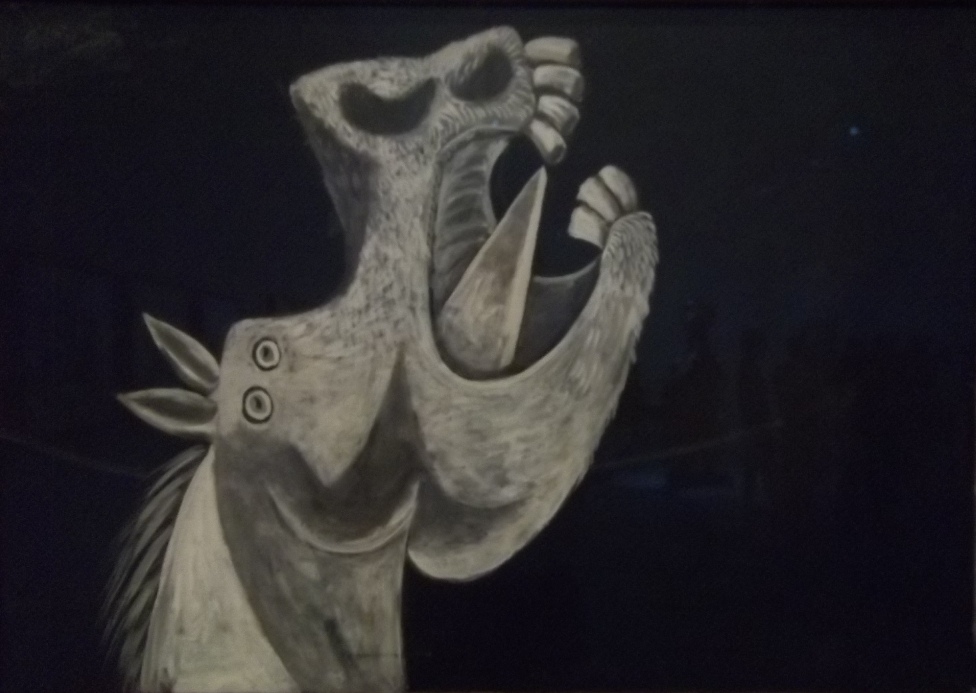 (Illustration: Pablo Picasso's 'Agonizing Horse,' found here),