I was shocked, shocked! (h/t BJ):
The political coronavirus paradox: where the virus was worst, voters supported Trump the most https://t.co/4M98JZ8rtQ

— TIME (@TIME) November 13, 2020
And even worse, but in the same killing field (h/t Tom Sullivan at Digby's place):
I have a night off from the hospital. As I'm on my couch with my dog I can't help but think of the Covid patients the last few days. The ones that stick out are those who still don't believe the virus is real. The ones who scream at you for a magic medicine and that Joe Biden is

— Jodi Doering (@JodiDoering) November 15, 2020
Click on the tweety bird for the full thread — sad and exasperating.
The entire COVID-19 infrastructure is fucked, as a shitload of people are not paying attention to what is happening around them, and just about everywhere else, no place untouched. The underlying motive is dumb-ass blindness.
Update via the Guardian this morning:
At campaign and White House events, Trump has refused to enforce mitigation measures such as mask-wearing and social distancing.
On Saturday, local media reported that around the White House, where Trump waved to supporters from his presidential motorcade, "it seemed a majority of the protesters gathered were not wearing masks".

Washington DC has a mask mandate, which states in part: "Persons leaving their residences shall wear a mask when they are likely to come into contact with another person, such as being within 6ft of another person for more than a fleeting time."

Trump, who has said his administration will not implement any further social lockdowns, has also refused to participate in the Biden transition, meaning information on Covid-19 is not being shared with the president-elect.
Biden, who has appointed his own Covid-19 advisory group, supports a national mask mandate.

Across the country, particularly in the hard-hit midwest, states are implementing stricter controls.
On Saturday, California, Minnesota and Maryland were among states reporting rapidly rising case numbers and healthcare systems beginning to show the strain.
Oregon and New Mexico have implemented new social restrictions, while North Dakota has introduced a mask mandate and Arkansas has established a Covid taskforce.
From Monday, the Navajo Nation will enter a three-week stay-at-home advisory period.

On CNN's State of the Union on Sunday, Fauci was asked what the country needed to do to fight the disease, other than advising the wearing of masks, hand-washing and social distancing.

"Well, what we've got to do is make what you just said uniform, not spotty," he said.
"Everybody's got to do it. There's no excuse not to do that right now, because we know that can turn things around. I mean, that's the tool we have.

"We have good news with regard to the vaccines, so there is light at the end of the tunnel. Help is coming.

"It's going to be a gradual accrual of more normality as the weeks and the months go by, as we get well into 2021," he said.

Fauci was asked about his own recent statement that a national lockdown is not necessary, despite soaring infections and hospitalisations.

"We're not going to get a national lockdown," he said.
"I think that's very clear, but I think what we're going to start seeing in the local levels, be they governors or mayors, or people at the local level will do, as you said, very surgical type of restrictions, which are the functional equivalent of a local lockdown.

"We're not going to have a national lockdown. But if things really get bad and you put your foot on the pedal and yet still you have the surge, you may need to take the extra step that you're talking about."

Asked about Trump's refusal to participate in the transition, Fauci said it was "almost like passing a baton in a race, you don't want to stop and then give it to somebody, you want to just essentially keep going and that's what transition is. So it certainly would make things [go] more smoothly if we could do that.

"Of course it would be better if we could start working with them."
…
Speaking to CNN on Saturday, meanwhile, Dr James Phillips, chief of disaster medicine at George Washington University Hospital, said he was "terrified" about the imminent holiday season.
"We're going to see an unprecedented surge of cases following Thanksgiving this year, and if people don't learn from Thanksgiving, we're going to see it after Christmas as well," Phillips said.
And this killing field is widespread within the GOP — I have a daughter who's a chef in Deluth, Minnesota, and she can't understand why people don't wear masks and practice social distancing.
A way-good Minnesota reason (and all over the fucking place) starts at the top:
A day after it was revealed that GOP state Sen. Dave Senjem tested positive for COVID-19 after attending a Nov. 5 party caucus, news broke that Republican senators and staffers were informed in a Tuesday memo that "a number of [GOP Senate] members and staff have been diagnosed with COVID-19."

DFLers were not informed of the rash of cases on the other side of the aisle.
…
The news that GOP senators and staffers were warned that COVID was spreading in their ranks but DFLers were not was met with distress late Friday.

"It is outrageous and completely unacceptable that Senate DFLers were not notified of the recent COVID-19 outbreak among Senate Republicans prior to Thursday's floor session," Senate Minority Leader Susan Kent, DFL-Woodbury, said in a statement. "This lack of transparency is a blatant disregard for the health and safety of others: our DFL and nonpartisan staff, members, and the communities we go home to."
Indeed, a cult of death…
'Another 40,000 coming everyday, We can be like they are...'
Yeah, like, yeah here in Californa, too: 'New coronavirus cases leaped in California in the week ending Saturday, rising 44.3-percent as 53,705 cases were reported. The previous week had 37,219 new cases.'
Otherwise, okay…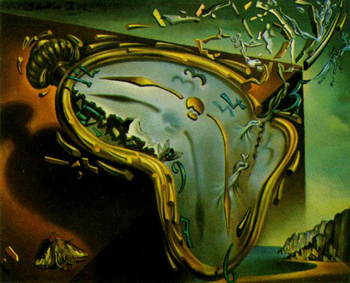 (Illustration: Salvador Dali's 'Soft Watch at the Moment of First Explosion,' found here)