As surging COVID-19 explodes across the US tallying-up record numbers with no immediate end in sight, the T-Rump, supposed leader of any national response to this catastrophic crisis, instead blows off an international summit on pandemic preparation, and hit the links:
A G20 side-meeting today on pandemic prep & response just concluded. Germany's Chancellor, France's President, and Saudi Arabia's King all attended, as did other world leaders. No American was scheduled to speak, & President Trump was at his golf course for the meeting's duration

— Garrett Haake (@GarrettHaake) November 21, 2020
The two-day G20 summit started today, and due to the coronavirus was connected by video link, with Saudi Arabia as host, but quickly created a main topic of global cooperation in making sure coronavirus vaccines would be available to everyone, not only the rich countries. The T-Rump chimed from the White House's Situation Room.
The Washington Post this afernoon covers the story, and included this: 'In brief comments to the group, President Trump said the United States has "marshaled every resource" against the coronavirus and noted the "record-setting speed" to develop vaccines and other therapies, according to a White House summary of the remarks.
He made no pledges, however, on expanding the availability of U.S. vaccines.'
Apparently, from the Post report most of the world want to share vaccines, vaccine information and distribution, even Vlad Putin spoke of "humanitarian considerations" in allowing the world use of Russian vaccines, also China, Turkey, the rest. America is alone right now.
Also on the summit's agenda are the virus-related global economic crises, climate change and developing a framework for providing poorer nations with debt relief.
COVID-19 is the linchpin subject as it should be — except for the asshole of world's asshole.
The G20's side-event on "Pandemic Preparedness and Response." should have been a must-attend meeting, unless you're a shit-heel of a monster –head of the country with the most cases and deaths due to COVID in the world doesn't care (via CNN):
But only 13 minutes after the scheduled 8 a.m. ET, start time, Trump was sending tweets focused on his efforts to overturn the results of the US presidential election.

By 10 a.m. ET, the President had departed the White House on his way to his namesake golf club outside Washington, DC.

He was there when the "side event on Pandemic Preparedness" got underway, featuring remarks from French President Emmanuel Macron, German Chancellor Angela Merkel, South Korean President Moon Jae-in and several other world leaders.
Trump did not participate.
Of course not. He doesn't give a shit.
T-Rump without an ounce of shame himself, yet a shame to all Americans:
Trump had appeared at one of the G20 meetings Saturday morning.
At one point during the summit, he suggested he'd see the world leaders again next year, despite his loss to President-elect Joe Biden.

"It's been a great honor to work with you," he said.
"And I look forward to working with you again for a long time."
What a piece of shitty work — from Cyrus the Virus:
To the T-Rump Virus: 'His name is Cyrus Grissom, A.K.A. Cyrus the Virus. Thirty-nine years old, twenty-five of them spent in our institutions. But he's bettered himself inside. Earned two degrees, including his juris doctorate. He also killed eleven fellow inmates, incited three riots, and escaped twice. Likes to brag that he killed more men than cancer.'
Update: Now deahs up to more than 250,000…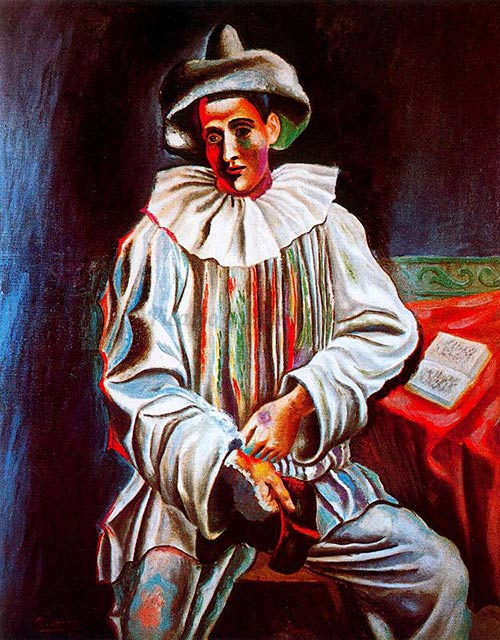 (Illustration: Pablo Picasso's 'Seated Pierrot,' found here).