As COVID-19 surges across California, the technical aspects of a vaccine roll-out are being pondered not only in logistics, but who will be getting the first doses, and beyond health-care workers and the elderly, there's seemingly an endless line of hopefuls.
In order to make a choice starting today, a pair of advisory committees — a 16-member Drafting Guidelines Workgroup made up of health professionals and vetted by a 60-member Community Vaccine Advisory Committee led by California Surgeon General Dr. Nadine Burke Harris — will make recommendations, according to Gov. Gavin Newsom, "based upon…the values that we've set forth of inclusion and equity,"
One big grouping needing the vaccine is farmworkers, a big chunk of our population here in the state's Central Valley, and how they're really susceptible to COVID and has been terribly ravaged by it:
COVID-19 vaccine: Advocates push for high priority for CA farmworkers https://t.co/7968WTpNGc

— ABC7 Eyewitness News (@ABC7) December 15, 2020
A good review of the situation at the Guardian this evening — vulnerable lives matter:
Historically marginalized groups that have been ravaged by the virus and their advocates are pushing for urgent vaccine access, including farm workers in the Central Valley, undocumented laborers in the meatpacking industry, incarcerated people in overcrowded prisons and indigenous communities in remote regions.

In deciding who gets access to the limited supplies of the life-saving vaccine in the coming months, the most populous and diverse state in the country will have to answer thorny questions about what work is "essential" and how the government should address the pandemic's systemic inequalities and historical injustices amid the virus' deadliest surge yet.

"This is a hard question, because you're essentially asking whose lives matter the most," said Janel Bailey, co-director of the Los Angeles Black Worker Center, which has helped provide Covid testing in hard-hit Black neighborhoods.
…
Dr Tony Iton, senior vice-president of the California Endowment, said he was worried some of the most disenfranchised workers in the health care system risk being left behind.

"It's not just doctors and nurses. There are highly vulnerable people who need to be at the head of the line," he said, pointing at hospital janitors, home health aides, licensed vocational nurses and others in often overlooked positions.
"It's people for whom work is essential – they have to make a daily cash number in order to pay rent, to eat and to survive."

Aquilina Soriano Versoza, the director of the Pilipino Workers Center in LA, works with undocumented caregivers who have suffered Covid outbreaks, but have struggled to get basic support due to the precarious nature of their jobs and their immigration status.
She fears similar problems with vaccines, noting that some of their jobs aren't on the books or are in private homes.
It's especially critical now as more of them are being forced to work dangerous jobs to survive: "We're continuing to lose people in the community."
…
There are also contentious questions about access for incarcerated people in the state's prison system, which has faced a catastrophic and ever worsening Covid outbreak.
Prison guards and other staff will access the vaccine as essential workers, but it's unclear whether overcrowded prisons will simultaneously offer it to prisoners, even though the institutions qualify as some of the highest-risk congregate settings.

"Vaccinating incarcerated people is essential for the people in prison who can't escape the virus," said Hadar Aviram, a University of California, Hastings law professor whose research found that prison Covid spikes are correlated to surges in the surrounding regions.
"It's also a crucial step toward eliminating the incubators that push the viruses out to the community."
And the kicker:
Community groups said that building trust in the vaccine is a crucial part of addressing equity, given that many groups disproportionately harmed by Covid have historical reasons to be skeptical about US healthcare.

"A lot of Black folks have a deep and reasonable mistrust of the government," said Bailey, arguing that it will take time and resources for some communities to feel comfortable taking the vaccine and that in the meantime the government should be providing better support so that people can afford to stay home.
If we'd only had a somewhat competent person at the helm of this nation to begin with, shit would be different, way-less lives lost, and there'd be most-likely a smooth roll-out/management of a vaccine.
Alas…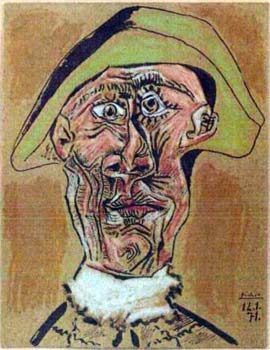 (Illustration: Pablo Picasso's 'Harlequin Head,' found here),