UPDATE:
The Nashville car bombing is getting more strange as the afternoon progresses and shit pops up on the scroll — per Mediaite:
Surveillance video from what appears to be 2nd Ave in downtown #Nashville captures recording saying "if you can hear this message, evacuate now." Then the blast happens. #nashvilleexplosion https://t.co/uOogB0u4jD

— Jason Whitely (@JasonWhitely) December 25, 2020
Footage posted on Twitter Friday by a mysterious account showed the apparent message — and subsequent blast — that rocked the city.

"This area must be evacuated now, this area must be evacuated now. This area must be evacuated now, if you can hear this message evacuate now. If you can hear this message, evacuate now," the warning states before an explosion apparently occurs and the video feed goes white.

The initial video was posted by user "@TA32556798" on Twitter, whose account was created in December 2020, and has no other posts.
And a body — via CNN: 'Authorities have found what they believe to be human remains near the site of the explosion in downtown Nashville on Christmas morning, according to two law enforcement officials familiar with the ongoing investigation.'
Apparently an RV (not a SUV as I wrote earlier), and there were gunshots heard, which prompted police to scamble downtown, where they foud a RV with a recording blaring that a bomb would explode in 15 minutes.
Anderson Cooper on CNN interviewed a witness to the whole story, and it's an action-paced, good-hearted dialogue where the witness, Betsy Williams, recalls the incident in a fairly-low-toned voice of what had to be some scary as shit stuff (via Raw Story).
Cooper said that there were reports that the gunfire could have been part of the recording warning people to leave the area, but Williams said that she couldn't hear the recording and it was the gunshots that woke her family up.

Willams said that she called 911 to report shots fired and estimated that it was between 8 and 10 shots that they heard.
When they went outside they heard the recording that the bomb was going to go off and to evacuate the area.
They got in their car and drove across the river for safety.
After the 15 minutes had passed, and nothing happened, they called 911 again to ask what they should do.
She said it was about 30 minutes after the countdown began that the bomb actually went off.
She recalled that the countdown began about 5 or 10 minutes until 6:00 a.m. because she remembered the countdown being at 11 right at 6:00 a.m.
See video of the interview at the link — it's well worth the time.
Guess I'll update if anything else peculiar pops up — still a week left with this never-ending year.
Now back to this morning…
******
Happy Day!
In order to keep the 2020 momentum going, an apparent car bomb was detonated this morning in downtown Nashville, Tenn., and authorities don't yet know anything beyond it was "…an intentional act."
(h/t for the tweet Tom Sullivan at Hullabaloo):
Here's what the #nashvilleexplosion sounded like from my backyard in East Nashville, about 2 miles away ? pic.twitter.com/60QsX6Dh36

— verystephanie (@verystephanie) December 25, 2020
An intense way to start a holiday:
Buck McCoy, who lives near the area, posted videos on Facebook that show water pouring down the ceiling of his home.
Alarms blare in the background and cries of people in great distress ring in the background.
A fire is visible in the street outside.
McCoy said the windows of his home were entirely blown out.

"All my windows, every single one of them got blown into the next room. If I had been standing there it would have been horrible," he said.

"It felt like a bomb. It was that big," he told The Associated Press.

"There were about four cars on fire. I don't know if it was so hot they just caught on fire, and the trees were all blown apart," he said.
According to CNN, three people were taken to local hospitals, but with no critical injuries. Apparently, the vehicle in question, some type SUV, looked suspicious, which raised alarms and a Metro Nashville Police Department hazardous devices unit was dispatched and was heading downtown when the exlosion occurred.
Supposedly, police were responding to a call of shots fired in the area when the SUV was spotted — no evidence of gunfire was discovered, however.
Dangerously-weird as shit — on par with life nowadays…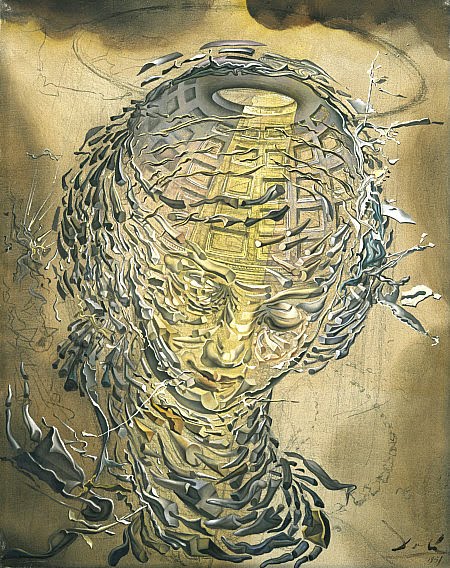 (Illustration: Salvador Dali's 'Tête Raphaëlesque éclatée [Exploding Raphaelesque Head],' found here).