Consequences off the terrible T-Rump-induced rumble/riot yesterday at/in the nation's Capitol carries not only grave democracy overtones, but also dire medical issues, like for instance, a surging-ass pandemic that's spread by breathing on one another.
On top of that, the last two days were countrywide records for COVID-19 deaths — 3,865 deaths yesterday, 3,733 on Tuesday, bringing our overall total of 361,200 dead in the past year, and of course, no real end in sight. Immediate direct result of the shitstorm at the Capitol, D.C.'s health department halted vaccinations early after the riot started, slowing what little process there is against the virus.
Health experts are more-than-a-little concerned the mob attack could also be a COVID 'superspreader event,' which is a big swamp of maskless assholes breathing hard and acting outrageous in close quarters. All documented for all to see. Spreading goes without saying, but please do (The Hill):
"Many rioters were yelling, not wearing masks, and there was little to no social distancing — all actions that allow COVID to easily spread. It is possible that this could be a superspreader event," says infectious disease epidemiologist Beth Linas in an email to Changing America.
"More concerning is that many rioters were not from DC and are likely headed home and could bring COVID with them (and they could have brought it to DC as well)."
And thus the maskless, barbarian hordes (maybe from Pluto):
(Illustration: Kent Nishimura/Los Angeles Times/TNS, found here).
A view of this pandemic, superspreader phenomenon comes from The New York Times late this afternoon — not just maskless rioters, but Congresscritters, staff, security people and news people, all at the mercy of idiots:
The mob that stormed the Capitol on Wednesday did not just threaten the heart of American democracy.
To scientists who watched dismayed as the scenes unfolded on television, the throngs of unmasked intruders who wandered through hallways and into private offices may also have transformed the riot into a super-spreader event.

The coronavirus thrives indoors, particularly in crowded spaces, lingering in the air in tiny particles called aerosols.
If even a few extremists were infected — likely, given the current rates of spread and the crowd size — then the virus would have had the ideal opportunity to find new victims, experts said.

"It has all the elements of what we warn people about," said Anne Rimoin, an epidemiologist at the University of California, Los Angeles.
"People yelling and screaming, chanting, exerting themselves — all of those things provide opportunity for the virus to spread, and this virus takes those opportunities."
…
Three distinct groups — Capitol Police, rioters and members of Congress — "were spending time indoors, without social distancing, for long periods of time," said Dr. Joshua Barocas, an infectious diseases physician at Boston University.
The melee likely was a super-spreader event, he added, "especially given the backdrop of the highly transmissible variants that are circulating."

Dr. Barocas was referring to a highly contagious new variant of the coronavirus, first identified in Britain.
It has been spotted in several U.S. states but may well have spread everywhere in the country, making events like the Capitol riot even more risky, he said.

The idea that members of Congress may have been exposed, amid an already difficult transfer of power, particularly disturbed some scientists.
"I am worried not only that it could lead to super-spreading, but also super-spreading to people who are elected officials," said Dr. Tom Inglesby, director of the Center for Health Security at the Johns Hopkins Bloomberg School of Public Health.
Assholes and idiots Congresscritters:
Rep. Jake LaTurner, Republican of Kansas, announced on Twitter early Thursday morning that he had tested positive for the virus.
Mr. LaTurner was cloistered in the chamber with other members of Congress for much of the day.

At least a dozen of the 400 or so lawmakers and staff who were huddling in one committee room refused to wear masks even after being offered one, or wore them improperly below their chins, said Representative Susan Wild, Democrat of Pennsylvania.

They gathered in a committee room that quickly became crowded, making social distancing impossible, she said.
Some of the lawmakers were unmasked, and several were shouting: "Tensions were high, and people were yelling at each other."
And the T-Rump gets another nod for dangerous, asshole behavior — Joseph Allen, an expert on buildings quality at the Harvard T.H. Chan School of Public Health in Boston, the last graph of the Times piece: The president has "created a culture in which people think it's a hoax, and these basic control measures are being flouted repeatedly everywhere," Dr. Allen said.
Further from New York Magazine this evening:
As for the lawmakers on the receiving end of the chaos, those involved in the electoral count — already facing a transmission risk by gathering in-person for a symbolic vote — were then cramped together, lying on the floor of the chamber in an attempt to take shelter.
Many members of Congress have been vaccinated, but it's a two-dose vaccine, and it's unclear how protected people are in between the first and second shot, as well as how long it takes for the vaccine to kick in.
Even if vaccinated lawmakers achieved immunity, the health of dozens of staff, reporters, and police was endangered as the chaos ensued.

Representative Susan Wild of Pennsylvania said there were 300 to 400 other evacuees in the holding location where she was placed, about half of which weren't wearing masks, despite being offered them.
"It's exactly the kind of situation that we've been told by the medical doctors not to be in," Wild told CBS News.
This infection risk came as anxiety in Congress was already rising amid questions about the accuracy of the test that the House and Senate has been using to screen members and staff, which the FDA reportedly said is prone to false results.
Dozens of members of Congress and their staff have tested positive for the virus since the start of the pandemic, and at least two lawmakers reportedly announced a positive test since yesterday.
Another piece of wait-and-see shit…
This might be a by-touch spread, but it works:
Infectious invective…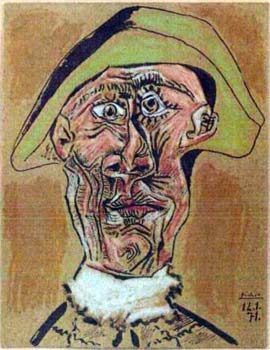 (Illustration: Pablo Picasso's 'Harlequin Head,' found here),