Blowback off last week's Capitol-building insurrection/riot continues to grow with the DOJ starting a "long term investigation" into the incident with suspects expected "to grow into the hundreds" with time, while top-tier Republicans are quickly drifting behind an impeachment drive against the T-Rump.
Tonight, the House is suppose to vote on a resolution calling for Mike Pence to invoke the 25th Amendment, and tomorrow morning take up an article of impeachment for "incitement of insurrection" in the bullshit T-Rump blathered (and still blathers) on the day of the riot.
According to The New York Times, Moscow Mitch has reached his limit (or whatever), and ''…believes President Trump committed impeachable offenses and that he is pleased that Democrats are moving to impeach him…'' — he thinks upchucking T-Rump will make it 'easier to purge him from the party.'
Meanwhile, Liz Cheney has had enough, too:
"Much more will become clear in coming days and weeks, but what we know now is enough. The President of the United States summoned this mob, assembled the mob, and lit the flame of this attack. Everything that followed was his doing.
None of this would have happened without the President.
The President could have immediately and forcefully intervened to stop the violence.
He did not.
There has never been a greater betrayal by a President of the United States of his office and his
oath to the Constitution.
"I will vote to impeach the President."
Background at The Washington Post.
Liz and the T-Rump have never been close.
One further-excellent proclamation today came from Megan Rapinoe, outspoken and talented pro soccer player with the NWSL and the US national team, who explained the situation plainly:
"This is America," Rapinoe said. "Make no mistake about it. We showed our true colors." https://t.co/AnXTwY1vHj

— Post Sports (@PostSports) January 13, 2021
Rapinoe always spoke truth to asshole power, and has never been any sort of fan of the T-Rump — never to mince words:
"Are you excited to go to the White House?" a reporter for the soccer magazine Eight by Eight asked US women's national soccer team co-captain Megan Rapinoe in June.
It was a reference to what might happen if she helped lead her team to a World Cup victory.

"I'm not going to the fucking White House," Rapinoe replied.
So today during a media teleconference, Rapinoe continued straight talking with a right-on assessment of last week's Capitol insurrection-riot, starting with supposedly a six-minute elucidation on the reality of America — snips via the Guardian:
"Hopefully [it's] the final straw for so many people to really understand the reason that we're here is because we never have actually had a reckoning with what our country really is," Rapinoe said.
"This is America. Make no mistake about it. I think we showed very much our true colors. This is not the first time we've seen a murderous mob like that. Unleashing a white supremacy mob is nothing new to America as people of color, black and brown, know very well."

She added: "It's just striking how horrible it was, and just how insane it was, from the climate in the country being such that we have our political leaders, our chief political leader, inciting an actual real-life murderous and deadly insurrection against his own government, against his own people, against his own party."
…
"All the calls for unity and moving forward obviously cannot come without justice. If we do not punish this and investigate this to the fullest extent, it only encourages more of this to happen," she said.
"We should not underestimate what could have happened. I think we are very lucky that that officer led that mob away from the Senate. We saw people with weapons and people with zip ties and they put a gallows up outside the Capitol building where they were chanting to hang the vice-president of the United States.
…
During the question-and-answer session, Rapinoe was asked about the widely circulated photo of a Trump supporter returning from Washington wearing a USWNT sweatshirt.

"I feel like I can probably speak on behalf of a lot of my teammates," Rapinoe said.
"That is not the kind of fan that we will welcome. The US crest is not to be confused with anything that has to do with white supremacy, anything that has to do with the Trump administration, anything that has to do with that divisive culture that we saw on the Capitol."

She continued: "We want to create, and continue to create, a place that is inclusive and safe and diverse for our fans and for our players to play in front of and for people to watch on TV and for the media to cover.

"So don't bring that bullshit here."
As I said, right on…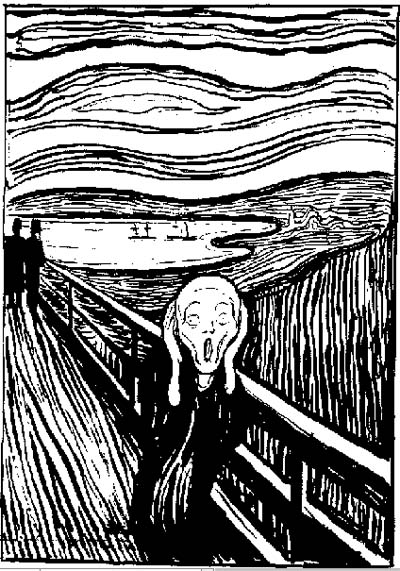 (Illustration: Edvard Munch's 'The Scream,' lithograph version, found here).