By this rime tomorrow, we'll be in a brand-new timeframe, hopefully similar like before-timeframe, like Before Times, like before the T-Rump shit on the country. If only we could erase memory (Republicans will indeed practice amnesia about the T-Rump timeframe), but we will be stained in the brain for years to come.
Despite three years of corruption, incompetency and vile behavior, the last 12 months of T-Tump's timeframe was so bad even GOPers won't be able to wash it down their collective memory hole — totally bungling on the COVID-19 pandemic, leading to hundreds of thousands unnecessary American deaths, even botching a highly-touted vaccine roll-out, and lying about the election, leading to an insurrection/riot at the nation's capitol, thus getting impeached a second time.
Extra heinous, however, is the near-genocidal approach to the virus.
Ron Klain, Joe Biden's incoming chief of staff, had some dismal words last Friday for the immediate COVID future:
"The virus is going to get worse before it gets better. I certainly expect we will hit 500,000 deaths sometime in the month of February. People who are contracting the virus today will start to get sick next month and will add to the death toll in late February, even March. So, it's going to take a while to turn this around," Klain said.
"The virus is the virus. What we can do is act to control it. And that means getting these vaccinations moving. It means getting help to state and local governments to help reopen schools safely, to give people the protective gear they need, and to really ramp up testing. We have laid out our plans to do this."
Even Biden didn't have happy news when he unveiled his vaccine program later on Friday, citing T-Rump's approach as a "dismal failure thus far," with a truth-to-ugly bottom line: "things will get worse before they get better."
Just like everything the T-Rump's touches dies (h/t once again, BJ):
Here's where the USA stands, worldwide, for #COVID19 #vaccine rollout….
(Not the worst, but terrible) pic.twitter.com/6ahCfT2E7U

— Laurie Garrett (@Laurie_Garrett) January 17, 2021
Here in California the virus blight is dire. Even with a surge, the vaccine roll-out hasn't been that great,either.
Updates from The Sacramento Bee this morning:
But deaths are now pouring in at a rate of nearly 500 a day, 10 times the rate at the start of November.
The nation's most populous state has struggled through the vaccine rollout.
And officials are growing concerned by multiple genetic variants of COVID-19 that researchers have identified in California, and which could potentially introduce new challenges, the precise scale of which remain unclear.

The state has recently reported close to 40,000 new lab-confirmed cases per day, meaning it is likely to officially reach the 3 million case milestone in today's update from CDPH.

Researchers have identified a COVID-19 variant called L452R that appears to be growing much more prevalent in some parts of California, CDPH announced in a rare Sunday evening news conference, reflecting some urgency.

At a news conference Sunday, Dr. Charles Chiu of UC San Francisco called L452R "concerning," and it has been linked to multiple large outbreaks in the Bay Area.
In Chiu's laboratory, which isn't necessarily representative of all of California, prevalence of L452R grew from about 4-percent of sequenced samples in late November and early December to 25-percent in late December and early January.
…
The worst-case scenario feared by health officials is a variant emerging that is both highly infectious and to which vaccines are significantly less effective.

Both Pfizer and Moderna's products are mRNA vaccines, which work by targeting the spike proteins of the virus, so scientists are particularly focused on variants that include mutations of these spike proteins.
And on those vaccines:
A separate dashboard from the CDC, last updated Friday, showed California as having received more than 3.5 million doses, with 1.07 million administered.
That ranks California in the bottom 10 among the 50 states plus D.C. in terms of the proportion of received doses being administering.

California Health and Human Services Secretary Dr. Mark Ghaly acknowledged early last week that health officials' considerations of risk, equity and other factors have come at the cost of speed in the rollout.

Many, including Gov. Gavin Newsom, have called the current rate of vaccinations unacceptable.
And here in my little neck-of-the-woods, Merced County, we're also topped our vaccine levels. On Sunday, I received an e-mail notice about a newly-launched website countywide to sign up for a COVID vaccine, however, later that same day, another notice indicating the vaccine sign-up was full, and there will be a waiting period for the next batch to arrive, whenever that will be.
This also from the Merced Sun-Star yesterdayafternoon:
Due to the state's vaccine distribution formula, Merced County said it has received fewer doses than neighboring counties at this time.
County officials are advocating for larger quantities and have successfully secured additional doses of the vaccine, according to the release.

"The shortage of vaccines is a nationwide issue and is not unique to us locally," Dr. Salvador Sandoval, Merced County's public health officer, said in the news release.
"We continue to ask everyone to be patient as we work toward securing additional doses of the vaccine to serve the needs of our community."

Merced County has a total of 975 doses of the vaccine that are available to be administered through public health vaccination clinics.
Joe's citing T-Rump's 'dismal failure' is too nice for the asshole — he's a fucking fucked-up monster.
People are dying:
And now, 0 days, 21 hours, 14 minutes…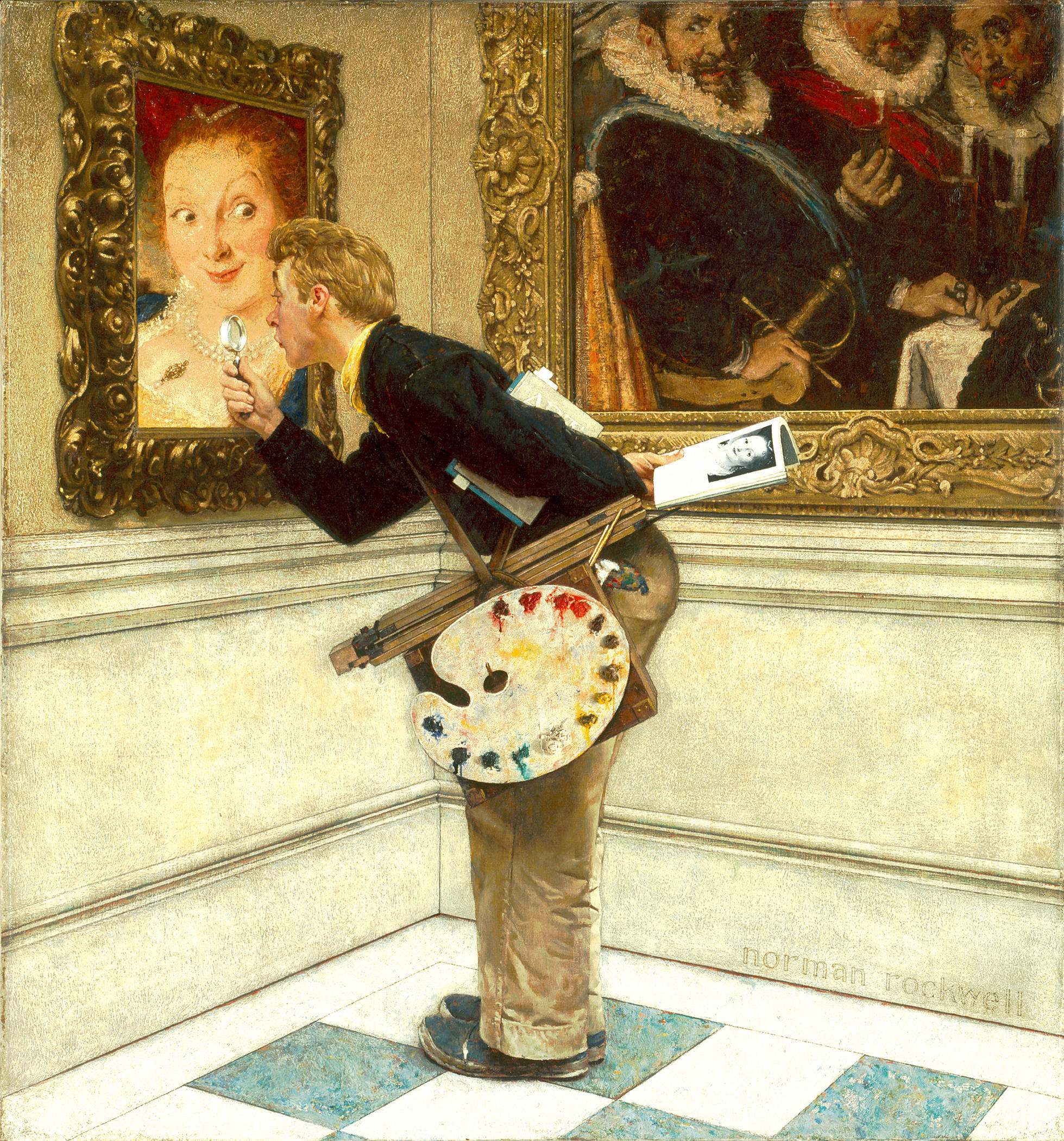 (Illustration: 'Art Critic' by Norman Rockwell, found here).