In the wake of a full news cycle yesterday, I overlooked one item regarding the T-Rump, or maybe it wasn't displayed prominently enough with all the Q-related shit in the way, but the matter was right in line with the Orange-turded loser's incompetence, not only with real estate/casinos/golf courses, etc., but also in the theatrical arts.
He resigned from the Screen Actors Guild, but ha! The union was right now considering firing his fat-ass.
Trump has written to SAG-AFTRA president Gabrielle Carteris (yes, that Gabrielle Carteris) to preemptively resign from the union.

SAG-AFTRA represents actors, announcers, journalists, etc.

He's now avoided having his membership revoked. pic.twitter.com/WRy38V5izh

— Yashar Ali ? (@yashar) February 4, 2021
The letter was sent to SAG-AFTRA President Gabrielle Carteris and is petty as shit, throwing out dumb-ass movies and TV shows like he was an entertainment phenom — the message was clear, T-Rump is an obnoxious, douchebag:
While I'm not familiar with your work, I'm very proud of my work on movies such as Home Alone 2,
Zoolander and Wall Street: Money Never Sleeps; and television shows including The Fresh Prince of
Bel-Air, Saturday Night Live, and of course, one of the most successful shows in television history,
The Apprentice – to name just a few!
Carteris, best known as the character Andrea Zuckerman on "Beverly Hills, 90210," laid it down:' "Donald Trump attacked the values that this union holds most sacred — democracy, truth, respect for our fellow Americans of all races and faiths, and the sanctity of the free press. There's a straight line from his wanton disregard for the truth to the attacks on journalists perpetrated by his followers."'
SAG replied to the T-Rump curtly and politely:
SAG-AFTRA response to Trump's letter of resignation: "Thank you." (that's it… that's the response) https://t.co/XBUuDvrdZb

— Jim Acosta (@Acosta) February 4, 2021
Even out of power, the T-Rump believes he's still the top dog.
Whoa—I just clocked that Trump signed his letter to SAG-AFTRA "President Donald J. Trump"

Given that he's now on trial for inciting an insurrection over false claims he's America's legitimate president, I think this signature, under a fake presidential seal, is a bit troubling pic.twitter.com/fE4DOsCDun

— Seth Abramson (@SethAbramson) February 4, 2021
And according to Snopes today, he's within his supposed right — he's pushing it, though, getting ready to go to impeachment trial in the Senate next week (his second impeachment) without much legal leg to sit/stand on, and he's the type asshole who gets it while he can:
However, signing a letter as "President" does not appear to be out of the ordinary.
Former President Barack Obama's statements are also released under "President Obama."
Former presidents are still addressed as "President [insert name]" or "Mr. President."
All U.S. presidents retain their titles for life.

Given that the official letter was shared by SAG-AFTRA, along with Trump's signature, we rate this claim as "True."
Borderline at best.
In the movies, TV shows listed for T-Rump in various news reports, and from the letter itself, I haven't seen the one that shocked me enough I almost blew chunks when I re-saw it three years ago — "Two Weeks Notice" is a fairly-good rom-com with likable actors (Sandra Bullock/Hugh Grant) and received good reviews when it was released nearly 20 years ago — the late-great Roger Ebert gave it three stars.
I first saw it on DVD (remember those?) and enjoyed it, and a second time in 2017 while I was in a Netflix/Amazon/Hulu rom/com binge/funk to fight off the T-Rump being president.
I'd forgotten the shit-heel was in it, near-about spoiled the movie, and made me gag a little in my mouth because it happens quickly and without warning. He plays himself, a pompous, mean-assed motherfucker:
Even Grant's character, also a real estate guy, grimaces, whispering sadly: "Not intimidated…"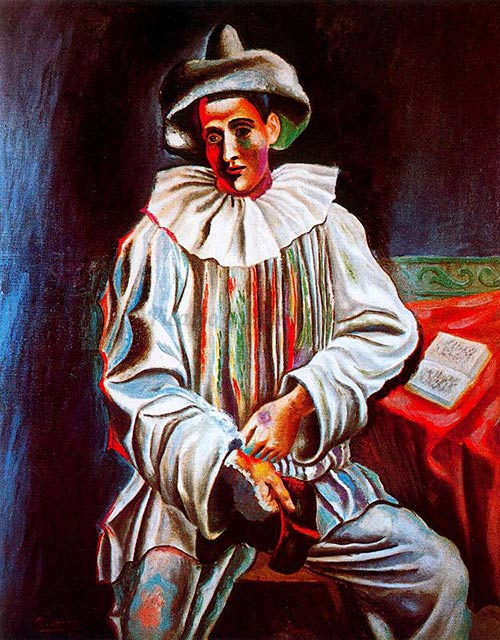 (Illustration: Pablo Picasso's 'Seated Pierrot,' found here).