Even in just a couple weeks on the job, President Joe Biden's work is approved by a majorfity of Americans, despite the mass of problems swamping the country right now — people like Joe.
Unlike the GOP, which publicly saw today one their own House members get scrubbed from her assigned committees due to being too violently crazy. Instead of Republicans handling Marjorie Taylor Greene, the entire House voted 230-199 to kick the nut off the panels, with 11 GOPers backing the Democrats' side.
And the presentation was ugly:
House Majority Leader Steny Hoyer displays post of Marjorie Taylor Greene post holding a gun next to image of Democratic lawmakers.

"This is an AR-15 in the hands of Ms. Greene…Look at that image and tell me what message you think it sends." https://t.co/431vljWkAg pic.twitter.com/U6v1S1QD1m

— ABC News (@ABC) February 4, 2021
Nancy Pelosi spoke straight (ABC News):
Pelosi told reporters Thursday she is "profoundly disturbed" that Republican leaders decided against removing Greene from her committees.

"That's just so unfortunate," she said.
"You would think the Republican leadership in the Congress would have some sense of responsibility to this institution."

Pelosi also defended her party for acting against Greene and said it's because of Republican inaction that Democrats were moving ahead with the vote later Thursday.

"If any of our members threatened the safety of other members, we'd be the first ones to take them off a committee," Pelosi said.
"That's it."
Yeah, that's more than 'it.'
Meanwhile, Biden is enjoying a bit of a honeymoon with America. Across the board Joe is favored by more Americans in bringing the country back to normal — and the Yahoo News/YouGov poll from Monday: 'The margins are decisive. The majority of Biden's proposals garner at least twice as much support as opposition. Nearly half are favored by more than 60-percent of Americans.'
And a new one from yesterday, reporting about the same thing:
new AP/NORC poll on how Americans view President Biden's job performance:

61% approve
38% disapprove

— John Harwood (@JohnJHarwood) February 4, 2021
Details from the AP:
Overall, 61-percent approve of Biden's handling of his job in his first days in office, according to a new poll from The Associated Press-NORC Center for Public Affairs Research.
Though the bulk of Biden's support is from fellow Democrats, about a quarter of Republicans say they approve of his early days in office.

Even at a moment of deep national divisions, those numbers suggest Biden, as with most of his recent predecessors, may enjoy something of a honeymoon period.
Nearly all modern presidents have had approval ratings averaging 55-prtcent or higher over their first three months in office, according to Gallup polling.
There was one exception: Donald Trump, whose approval rating never surpassed 50-percent in Gallup polls, even at the start of his presidency.
…
About three-quarters of Americans say they have at least some confidence in Biden's ability to handle the pandemic, while about a quarter have hardly any.
Still, that confidence is measured — no more than about 4-in-10 say they have "a great deal" of trust in Biden to handle any issue asked about in the poll.
…
According to the AP-NORC survey, about 8-in-10 have at least some trust in Biden to incorporate the advice of experts and advisers into his decision-making.
Roughly three-quarters have a great deal or some confidence in Biden's ability to effectively manage the White House.
And a nice, basic poll number: 'A majority of Americans — 70-percent — say they think Biden respects the country's democratic institutions.'
In a darkening for the GOP, another poll shows the T-Rump is still Republican voters' main man — per The Hill this afternoon:
Sixty-four percent of registered Republican voters in the Jan. 28-29 survey said they'd join a new political party led by the former president, including 32 percent who said they would very likely join.

By contrast, 36 percent of Republican respondents said they are either very or somewhat unlikely to join.
…
Last month, Trump reportedly floated the idea of starting a new political party, however, no concrete plan concerning a Trump-led third party has emerged.

"These numbers show that despite the Capitol riots Trump remains a political force to be reckoned with. He benefits from a diverse base of support making up over a third of voters, voters who are attracted to him on a number of issues that are yet to be properly addressed by, and coopted by, Democratic and Republican elites," Dritan Nesho, CEO and chief pollster at HarrisX, told Hill.TV.

"If Trump were to split from the GOP and create his own party, polling suggests he might well create the second largest political party in the country, knocking the GOP down to third place," Nesho added.
All that despite the insurrection/riot and all the election lies — the GOP is one fucked-up pile of shit.
"You know, morons…"
Yet, crazy-mean, nasty morons…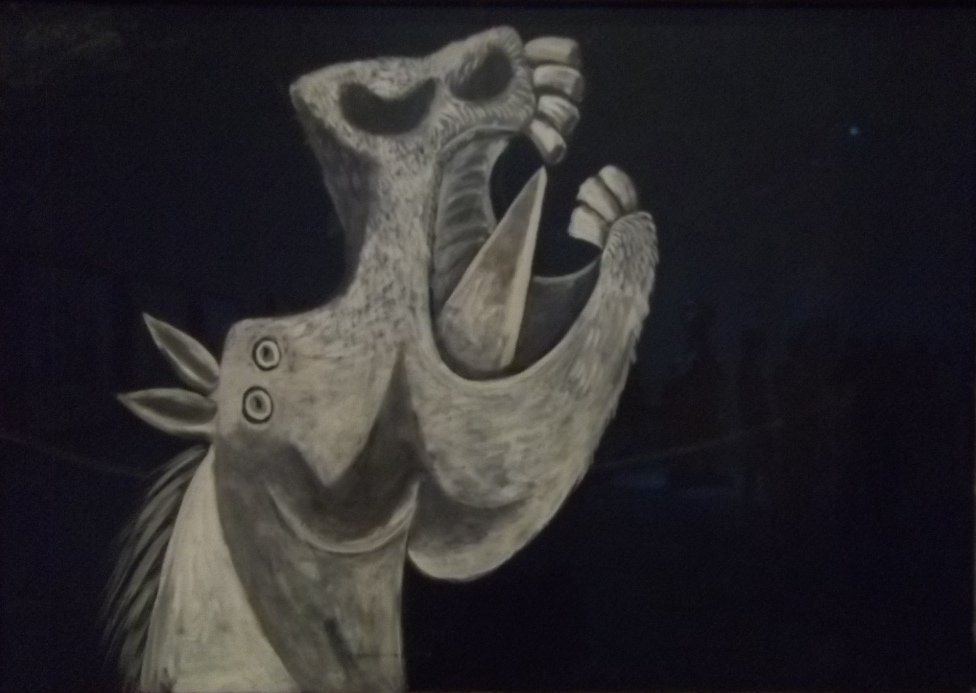 (Illustration: Pablo Picasso's 'Agonizing Horse,' found here),