As I posted yesterday about vote suppression across the US by Republicans, it seems Georgia is not alone in bullshit hypocrisy with Arizona a way-prime example:
This is an appalling, dog-whistle idea that runs in the background of a lot of anti-voting measures. Barriers aren't such a big deal because they will sort out people who don't really want to vote. The people who want to vote will find a way to cast a ballot https://t.co/M2hhaQX4Ee

— Sam Levine (@srl) March 11, 2021
The GOP is fucked with voters and they know it, and the only way around this Constitutional barrier is to bullshit with Arizona just one of a shitoad of Republican-led states moving to impede access to the ballot box — via CNN this afternoon:
They are part of a push by Republican-controlled legislatures in several states to advocate for strict new voting laws in response to Trump's false claims of widespread fraud in the 2020 election.
There are more than 250 bills in circulation nationwide, according to the most recent tally by the Brennan Center, an unprecedented nationwide effort to roll back voter access.
The list of states includes Georgia and Texas, two other states with increasingly diverse electorates where Democrats have made recent gains, and Iowa, where Republican Gov. Kim Reynolds signed a new law that makes it harder to vote early.

Nearly two dozen bills that would restrict voting were introduced in Arizona this year, and several have advanced in recent weeks.
The latest came Wednesday, when a state House committee approved a bill that would turn the state's permanent early voting list into one that drops those who skip consecutive election cycles.
The list, created with bipartisan support in 2007, now features 3.2 million people who use it to receive their ballots by mail for each election and has helped spur a shift that resulted in about 80-percent of the state's votes being cast by mail.
…
Sen. Michelle Ugenti-Rita, the Scottsdale Republican who sponsored the measure, said it is a "clean-up bill" to ensure ballots are not being created for and mailed to those who have moved, died or don't want them.
"On its face, it would make sense that you would want to reduce opportunities for fraud, undo influence, manipulation. That should be something that we all agree on, right?" she said.
"Allowing voters to sign up in perpetuity does increase the opportunity for things to go wrong."

Rep. John Kavanagh, a Fountain Hills Republican who chairs the Government and Elections Committee that advanced Ugenti-Rita's measure on a party-line vote Wednesday, said GOP lawmakers are concerned about what happens to ballots automatically sent to people who have moved or have died.
He acknowledged that the concerns about those ballots being cast fraudulently are "anecdotal, because obviously if nobody's there and they throw it away, you wouldn't know. And if nobody's there and they vote it and do a good duplicate of the signature, you wouldn't know."
"There's a fundamental difference between Democrats and Republicans," Kavanagh said.
"Democrats value as many people as possible voting, and they're willing to risk fraud. Republicans are more concerned about fraud, so we don't mind putting security measures in that won't let everybody vote — but everybody shouldn't be voting."
Arizona Rep. Athena Salman, a Tempe Democrat and member of the Arizona House Government and Elections Committee, hit the cheating nail on the head: '"They are trying to make it harder for everyone to vote based on the hope and desire that the people who it harms more and who it disenfranchises more are the people less likely to vote Republican."'
Furthermore and right-on to the horror of Republican bullshit::
2 cases of voter fraud in 2020: let's pass 253 voter suppression bills in 43 states

525,000 dead Americans: who needs covid relief?

— Ari Berman (@AriBerman) March 10, 2021
And going beyond voting bullshit, Republicans are a crazed bunch of nutcases pushing against the health and well-being of the very people who voted for their asses. Especially in the COVID-19 apparatus operating non-stop all over, with Republicans in various high offices acting as if the coronavirus des not apply to right-leaning people. It's as if they've set out to kill though asshole-disregard for the living.
David R. Lurie at The Daily Beast this afternoon examines the strange-ugly scenario of GOP-led shit:
When examined from a public health, or economic, perspective, the efforts of these and other GOP officeholders to reduce or eliminate pandemic mitigation measures are hard to understand, let alone explain.
As the experiences of states like Texas have already demonstrated, the elimination of, or refusal to implement, social distancing practices inevitably and rapidly results in increased infections and deaths.
Hospital systems are rapidly overwhelmed and deaths are compounded soon after mitigation measures that have been proven to work are discarded.
Such a risk of medical infrastructure collapse is all the greater because of the increasing spread of more virulent variants, as Brazil's recent experience demonstrates.

Furthermore, the same week that GOP governors began stampeding to eliminate mask mandates, the CDC announced the result of a study concluding that widespread mask-wearing mandates, as well as indoor dining bans, do reduce deaths.

The GOP's irrationality, indeed nihilism, regarding the pandemic is not limited to the nation's statehouses.
In D.C., every Republican lawmaker has voted against the COVID relief bill, which will provide $1.9 trillion to prevent unnecessary deaths and hasten the reopening of schools, including by funding rapid vaccine production and distribution, as well as provide local school systems and health departments with the money they need to bring the pandemic to an end and return the nation to normalcy.

The absurdly irresponsible conduct of Republican public servants is not the product of ignorance.
These officeholders know that investments in public health will pay off. During debate of the COVID relief bill, Senate Minority Leader Mitch McConnell repeatedly acknowledged as much, stating that he expects the country to come "roaring back" after the legislation is implemented — that is, as a result of the expedited end of the pandemic and an economic recovery.
Bottom line is that Repubicans would rather people die than allow Democrats to win.
Terrible shit of a future, well beyond the voting booth.
"Is in itself a lie…"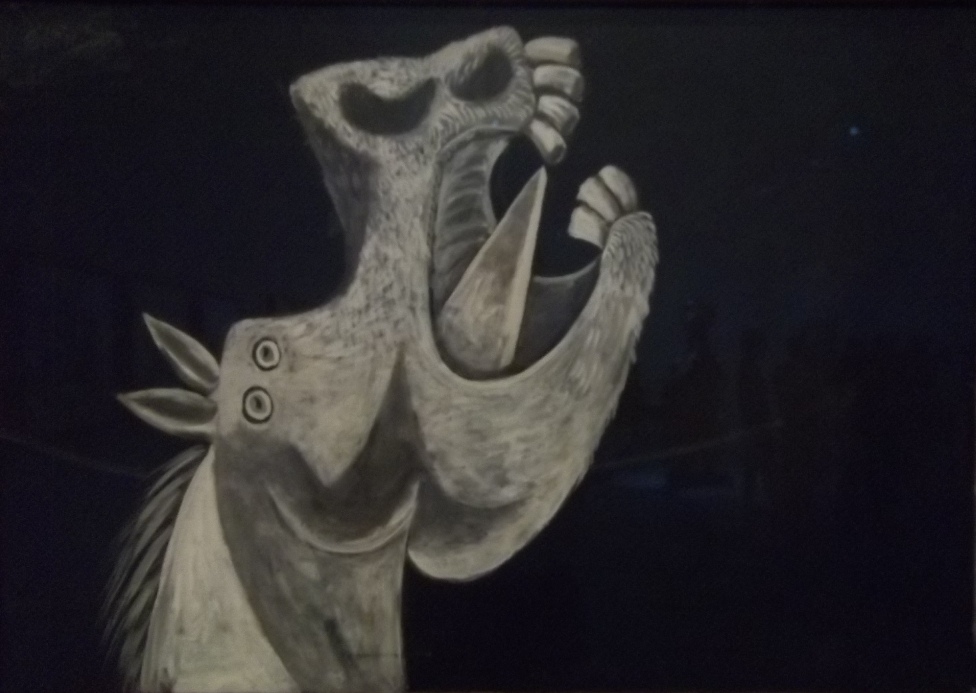 (Illustration: Pablo Picasso's 'Agonizing Horse,' found here),