(Illustration: 'Why Nurses Do What They Do,' by Emily Thomas, and found here).
Just I figured a long, ugly while ago, we're far from being out of any kind of woods in conjuction with overcoming the crazy-ass COVID-19 pandemic, as mini-surges seem to be developing across various part of the US — and this despite the mighty vaccine roll-out — as of this morning, 143 million doses have been administered, with more than 93 million people at least receiving one dose, and more than 51 million fully vaccinated, which amounts to about 15-percent of the population.
Good looking,but still not enough.
According to the John Hopkins University board thingie, and also as of this monring, 549,538 Americans have died from COVID so far, and although cases and deaths are decreasing, there's shit in the cookies.
And the scene doesn't score high points when the CDC chief gets alarmingly impassionedl:
CDC Director Dr. Rochelle Walensky goes off script with an emotional plea to the public about an "impending doom" following rise in COVID cases:

"Right now, I'm scared." pic.twitter.com/UKjrRhr7He

— The Recount (@therecount) March 29, 2021
Some deatils via the Guardian's live blog:
Dr Rochelle Walensky deviated from her prepared remarks for the briefing to reflect on the "recurring feeling I have of impending doom".

"We have so much to look forward to, so much promise and potential of where we are and so much reason for hope, but right now I'm scared," Walensky said, as her voice wavered.

"I'm speaking today not necessarily as your CDC director, and not only as your CDC director, but as a wife, as a mother, as a daughter to ask you to just please hold on a little while longer," the CDC director added.

Asked later in the briefing to explain why she is concerned, Walensky noted that new coronavirus cases in the US had recently stagnated around 40,000 to 50,000 a day.
But the number of new cases has recently ticked upward to around 70,000 a day.
Coronavirus hospitalizations and deaths are also on the rise in the US.

Walensky urged Americans to continue taking every possible precaution to limit the spread of the virus as states work to get more residents vaccinated.
Further from CNN:
"Now is one of those times when I have to share the truth, and I have to hope and trust you will listen. I'm going to pause here. I'm going to lose the script, and I'm going to reflect on the recurring feeling I have of impending doom," Walensky said, appearing to tear up.

"We have so much to look forward to, so much promise and potential of where we are and so much reason for hope. But right now, I'm scared," Walensky said.

"I know what it's like as a physician to stand in that patient room — gowned, gloved, masked, shielded — and to be the last person to touch someone else's loved one, because they are not able to be there," she continued.

Walensky said that the United States has come "such a long way" with three authorized vaccines and pleaded with the nation to keep following mitigation measures and "just please hold on a little while longer."

She went on to further explain why she worries about "impending doom," referencing how the country has seen a steady increase of coronavirus infections.

"What we've seen over the last week or so is a steady rise of cases," Walensky said.
"I know that travel is up, and I just worry that we will see the surges that we saw over the summer and over the winter again."
Walensky's concern is well-founded — per BuzzFeed this afternoon:
The rise in new cases began in Michigan, then fanned out across the Midwest and the Northeast.
Now cases are rising in states from Hawaii to Florida — where Spring Break partying alarmed local health officials and led to clashes with police.
"An enormous number of people are coming our way, and many of them, if not most, seem to have forgotten that there's a pandemic," the mayor of Miami Beach, Dan Gelber, told USA Today on March 15.

"I'm really worried about the spring break activity in Florida," George Rutherford, an epidemiologist at UCSF, told BuzzFeed News.
"We'll know soon if those people brought cases back home with them. If we see an outbreak in Alabama in a college town all of a sudden, we might say, 'Yeah, that was the problem.'"

More dangerous coronavirus variants may be partly to blame for the rises in cases.
Data from the CDC shows that Florida and Michigan lead the nation for confirmed cases of the more transmissible and deadly B.1.1.7 coronavirus variant, first seen in the UK.
But this data provides a limited view of the spread of variants in the US, since genetic surveillance for these variants is still not widespread.

"We know about 26-percent of all sequenced virus is now the B.1.1.7 variant," Walensky said.
"And that may be one of the reasons, if people are not doing the things — masking and distancing to protect themselves — this variant is probably less forgiving and more infections will occur."
Of course, there's the way-ugly history left from the excrement left from the horror of the T-Rump — from Reuters last Thursday:
U.S. COVID-19 fatalities could have stayed under 300,000, versus a death toll of 540,000 and rising, if by last May the country had adopted widespread mask, social distancing, and testing protocols while awaiting a vaccine, estimated Andrew Atkeson, economics professor at University of California, Los Angeles.

He likened the state-by-state, patchwork response to a car's cruise control.
As the virus worsened people hunkered down, but when the situation improved restrictions were dropped and people were less careful, with the result that "the equilibrium level of daily deaths … remains in a relatively narrow band" until the vaccine arrived.
As an insight into the T-Rump's shitty COVID approach, CNN's Dr. Sanjay Gupta interviewed some pandemic doctors about the start-stages of the virus spread — interesting, but nothing new, though, Anthony Fauci nailed it:
Asked if there was a moment when he knew the danger was going to be big, Fauci said "When I saw what happened in New York City, almost overrunning of our health care system, it was like, 'Oh my goodness.'"
No shit, Tony…
And here's Fauci and the masks:
He's a good guy, follow his lead…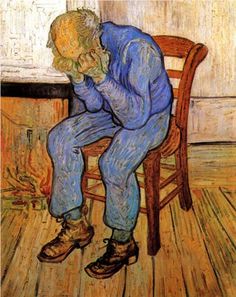 (Illustration: Vincent van Gogh's 'Old Man in Sorrow (On the Threshold of Eternity)' found here).