Maybe for the first time in his long, repugnant life, the T-Rump could finally be in the legal shits, between tax/business shenanigans in New York (and elsewhere), his inciting an insurrection, and pending court cases of women he's defamed, the asshole could see some good-time judgment.
Just yesterday, the latest:
ZERVOS!! MOVES!! FORWARD!!

"The defamation suit against Donald Trump filed by Summer Zervos is back on track after New York's highest court agreed the case should continue now that the onetime reality-TV host is no longer president." @eelarson " pic.twitter.com/4MJkqEA1Uc

— E. Jean Carroll (@ejeancarroll) March 30, 2021
Details via Law&Crime yesterday afternoon:
New York state's highest court on Tuesday dismissed Donald Trump's appeal of a defamation case filed against him by Summer Zervos, a former contestant on his reality TV show The Apprentice, reasoning that the basis for the former president's appeal was no longer relevant since he left office.
Attorneys for Trump had argued on appeal that the U.S. Constitution prohibited a state court from exercising jurisdiction over a sitting president, saying it would result in state's "impermissible direct control" over the federal government.

Despite the trial court and appellate court rendering judgments in Zervos' favor, Trump's status as commander-in-chief allowed him and his legal team to drag the proceedings out for years while the courts mulled over delicate issues concerning federalism and executive authority.
…
The case stems from an alleged groping incident at the Beverly Hills Hotel in 2007.
According to the filed complaint, Zervos said Trump "ambushed" her, forcing himself on her in his hotel room against her will and also touched her breasts and pressed his genitals against her without consent "on more than one occasion."

When Zervos went public with her accusations in 2016 — around the same time that the infamous "Access Hollywood" tape had been publicly released — Trump denied the allegations, saying she was lying about the encounter.
…
"Now a private citizen, the defendant has no further excuse to delay justice for Ms. Zervos, and we are eager to get back to the trial court and prove her claims," Zervos's attorney Beth Wilkinson said in statement following the order. Wilkinson filed the appeal on behalf of Zervos on the same day that Trump officially left office.
And the T-Rump faces the tweet writer above, E. Jean Carroll, with similar charges:
Trump is facing a similar defamation lawsuit for vehemently denying that he sexually assaulted author and journalist E. Jean Carroll.
Carroll alleged that Trump defamed her when he said that she was lying about being raped to sell more books.
She also said it was a lie that Trump didn't know who she was (the lawsuit included a photo of them at a party in 1987).

That case is currently on appeal in the Second Circuit after a district court judge denied the Justice Department's attempt to defend the president against Carroll's charges.
And the T-Rump might have to soon face a deposition in that case: '"I am living for the moment to walk into that room to sit across the table from him," Ms Carroll said in an interview. "I think of it every day."'
Meanwhile, the T-Rump's action  per the Jan. 6 insurrection/riot at the US Capitol building is under heavy-legal fire — via BuzzFeed this afternoon:
This week, two US Capitol Police officers who said they were on the front lines at the Capitol on Jan. 6 sued Trump, arguing that he was liable for inciting the violence and for the physical and emotional injuries they sustained during clashes with rioters.

There are already two lawsuits filed by Democratic members of Congress — Reps. Bennie Thompson and Eric Swalwell — that accuse Trump and his allies of conspiring to interfere with their official duties by pushing the false claims of voter fraud that underpinned the Capitol insurrection.
A fourth case, filed a few weeks before the January riot, accuses Trump and Republicans of violating federal civil rights law by focusing postelection challenges and fraud falsehoods on areas with large Black populations.
…
In the case filed in federal district court in Washington, DC, on Wednesday, longtime Capitol Police officers James Blassingame and Sidney Hemby alleged that Trump "inflamed, encouraged, incited, directed, and aided and abetted" his supporters who rioted on Jan. 6.
They pointed to the weeks of postelection tweets and public remarks from Trump claiming the election was stolen and promoting demonstrations before Jan. 6 that had turned violent.
They noted a tweet that Trump sent early on Jan. 6 urging Republicans to "FIGHT!" as well as his speech at the "Stop the Steal" rally just before the riot began when he said, "if you don't fight like hell, you're not going to have a country anymore."
…
The lawsuit described how a "tidal wave of insurrectionists … quickly outnumbered" the officers stationed outside of the Capitol.
Rioters "crushed" Hemby against a door as they tried to get inside, and hit him and sprayed him with chemical irritants — he was bleeding from a cut below his eye and had "cuts and abrasions" all over his body.

Blassingame, meanwhile, was inside the building and the small group of officers he was with were overwhelmed as rioters streamed through windows and doors, according to the complaint.
He was "slammed" into a stone column by a "forceful surge," and rioters repeatedly hit him with fists, flagpoles, and other weapons.
Blassingame and Hemby are Black, and the lawsuit described how Blassingame "lost count" of how many times rioters called him a racial slur.
Black officers have previously described facing an outpouring of racist attacks on Jan. 6.
All this shit amounts to way-serious trouble for the T-Rump. Former acting White House Solicitor General Neal Katyal explained today to MSNBC's Nicolle Wallace (via Raw Story):
"If you could short Donald Trump right now it would be a good time to do so. Everything you're saying, Nicolle, is absolutely right. This, in conjunction with new developments going on in New York, with respect to Weissberg and the like. Donald Trump is in serious trouble. The difference between now and the past is that the Republican Party and senior officials are inviting the trouble and saying there's merit to it."
Maybe, just maybe, the T-Rump will finally face judgment.
Hope!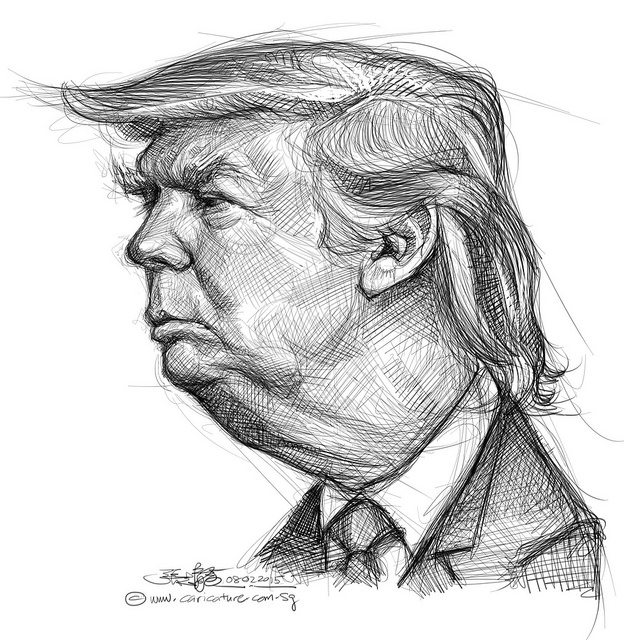 This is my favorite of the T-Rump mugs, though, 'favorite' does not mean in any form or fashion, as in, 'my favorite movie,' or 'my favorite song.'
It's more of an anti-appreciation/like.
And aptly titled, 'Basic Shapes,' by caricaturist/illustrator Chong Jit Leong (and found here), and displays the elemental form of a purloined sociopath — a bloated profile of flatulent bile and arrogant ignorance.