Meanwhile, beyond the shooting of guns and the killing thereof, the immediate COVID threat continues to expand with the possibility that even vaccines available, there's enough assholes who won't take a shot to keep the US from beating the virus — Republican are so shitting on this country.
We're about to reach a weird-ass milestone — plenty of doses, but no takers with 45-percent of Republicans declaring they won't get pricked.
Leading to a gasp — from CNN this afternoon:
As US health officials race to get more Covid-19 shots into arms to control the virus, experts now warn the country will run into another challenge in the next few weeks: vaccine supply will likely outstrip demand.

"While timing may differ by state, we estimate that across the U.S. as a whole we will likely reach a tipping point on vaccine enthusiasm in the next 2 to 4 weeks," the Kaiser Family Foundation said in a new report published Tuesday.

"Once this happens, efforts to encourage vaccination will become much harder, presenting a challenge to reaching the levels of herd immunity that are expected to be needed."

Health officials — including Dr. Anthony Fauci — estimate that somewhere between 70-percent to 85-percent of the country needs to be immune to the virus — either through inoculation or previous infection — to suppress is spread.

So far, roughly 40.1-percent of the population has gotten at least one Covid-19 vaccine dose, according to data from the Centers for Disease Control and Prevention (CDC).
And about 26-percent of the population is fully vaccinated, that data shows.
A slowing vaccine demand now, experts say, could give dangerous coronavirus variants the opportunity to continue to mutate, spread and set off new surges — and it could delay the country's return to a semblance of normalcy.
Republicans ability/desire to f*ck shit up is the real normalcy:
Self-Pity is a hell of a drug https://t.co/NNuIElPX9I

— Molly Jong-Fast? (@MollyJongFast) April 21, 2021
Bess Levin at Vanity Fair today looked at the GQP non-dosers:
As Joe Biden prepared to take office, he announced an ambitious target to vaccinate 100 million Americans within his first 100 days. When it became clear he was going to achieve that goal well ahead of schedule, he upped it to 200 million, a figure his administration is on track to hit this week.
As part of that effort, on Wednesday, the president will call on businesses to give workers paid time off to get their COVID-19 shots.
On Monday, everyone in the country over 16 became eligible for the vaccination, and as of Wednesday, 40-percent of the U.S. population had received at least one dose of a vaccine and more than 50-percent of adults had gotten at least one shot, according to a Centers for Disease Control and Prevention tally.
Which is obviously fantastic news!
A lot less fantastic: the fact that a significant number of Republicans are refusing to get the vaccines available to them, threatening to prevent the U.S. from reaching herd immunity and a return to prepandemic life.

Axios reports that the United States is expected to run out of adults who want to get vaccinated within the next two to four weeks, citing a recent Kaiser Family Foundation analysis.
According to the authors of the paper, "It appears we are quite close to the tipping point where demand for rather than supply of vaccines is our primary challenge.… Federal, state, and local officials, and the private sector, will face the challenge of having to figure out how to increase willingness to get vaccinated among those still on the fence, and ideally among the one-fifth of adults who have consistently said they would not get vaccinated or would do so only if required."
The authors added: "Once this happens, efforts to encourage vaccination will become much harder, presenting a challenge to reaching the levels of herd immunity that are expected to be needed."
…
Yet more worrisome: the fact that there appears to be little that can be done to change the minds of people refusing to take one of the most important steps toward ending the pandemic.
…
Disturbingly, the focus group revealed that many people refusing to get vaccinated would use a fake vaccination card claiming they had received their shots.
"One-thousand percent," one woman said.
"If I have a fake vaccine card, yeah, I can go anywhere," said one man.
Other participants said they'd use a fake vaccination card to go on trips and attend concerts.
Federal officials have warned that they will prosecute Americans who make, sell, or use falsified cards, and noted that the use of such documents could prolong the pandemic by letting unvaccinated people continue to spread the highly contagious virus.
…
Meanwhile, the refusal of a huge percentage of the population to get a vaccine that could not only save their lives but the lives of other Americans is coming at a treacherous moment.
…
"We are in a perilous moment with the rise of variants and pandemic fatigue," warned Georgetown University global health expert Lawrence Gostin.
"What protects us from another surge is immunity," Jeffrey Klausner, a clinical professor of preventive medicine at USC, told The Daily Beast.
Yet, what can immune us from Republicans?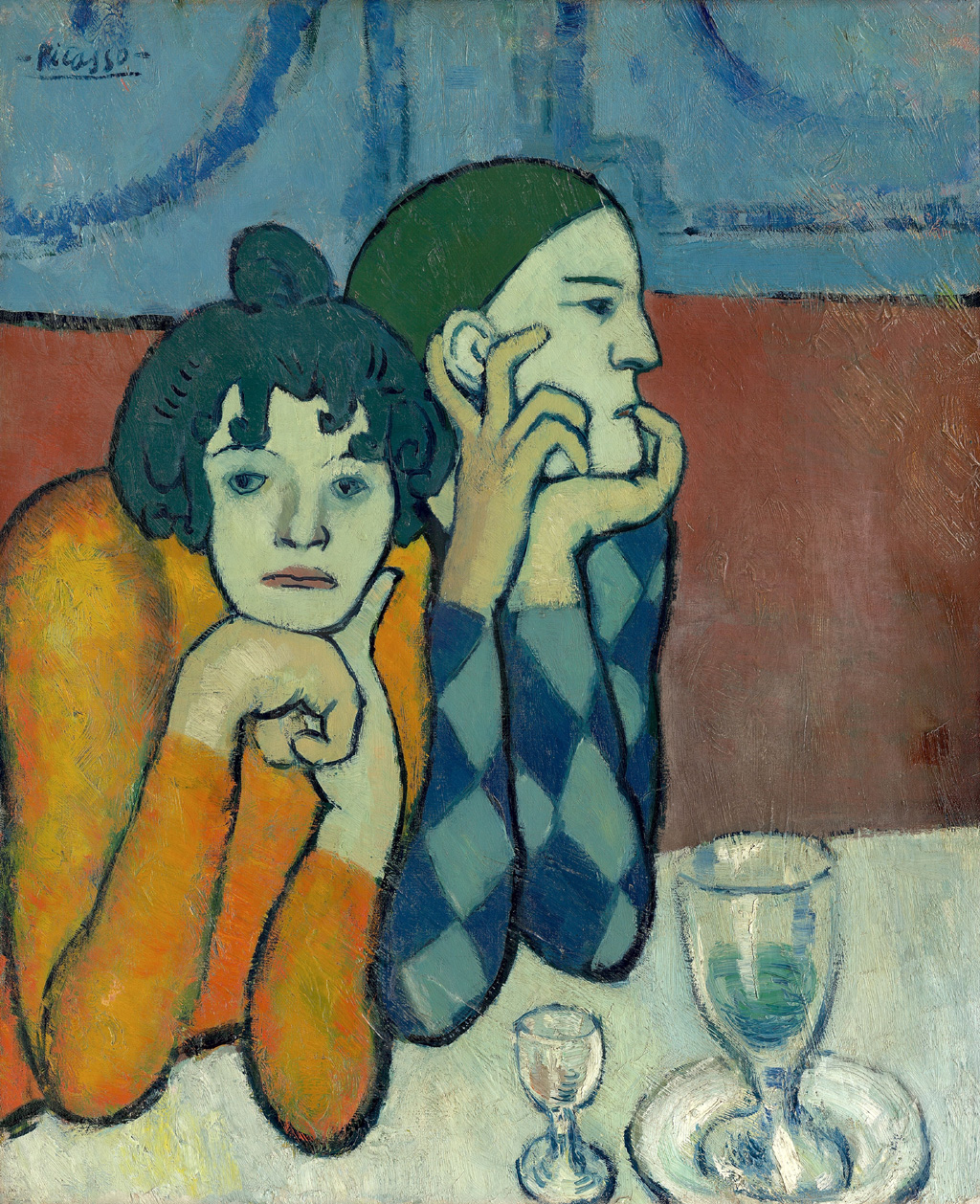 (Illustration: Pablo Picasso's 'Les Deux Saltimbanques: l'Arlequin et Sa Compagne,' found here)