A voice of reason and science in a plague of bullshit, Anthony Fauci continues to keep the COVID-19 menace in full view.
In an interview at the Guardian yesterday, he again flashed a warning:
"We don't want to declare victory prematurely because we still have a ways to go … But the more and more people that can get vaccinated, as a community, the community will be safer and safer."
…
"As long as there is some degree of activity throughout the world, there's always a danger of variants emerging and diminishing somewhat the effectiveness of our vaccines."
…
"We cannot abandon public health measures when you still have a degree of viral activity in the broad community in the United States … Although we're down to less than 30,000 infections per day that's still a lot of infections per day."
Points of seemingly common-health sense.
And apparently Fauci has been on track since the beginning, fighting against misinformation and outright lies:
Dr. Fauci email from April 2020: "All is well despite some crazy people in this world."https://t.co/xBwDr5yo27

— Kyle Griffin (@kylegriffin1) June 1, 2021
In an 866-page cache of e-mails from March and April 2020 shows Fauci trying to get a grip on an overpowering pandemic while responding to the giant-horror produced by the T-Rump and his band of idiots who were downplaying and lying about the severity of the crisis.
Some highlights per The Washington Post this morning:
As the coronavirus pandemic engulfed the world last spring, Science magazine quoted a top Chinese health official saying that the United States and other Western nations were making a "big mistake" by not telling people to mask up.

The official, George Gao, worried that the comment might upset his longtime friend Anthony S. Fauci, Washington's leading expert on infectious diseases. So amid the deepening crisis, Gao reached out to clear the air.

"I saw the Science interview, how could I say such a word 'big mistake' about others? That was journalist's wording. Hope you understand," Gao, director of the Chinese Center for Disease Control and Prevention, wrote to Fauci in a March 28 email. "Lets work together to get the virus out of the earth."

"I understand completely. No problem," Fauci wrote back. "We will get through this together."
…
After Fauci faced threats from Trump supporters who blamed him for supporting social distancing rules that closed schools, tanked the economy and threatened Trump's reelection prospects, Gao, a member of the U.S. National Academy of Sciences, emailed again.

"I saw some news (hope it is fake) that [you] are being attacked by some people. Hope you are well under such a irrational situation," Gao wrote on April 8.

"Thank you for your kind note," Fauci replied three days later. "All is well despite some crazy people in this world."
…
Threats from the "crazy people" would lead U.S. officials to assign Fauci a full-time security detail. On April 26, he received an email from Freddie Barnes, a military veteran and chaplain with North Carolina's Department of Public Safety writing "to express my profound appreciation to you for your work during the COVID-19 pandemic."

"I especially appreciate how you have spent considerable time and capital reaching out to the Black and brown communities," Barnes wrote. "For you to be intentional about keeping minority communities in the loop is commendable, especially since these communities will be absorbing the disproportionate share of sicknesses and deaths coming from COVID-19."

He ended the email with a warning: "Take care and 'Cover your six' " — military slang for "watch your back."
And this is particularity interesting, an exchange between Fauci and Emilio Emini, a top executive with the Bill and Melinda Gates Foundation, who raised concerns about the doctor's health:
"I see you on TV almost every day, and although you continue to have considerable energy, I am seriously worried about you," Emini wrote.
"The nation and the world absolutely need your leadership."

Fauci wrote back at 1:53 a.m., saying, "I will try to engage as much as I can given my current circumstances."
Go read the whole piece, does reveal that Fauci was and still is the man of the COVID hour.
And of those 'current circumstances' he referred to was, of course, the shit with T-Rump and his insane, violent and dangerous MAGA hatters — a direct result was the needless death of hundreds of thousands of Americans.
In that context, I don't think T-Rump will ever suffer any consequences of what he did (and did not do) in the pandemic. The British medical journal the Lancet, however, last February published an evalustion of the early COVID resonse — it sucked on the T-Rump:
"Many of the cases and deaths were avoidable. Instead of galvanizing the U.S. populace to fight the pandemic, President Trump publicly dismissed its threat (despite privately acknowledging it), discouraged action as infection spread, and eschewed international cooperation. His refusal to develop a national strategy worsened shortages of personal protective equipment and diagnostic tests. President Trump politicized mask-wearing and school reopenings and convened indoor events attended by thousands, where masks were discouraged and physical distancing was impossible."
And: 'The result, the Lancet notes, is more than 450,000 deaths where "about 40 percent of which could have been averted had the U.S. death rate mirrored the weighted average of the other G7 nations."'
On the head of that piece-of-shit T-Rump.
Another source of T-Rump's virus shit comes from "The Plague Year: America in the Time of Covid," by Lawrence Wright, Pulitzer Prize-winning staff writer for The New Yorker.
'The Plague Year' factually and unwaveringly examines America's take on the virus — although just about no one in the US government gets away unscathed, the featured point on the whole scenario from a review in the Guardian yesterday:
He (T-Rump) set individual states to bid against each other for PPE, as though they were procuring it from eBay. He ignored his government's advice and almost certainly became a super-spreader of the virus within the White House.
And, as Wright reminds us, he even went so far as to rally support for the fight against Covid by visiting a mask factory — while not wearing a mask!

He also appointed questionable officials who ended up running critical health institutions during the pandemic.
Robert Redfield, for example, former director of the Centers for Disease Control and Prevention (CDC), is a man who at one stage refused to support the use of condoms during the Aids crisis, insisting instead on sexual abstinence.
And here we are…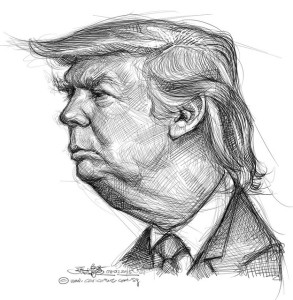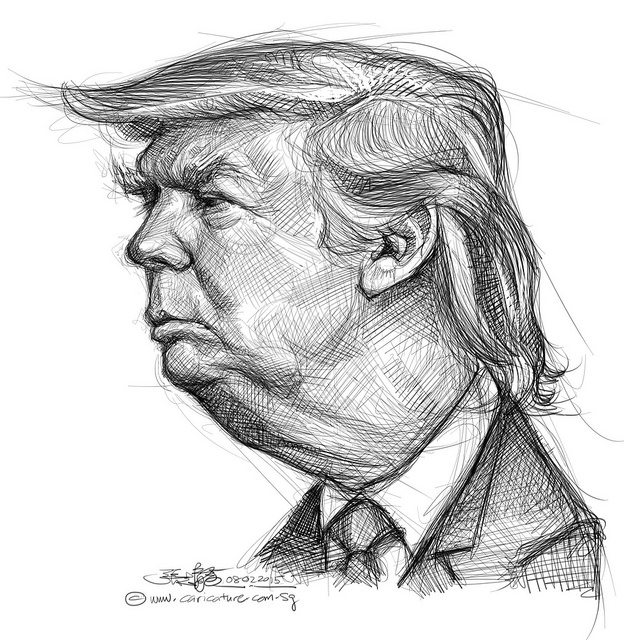 This is my favorite of the T-Rump mugs, though, 'favorite' does not mean in any form or fashion, as in, 'my favorite movie,' or 'my favorite song.'
It's more of an anti-appreciation/like.
And aptly titled, 'Basic Shapes,' by caricaturist/illustrator Chong Jit Leong (and found here), and displays the elemental form of a purloined sociopath — a bloated profile of flatulent bile and arrogant ignorance.