Two of the biggest cogs in opposing Republicans' war on voting/democracy are Democrats — Joe Manchin and Kyrsten Sinema, with Manchin being the greater asshole. Manchin is the obstacle in the way of the Senate passing the For The People Act, the real-only course of action to stem GQPers voting suppression bills/laws sprouting-up all over the country.
Time is of the essence;
As Jennifer Rubin at The Washington Post wrote earlier this month: If the red line for Republicans is embrace of the Big Lie, the red line for Democrats is embrace of the Big Truth — namely that democracy is imperiled by Jim Crow-style legislation. Ultimately, Manchin will have to decide whether he stands with advocates of voter suppression or his own party.
Despite Manchin even actually saying, "I'm never an obstacle," he truly is, from the shitstorm over the Jan.6 commission, to the voting bills (along with 'People,' there's the John Lewis Voting Rights Act), and the jerk seems more interest in how Republicans vote than what's good for the country.
As it happens, Joe Biden zinged Manchin and Sinema today during a speech in Tulsa, Okla., marking the centennial of the 1921 Tulsa Race Massacre — he didn't name then specially, but everyone knows:
Drag them, joe. https://t.co/DZwCK3W49C

— Molly Jong-Fast (@MollyJongFast) June 1, 2021
Although Manchin and Sinema have voted 100-percent for Biden's agenda. they both crossed the aisle more in 2020 than any other Dem — Manchin 38.5-percent of the time, Sinema 33.1 percent. Manchin appears more on-point with getting Republicans approval than anything else. He even touted his "most bipartisan senator," as if it was a good thing, a badge of honor.
The problem: He can't/won't see Republicans as backstabbing, lying pieces of shit, not to be trusted. A stance which in turn, costs the country.
Even Max Boot can see it, and the horror of what the GQP is up to regarding 2022 and 2024 — from a column at The Washington Post this morning:
This brings us to a nightmare scenario: a Republican-controlled Congress overturning the 2024 presidential election results to install Trump or a Trump mini-me in the White House. In January, 139 House Republicans and eight Senate Republicans voted not to certify electoral college results in at least one state.
Since then, the most prominent GOP opponent of the "big lie," Rep. Liz Cheney (Wyo.), has been purged from the House leadership.
Willingness to lie about election fraud has become a litmus test for Republicans, with the implicit threat of mob violence if they don't go along.
Republicans are so scared of Trump and his fanatical followers that most of them just voted against a bipartisan investigation of the Jan. 6 attack on the Capitol.
…
I hope I am being overly alarmist. I really do. But after the storming of the Capitol — and the Republican failure to hold the instigators to account — we have crossed a Rubicon.
The best way to protect our electoral system is to pass the For the People Act, which would curb partisan gerrymandering and protect voting rights.
Senate Democrats have to choose between saving the filibuster and saving democracy. They can't do both.
This is where Manchin should get the f*uck out of the way — democracy depends on it.
In that regard, Biden made a good move today — via the Guardian live blog this afternoon:
Kamala Harris, who was tapped today to lead the administration's efforts to protect voting rights, has released a statement endorsing the Democrats' The For the People Act and John Lewis Voting Rights Act.

"In the last election, more people voted than ever before. Since then, more than 380 bills have been introduced across the country that would make it harder for Americans to vote," she said.
These bills seek to restrict the options that make voting more convenient and accessible, including early voting and vote by mail."

Harris and Joe Biden have long endorsed the Democrats' two major voting rights bills — which face a steep road ahead.
In the Senate, Republicans and some moderate Democrats like Joe Manchin of West Virginia have opposed the For the People Act. Manchin called it "too darn broad" and partisan.
He, Arizona's Kyrsten Sinema and other Democrats have also resisted their colleague's efforts to pass the bill by gutting the filibuster, a procedural obstacle that prevents most bills that don't have the support of at least 60 senators from ever getting a vote.

It's unclear what, if anything, Harris could do to change these realities. Having served in the Senate for four years, she has some ties in the chamber. But Biden, who served in the chamber for nine times has long, is thought to have much deeper relationships with Senators — and has been unable to win them over.

"I will work with voting rights organizations, community organizations, and the private sector to help strengthen and uplift efforts on voting rights nationwide," Harris said.
"And we will also work with members of Congress to help advance these bills."

Harris has also been tasked with diplomatic efforts in the Northern Triangle, leading the efforts to expand broadband internet and other issues.
America might be in its darkest era, ever — however, now in reality we face aliens led by MoscowMitch:
"Mankind, should have new meaning today…"
(How about just plain, old democracy?).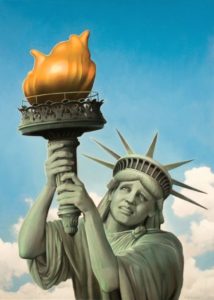 (Image out front by illustrator and portrait painter, Tim O'Brien, and can be found here).