Even as a lot of Americans are being vaccinated against COVID-19 — I've been fully-vaxxed for two months — this pandemic will never be truly over until the world is fully-vaxxed, too, and until then life will be 'not' normal.
In fact, there's been more COVID deaths in the six months of this year then in 2020, which on its face sounds absurd, but in reality it's a measure of how deeply embedded this virus is on a global scale.
Bad news COVID-style — via CBS News yesterday:
More people worldwide have died of COVID-19 so far this year than during all of last year, according to data tallied by Johns Hopkins University.
So far, 3.77 million deaths have been reported since the pandemic began — with 1.89 million reported in 2021 exceeding the 1.88 million deaths counted as of December 31, 2020.

While the true toll of the pandemic last year may have been far higher — in part the result of data lags, missed cases, and incomplete reporting — the figure serves as a stark reminder of the raging pandemic that continues to claim millions of lives around the world, even as vaccinations have arrested the worst of the disease's spread in the U.S.
To date, a total of nearly 600,000 deaths have been reported in the U.S.
…
"Increasingly, we see a two-track pandemic. Many countries still face an extremely dangerous situation, while some of those with the highest vaccination rates are starting to talk about ending restrictions," World Health Organization Director-General Tedros Adhanom Ghebreyesus told reporters on Monday.
…
The somber milestone also comes as President Biden is touting a "historic" purchase of 500 million doses in Pfizer's COVID-19 vaccine to donate to low- and middle-income countries and the African Union through 2022, beyond the 80 million doses he had pledged to share by June.

"It's also in America's self-interest. As long as the virus rages elsewhere, there is a risk of new mutations that could threaten our people," Mr. Biden said Thursday in announcing the purchase.
…
"Six months since the first vaccines were administered, high-income countries have administered almost 44-percent of the world's doses. Low-income countries have administered just 0.4-percent," Tedros told the WHO's member states on Thursday.

"The most frustrating thing about this statistic is that it hasn't changed in months," he added.
Not only will the world, including the US, not get a full handle on the virus until some type 'herd immunity' is accomplished, and if COVID is still surging or just present in some corner of the world — worse in high-profile spots like India or Brazil — no one can feel safe. And figure-in the T-Rump and his lying MAGA hatters and you've got a shitstorm.
As Anthony Fauci noted in March on the "Big Brains" podcast in a discussion of when/how the US will indeed return to normal:
"Not to mention things that got in the way of everything we did was the fact that we were fighting an epidemic in the middle of one of the most divisive periods in the history of, at least in recent memory, maybe 100 or so 200 years ago, there was more divisiveness in the country, certainly during the Civil War, but this is coming close where you have public health measures that are assuming almost a political stance; whether or not you should wear a mask, whether or not you should avoid congregate setting.
That makes it extremely difficult to address a pandemic of this proportion."
Meanwhile, Fauci is again proven correct:
Imagine if Trump had gotten vaccinated on tv like Biden and Harris https://t.co/9h4FdmJ0gG

— Molly Jong-Fast (@MollyJongFast) June 12, 2021
Blue vs Red, reality vs QAnon — story from CNN this morning:
The United States looks increasingly unlikely to reach President Joe Biden's July 4 vaccine goal. We need at least 70-percent of all adults to have one dose of the Covid-19 vaccine, and we're on pace to have somewhere between 67-percent and 68-percent.

The overall picture masks, however, an underlying pattern: Nearly all of the states Biden won will make his goal, while all of the states he lost are unlikely to.
The vaccine partisan divide among adults is greater than ever currently.
As of Thursday's CDC report, 69.9-percent of adults in the average Biden-won state have received at least one dose, meaning those states have basically already reached Biden's goal with more than a little over three weeks to go.

Compare this to the states Biden lost and Donald Trump won, where an average 54.9-percent of adults have received at least one dose.
The Trump-won states aren't anywhere close to where the Biden-won states are.
You'd have to go back more than a month for the Biden-won states to be averaging a vaccination rate as low as the Trump-won states.

When you break it down by individual states, 13 of the 25 states Biden took last fall have hit the 70-percent mark.
An additional 7 states have at least 67-percent of all adults with one dose, so they'll likely reach the 70-percent threshold by the time July 4 rolls around.
There are zero states that Trump took last fall that have at least 67-percent of adults with at least one vaccine dose.
The closest is Nebraska at 62.8-percent, which is lower than all but four states Biden won (Arizona, Georgia, Michigan and Nevada).
And the big reveal — shit's getting deeper:
Back at the beginning of April, when vaccines were becoming more readily available, this relationship didn't exist to anywhere near the same degree.
On April 1, the correlation between the 2020 results and the adult vaccination rate was just +0.36.
In other words, it was present, but it wasn't dominant.
At that point, the Biden-won states had an average of 40.3-percent of adults with at least one vaccine dose.
The Trump-won states were just behind them at 37.5-percent.

Of the top 10 most vaccinated states on April 1, four of them were actually won by Trump.
Today, none of the top 10 were won by Trump. In fact, none of the top 20 are.

Perhaps what's most worrisome is that the vaccine gap between the blue states and red states is only getting wider.
A month ago, the gap stood at 13 points (64-percent and 51-percent) compared to the 15 points it is now.
Even a week ago, the difference was 14.7 points vs. the 15.0 points it is at this point.
The horrific damage T-Rump has done to this country (and most-likely the world) is near-about immeasurable and can be counted on so many different levels and in so many different ways. He came upon a Republican party that was already a bloated, vile, ugly animal waiting for a monster to lead them to chaos and destruction. T-Rump the man of the GQP times. The timing right on.
Not so good for the rest of us, though…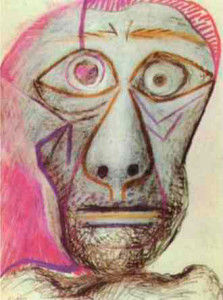 (Illustration: Pablo Picasso's 'Self Portrait Facing Death' (June 30, 1972), was originally found here).