A couple of items this Thursday morning that seem to project just what a miserable state-of-affairs is the entire Republican Party — lying, delusional and nasty is their entire bag.
Mo Brooks, the asshole from my birth state of Alabama (don't look down at me, everybody's got to be from somewhere), will most-likely be forced to give testimony before the House Select Committee on the Jan.6 insurrection/riot at the US Capitol — wouldn't you think?
Duh!
Turns out Republican Mo Brooks wore body armor to Trump's rally on Jan. 6.

"When I gave my speech at the Ellipse, I was wearing body armor."

"That's why I was wearing that nice little windbreaker," Brooks said with a grin. "To cover up the body armor."https://t.co/SiU5IdVaqD

— Kyle Griffin (@kylegriffin1) July 29, 2021
Nutshell (Daily Beast):
Rep. Mo Brooks (R-AL) has continuously denounced the investigation into the Jan. 6 Capitol riot, even as he's being sued by his colleagues over his role in inciting it. But while Brooks has said he didn't believe the riot would turn violent, he told a Slate reporter Wednesday that he was actually tipped off about potential violence, prompting him to sleep in his office the day before the Ellipse speech and wear body armor to the rally.
"When I gave my speech at the Ellipse, I was wearing body armor," he said.
Brooks wouldn't say who tipped him off, what violence could occur, or whether he passed the tip on to relevant people.
"That's why I was wearing that nice little windbreaker," he said.
"To cover up the body armor."

At the rally, Brooks marked Jan. 6 as "the day American patriots start taking down names and kicking ass!"
He claimed he was just using bold words, but Rep. Eric Swalwell (D-CA) has sued him for potential incitement.
He tried to claim he could not be sued as a federal employee, but the Department of Justice invalidated that claim Wednesday.
Mo is gonna be busy bullshitting his 'Bama-ass off.
And another top-notch GQPer, literally, is Kevin McCarthy, who is losing ground quickly while continuously falling down the conspiracy rabbit hole, again acted the T-Rump:
And here's Kevin McCarthy using a Qanon catch phrase. This is madness. https://t.co/G5XMOdXeNv

— Molly Jong-Fast (@MollyJongFast) July 29, 2021
McCarthy seems to be melting in front of the world — The Hill:
But McCarthy, standing on the steps of the Capitol on Thursday, insisted to reporters that Pelosi and her party were solely responsible for the security breakdown at the sprawling complex that fateful day. It's the same argument he made moments before officers began their testimony on Tuesday.

He said the Speaker was aware there could be violence at the Capitol as early as Dec. 14, and that Pelosi left McCarthy and other Republicans out of conversations with the House sergeant-at-arms about calling for reinforcements from the National Guard.
Further via Raw Story:
Standing at a podium with a sign declaring "Country in Crisis," McCarthy attacked Speaker of the House Nancy Pelosi, blaming her for the lack of Capitol Police on January 6 and the mask mandate.

"If you are vaccinated and you get the variant, there's .003-percent you'd go to the hospital," McCarthy said — not as a means to urge vaccination, but as a means to oppose the House mask mandate. (NCRM has not verified that claim.)

"There's a greater chance you'd got hit by lighting," McCarthy said.
He then took a long pause, and then declared, "But for some reason, Pelosi thinks the storm is coming."

That phrase, "the storm is coming," is widely documented as one used by delivers in the dangerous QAnon conspiracy theory movement.
McCarthy blabbered on about how shitty the rule to wear masks, and just acted the useless, incompetent asshole who's in a pickle with reality.
Bad part: We're in a pickle, too…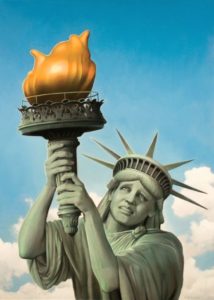 (Image out front by illustrator and portrait painter, Tim O'Brien, and can be found here).