Hot outside this late-afternoon Sunday here in California's Central Valley, yet although we're at triple-digit temperatures, the air doesn't seem as heavy as yesterday (at about the same time and temperature), a sense which could just be a personal, harebrained feeling without any scientific reality to it at all — no matter, still fricking hot!
In that sense of actuality in the real world, right now we seem to be living in/through a way-peculiar 'Twilight Zone' episode, or maybe some freakish outtake of 'Alice Through The Looking Glass,' both scenarios upsetting and a bit frightful. This country is unevenly divided between people who see reality as reality — vaccines curb the virus surge, there was an insurrection/riot last January at the US Capitol — and despite pure proof, there's those who claim near-about the opposite.
A heartbreakingly-horrible virus-like example via Florida asshole Matt Gaetz: '"You've had all the experts say look out for the delta variant or the lambda variant, well next it'll be the Chi Omega variant or the Pi Kappa Psi variant. I got the Florida variant. I got the freedom variant. It affects the brain. It gets you to think for yourself where you don't just surrender to the truth that they're trying to create in corrupt big media."'
Meanwhile, in terrible-ass reality, Florida today broke its COVID hospitalization record and the Delta variant is surging statewide with dreadful results: 'According to the AP, Florida now has the highest number of COVID-19 hospitalizations per capita in the country.'
Yet, for fuck's sake, there's an easy out:
Vaccines work https://t.co/3z8txNfSSi

— Molly Jong-Fast (@MollyJongFast) August 1, 2021
And it's not new or unexpected news — per CNN late this afternoon:
More than 99.99-percent of people fully vaccinated against Covid-19 have not had a breakthrough case resulting in hospitalization or death, according to the latest data from the US Centers for Disease Control and Prevention.

The data highlights what leading health experts across the country have highlighted for months: Covid-19 vaccines are very effective at preventing serious illness and death from Covid-19 and are the country's best shot at slowing the pandemic down and avoiding further suffering.
The CDC reported 6,587 Covid-19 breakthrough cases as of July 26, including 6,239 hospitalizations and 1,263 deaths. At that time, more than 163 million people in the United States were fully vaccinated against Covid-19.
…
Most of the breakthrough cases — about 74-percent — occurred among adults 65 or older.
Don't make me feel any better — I'm 72.
Despite the odds:
Take note:

Of the 164 million vaccinated Americans, less than 0.1% have been infected with the coronavirus, and 0.001% have died.https://t.co/BFfyE4msa2

— Kyle Griffin (@kylegriffin1) August 1, 2021
Republicans should take note of another view last week of vaccines, the unvaccinated and the call for a type of mandate/lockdown from Philippines President Rodrigo Duterte: '"For those who do not want it, well, for all I care, you can die anytime … To those people who do not want to be vaccinated, I am telling you, don't go out of your house. If you go out of your house, I will tell the police to return you to your home. You will be escorted back to your house because you are a walking spreader."'
Here we go…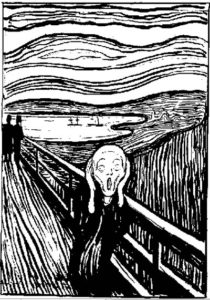 (Illustration out front: Edvard Munch's 'The Scream,' lithograph version, found here).