In a fresh uplifting-downward this Wednesday afternoon in the seemingly never-ending horror story that's the COVID-19 pandemic, now in its super-wicked 'Delta' version, is a new angle on the mega-power-center of this latest surge as prompted by Republican leaders who are pushing death on a personal-grand scale that seems horribly historic in its hideousness — an example last night at a school board meeting in Williamson County, Tennessee, outside Nashville.
Reality no-check:
Here's the video I tried to tweet earlier but wouldn't go through. A man was being disruptive during the Williamson County Schools meeting and deputies escorted him out. Dozens of enraged anti-mask parents followed. pic.twitter.com/5LXDCJiInW

— Brinley Hineman (@brinleyhineman) August 11, 2021
And outside following the meeting, depicting the ridiculous, loathsome danger for health-care professionals:
Mass psychosis. https://t.co/xIrTg8BA3Y

— Tom Nichols (@RadioFreeTom) August 11, 2021
Franklin is familiar — a daughter lived there for several years a decade ago (she's now working on her PhD at UC Merced here in California's Central Valley) — and it's indeed kind of wealthy.
Details on the nasty via the Nashville Tennessean, updated this morning:
The Williamson County Schools Board of Education voted Tuesday to require masks for students, staff and visitors at the elementary school level inside buildings and buses.

The decision came after an emotionally charged four-hour meeting with frequent disruptions by crowd members opposed to mask requirements and tensions running high among all.

A majority of people who attended the meeting were maskless and interjected with personal comments dozens of times throughout the meeting.
Only one person was escorted out by Williamson County deputies, but dozens of anti-masking parents followed in support.
…
The new mandate takes effect Thursday and makes WCS the second Middle Tennessee district to require masks.
Neighboring Metro Nashville Public Schools adopted a temporary mask mandate for all students last week.

Public comments were capped at 30 minutes at the start of the meeting when concerned parents pleaded with the board to consider recommendations from health care professionals and scientists — and some begged the board toss out mask requirements completely.
The actual effect/affect: 'Since school began on Friday, 25 elementary school students had tested positive for COVID-19.'
Remember, these are elementary school-age kids. Their input is really their parents' input.
And those parents are Republicans, a party of weird-ass, dangerous crazies. Top to the bottom — national and local GQPers, despite obvious scientific facts/data. are maintaining that the wearing of masks is a personal choice, so are dumb-ass strongly opposed to mandates of any sort.
Yet, even so, they're getting banned from social media for being assholes — YouTube has suspended pious-turd Rand Paul for making-up anti-mask misinformation; bat-shit-lunatic Marjorie Taylor Greene was kicked-off Twitter for bull-crap that COVID vaccines are "failing" and ineffective against the virus.
Really, really shitty people.
And apparent in the plotline — as noted by former RNC chairman Michael S. Steele: '"They're making a political bet on the lives of the people they serve … The party leadership has gone so far out on this limb that there they stand with a saw in their hand and they're sawing it off."'
Supposedly, the plan:
Republicans often fume about how Democrats supposedly don't treat them with respect. But how should we treat voters who refuse to connect their anti-public health rhetoric with all the deaths from a preventable disease?
By @MollyJongFast https://t.co/XlErxhCVHF

— Alfons López Tena (@alfonslopeztena) August 11, 2021
However, the plotline includes a lot of people dying — can the Republican strategy of allowing a deadly virus mutation kill off a percentage of their constituents pay off? Only the body count can tell the tale.
Molly Jong-Fast at The Daily Beast this morning nails the situation:
The party of Trump has a big problem, they have found themselves on a sticky wicket: They have radicalized their base to believe that public health measures are "Democrat overreach."

In order to get the base excited, they have to rail against certain things, many of them public health-related (vaccine passports, masks, lockdowns, social distancing).
But railing against public health means endangering the health of their base.

For a little while, this delicate balance seemed like it might hold, as Republican governors spent months sowing doubts about vaccines and complaining about masking and other supposedly freedom-harming public health basics.
The right-wing press took a premature victory lap, with the National Review's Rich Lowry asking, "Where Does Ron DeSantis Go To Get His Apology?"

But the Delta variant made it clear that DeSantis should be giving an apology, not asking for one, as red states have predictably been hit hardest.
An Associated Press-NORC Center for Public Affairs Research poll from July showed that "Republicans are far more likely than Democrats to say they have not been vaccinated and definitely or probably won't be, 43-percent to 10-percent."

And, dontcha know, COVID cases in Texas are up 125-percent over the last two weeks.
In Florida, they're up 162-percent.
On Monday, as Gov. Greg Abbott asked hospitals in his state to cancel elective surgeries, Sen. Ted Cruz went on Sean Hannity and pronounced "No mask mandates. No vaccine mandates. No vaccine passports. No COVID mandates!"
Indeed, Texas and Florida have similar laws prohibiting localities from making their own public health rules, although both Dallis and Austin are suing to allow masking.

It took at a lot of stupid to get Florida and Texas to this dark place, which is why the MAGA propagandists are trying to suggest, without much evidence, that this is about an unvaccinated wave at the border—when it appears to be about unvaccinated Americans, in a country with enough vaccine doses to go around, harming their own health and spreading the virus and helping it continue to mutate in the process.
…
With COVID numbers way up, DeSantis' numbers are down as he looks toward re-election and then, he hopes, a 2024 presidential run.
It's a game of chicken: Can he troll the libs without killing so many of his constituents that they turn on him?

Republicans often fume about how Democrats supposedly don't treat them with respect. But how should we treat voters who refuse to connect their anti-public health rhetoric with all the deaths from a preventable disease?
The reality is that the GOP decided to target anti-vaxxers because they're easy marks who don't trust the lamestream press but rely on Facebook memes and Joe Rogan—the guy who used to tell people to eat bugs on Fear Factor.

What DeSantis and the other governors are doing is deadly wrong, but that doesn't mean that it's necessarily a bad political bet given the sick state of the base, in pretty much every sense.
Criminally insane are the only words to describe…
Intentions fall to the floor of a graveyard:
Oh now feel it comin' back again
Like a rollin' thunder chasing the wind
Forces pullin' from the center of the earth again
I can feel it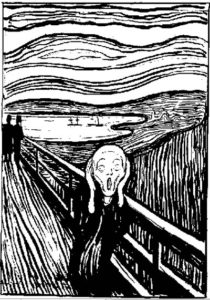 (Illustration out front: Edvard Munch's 'The Scream,' lithograph version, found here).