As a nation, we're stuck between a rock and  a hard place — the rock is the COVID Delta variant, and the hard place are Republicans — even with a vaccine receiving FDA approval, the death cult is intent on killing all of us:
Republicans are now the dominate vaccine hesitant group https://t.co/eGEB1EQA2Q

— Molly Jong-Fast (@MollyJongFast) August 24, 2021
Yet first, they're killing themselves — the Sturgis, South Dakota, motorcycle rally earlier this month has become a massive super-COVID-spreader. The county where Sturgis is located: 'Meade County has the second-sharpest rise in Covid cases of any county in the U.S. compared to two weeks ago, according to the Times, with a 1,233-percent increase in cases.'
And T-Rump's rally last Saturday in Cullman, Ala., is destined to become a superspreader, too:
A state of local emergency was declared on Thursday in Cullman, Alabama, as hospital and emergency room overcrowding, bed and labor shortages, and an ambulance crisis strained its health care system.

Two days later, former President Donald Trump held a "Save America" rally that drew thousands of maskless attendees to the city.
Wait for it … wait for it…
Not only are these nit-twits not giving a shit, but they're dying with a useless change-of-heart, and right out in the open:
Conservative radio talk show hosts are killing themselves, by @MSignorile https://t.co/SJchM3VYVk

— Michelangelo Signorile (@MSignorile) August 24, 2021
The right-wing media is screaming anti-masks, anti-vaxx, but they're getting sick, and are dying, and most-likely taking a few of their listeners to the grave as well — Michelangelo Signorile on SubStack this morning:
As a radio host, I know very well the intimacy and trust that the medium of radio fosters. That's something conservatives realized decades ago, dominating talk radio to organize millions of people for the conservative movement and the Republican Party.

TV and print media can be cold, flat or fleeting, but radio, operating under the radar, feels like it spans time and space, with a connection that lasts sometimes for decades.
That can be a force for good. But in the middle of a pandemic, with conspiracies and lies promoted, it can also be deadly — for listeners and even for the host.

On July 30th, right-wing talk radio host Marc Bernier, who for the past 30 years broadcast from Daytona Beach, Florida on WNDB — host station of the Daytona 500 and flagship station to NASCAR's Motor Racing Network — tweeted out that the government is "acting like Nazis" in trying to get people vaccinated against Covid-19.
That is the last tweet in his Twitter feed.
…
In the same three-week period, two other radio talk show hosts — Dick Farrel, another Florida radio host and a Newsmax anchor, and Nashville-based host Phil Valentine — have died due to Covid after having spent months promoting conspiracies and anti-vax propaganda.

Valentine, a conservative talk radio icon in Tennessee, died this past weekend after his battle with Covid-19.
His story received considerable attention after his brother went on CNN two weeks ago to say Valentine had changed his mind — after being hospitalized and seeing his health deteriorate — and believed people should get vaccinated.

Before that, however, Valentine dismissed Covid-19, saying his chances of getting it were 1-percent.
Regarding getting vaccinated, Valentine stated, "I have a very low risk of getting COVID and dying of it if I do. Why would I risk getting a heart attack or paralysis by getting the vaccine?"
…
Two and half weeks before Valentine's death, Farrel, a host on Florida's WPTV, died from Covid-19.
He was also an anchor at the Trump-loving, far-right TV channel Newsmax. He'd called Dr. Anthony Fauci, "a power tripping lying freak" and in July wrote on Facebook that the Covid vaccines were "promoted by people who lied [to you] all along about masks, where the virus came from and the death toll."

Farrel, too, reportedly had a change of heart on his deathbed, urging a friend to get vaccinated.
Too little, too late.
See, not only a medical virus, but also a brain-twisting virus of insane, and deadly proportions.
And here we are, again…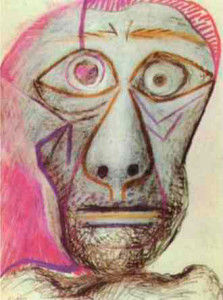 (Illustration out front: Pablo Picasso's 'Self Portrait Facing Death' (June 30, 1972), was originally found here)