A faded-thin Mars ambiance to our environment again this mid-day Friday here in California's Central Valley, an unwelcome aspect after a few days of near-normal weather of bright sunshine and clear-blue skies — now life outside is all rusty brown.
Off the local NWS forecast for today and this weekend uses the words 'widespread haze,' and 'areas of smoke' way-too often for my liking.
Reportedly, as of this morning, nearly 14,000 firefighters are fighting more than a dozen large wildfires across California, and probably the one creating our Mars-looking terrain is the Caldor Fire, which already has consumed 126,182 acres with only 11-percent containment, located a couple of hours northwest of us and burning its way to Lake Tahoe.
El Dorado National Forest supervisor Jeff Marsolais: '"The number one fire in the country right now in terms of priorities for values at risk."'
Hence, our rusty brown living situation:
Here is a vertically integrated smoke projection from the High-Resolution Rapid Refresh computer model. Smoke from #wildfires in Northern California will move southward into Central California Friday afternoon and Friday evening. #CAwx #CAFires pic.twitter.com/HEOPcrbEbh

— NWS Hanford (@NWSHanford) August 27, 2021
Plus, beyond the air quality, the acres burned, people homeless, these climate-change-induced wildfires are also aiding the spread of the freaking COVID virus — via CNN last Wednesday:
Wildfire whack-a-mole is the new Western reality in the US. As fires were contained this month in Oregon and Utah, new ones have sprung up in California and Nevada, part of a new smoky reality in the West that is driving up the threat of Covid-19 at exactly the wrong time.
…
"Covid-19 cases and hospitalizations have been climbing precipitously in the Reno area over the past several weeks," according to CNN's report.
"Coronavirus cases in Washoe County on Monday were up 24-percent compared to the week before, and hospitalizations increased by more than 18-percent."
A study published in the journal Science tied airborne particulate matter from wildfire smoke in 2020 to a surge in Covid-19 cases and deaths in California, Oregon and Washington.
"Fine particulate matter air pollution can be an additional vehicle for spreading the virus even faster," said Francesca Dominici, a co-author of the study.
"Considering that we are seeing an increased risk of cases from the Delta [variant] and we already have the wildfires, that's going to be concerning."

Here's more from CNN's Rachel Ramirez: "Fine particulate matter, or PM 2.5, is among tiniest yet also the most dangerous pollutants, and it's one of the main components of wildfire smoke, according to the Environmental Protection Agency. When inhaled, it can travel deep into lung tissue and enter the bloodstream, and it is linked to a number of health complications: asthma, heart disease, chronic bronchitis, and other respiratory illnesses — all underlying conditions that make people vulnerable to severe outcomes from Covid-19."
…
The recent experience of Americans on the West Coast is that fire season is a tired concept. As a report on the USDA website argues, fires can now occur for much of the year, with winter snows melting earlier, rains coming later, trees susceptible to beetle infestations and grasses helping fires spread more quickly.
The fire threat is changing with the environment, according to USDA, and so communities will have to adapt and the government will have to beef up its fire fighting capabilities outside of summer.

It underlies the increasing severity of wild fires, according to a landmark UN report out in August, which suggested the earth has warmed 1.1 degrees Celsius over pre-industrial levels and is approaching the 1.5 degrees that countries agreed would be a tipping point.
Wildfires are thought to be a major symptom of that change.
And it just gets worse and worse.
Once again, here we are…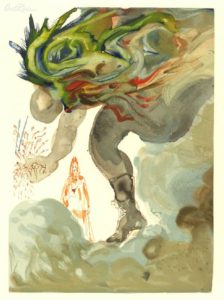 (Illustration out front: Salvador Dali's 'Hell Canto 2: Giants,' found here).