Joe Biden is handling a shocker this afternoon, usually in his normal, low-key stand-out approach on the bombings in Afghanistan (death toll has risen, now 13 in total of American military fatalities, with 14 wounded), as the US/NATO endgame's intensity will most-likely kick-up a notch or two.
Supposedly, suicide assholes from the Afghan chapter of ISIS detonated the two bombs — one at a Kabul airport gate, the other at a hotel not too far away — and the horrible chaos to come was also part-and-parcel of the shit stunt. US military officials — along with Joe Biden at a press conference — vowed retaliation against the culprits.
Unlike the cold nature of the T-Rump, Biden boils with empathy:
President Biden takes a pause while answering questions about the terror attacks that killed 12 American service members in Kabul, Afghanistan. (AP/Evan Vucci) pic.twitter.com/fZmUiu4My6

— The Recount (@therecount) August 26, 2021
In his public remarks, Biden offered no parlay shit — via NPR:
"Know this," Biden said to the attackers. "We will not forgive. We will not forget. We will hunt you down and make you pay."
Biden held a moment of silence to honor the American service members who lost their lives, calling them "heroes" and "the best the country has to offer."
"The lives we lost today were lives given in the service of liberty, the service of security, the service of others, in the service of America," he said from the White House.

Biden said the situation on the ground in Kabul was still evolving and that the U.S. will target the assets, leadership and facilities of ISIS-K, the Islamic State affiliate that has reportedly claimed responsibility for the terror attack.
"We will respond with force and precision, at our time, at the place we choose and at the moment of our choosing," he said.

Despite the attack, the withdrawal will continue, the president said.
"We will not be deterred by terrorists. We will not let them stop our mission."

Biden said he told the military that if the remaining effort to remove Americans and Afghans from the country requires additional U.S. forces, he will grant it.
And of the Taliban:
"We're just counting on their self interest to continue to generate their activities," Biden said during his remarks Thursday.
"And it's in their self interest that we leave when we said and that we get as many people out as we can."
He added: "There is no evidence thus far that I've been given by our commanders in the field that there has been collusion between the Taliban and ISIS in carrying out what happened today."

When asked whether he bears responsibility for the unfolding events in Afghanistan, Biden replied: "I bear responsibility for, fundamentally, all that's happened of late."
"But here's the deal," he immediately added: "You know, as well as I do, that the former president made a deal with the Taliban."
And in that regard, Biden also once again spanked nit-twit Fox News dip-shit Peter Doocy over that same matter. Doocy's antics will mirror Republican lying, hypocritical, lost-down-the-memory-hole bullshit that will most-certainly spring up like toxic weeds in the coming hours/days/weeks — from Mediaite:
Biden called on Doocy for the last question from reporters following his remarks — with the president calling Doocy "the most interesting guy that I know in the press."

"Mr. President, there had not been a U.S. Service member killed in combat in Afghanistan since February of 2020. You set deadline, you pulled troops out, you sent troops back in, and now 12 marines are dead," said Doocy.
"You said the buck stops with you. Do you bear any responsibility for the way that things have unfolded in the last two weeks?"

Biden responded, "I bear responsibility for fundamentally all that's happened of late, but here's the deal. You know, I wish you would one day say these things, you know as well as I do, that the former president [Donald Trump] made a deal with the Taliban that he would get all American forces out of Afghanistan by May 1. In return the commitment was made – and that was a year before. In return, he was given a commitment that the Taliban would continue to attack others but would not attack any American forces."

"Remember that? I'm being serious," asked Biden, causing Doocy to attempt to ask a question in which Biden interjected, "No, I'm asking you a question, because" — in which Doocy again tried to ask a question. But Biden wouldn't budge.
"No, no, wait a minute. I'm asking you a question," said Biden. "Is that the accurate to the best of your knowledge?"

Doocy asked if Biden if people have an issue with withdrawing from Afghanistan or how the withdrawal has been done.

"I think they have an issue that people are likely to get hurt, some, as we've seen, have gotten killed, and that it is messy. The reason why, whether my friend will acknowledge it or has reported it, the reason why there were no attacks on Americans, as you said, from the date until I came into office was because the commitment was made by President Trump. 'I will be out by May 1st. In the meantime you agree not to attack any Americans.' That was the deal. That's why no American was attacked."
And Joe concluded with the obvious: 'And so, as I've said before, and this is the last comment I'll make. We'll have more chance to talk about this unfortunately beyond because we are not out yet. If Osama bin Laden, as well as Al Qaeda, had chosen to launch an attack when they left Saudi Arabia out of Yemen, would we have ever gone to Afghanistan? Even though the Taliban completely controlled Afghanistan at the time. Would we have ever gone?'
In a context of a 20-year fruitless war, Joe did all right.
Blowback aftermath of the bombings:
And again, once more, here we are…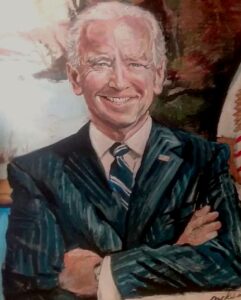 (Illustration out front: 'Joe Biden,' acrylic by Billy Jackson, and found here).