Big-bang item in the news cycle this Tuesday morning — beyond the Gavin Newsom recall election out here in California (hope to do a post on it later today) — is another horrible inside look at the clusterfuck of T-Rump's final days in the White House.
He's a known mental menace for America — all fact a shitload of us knew already — duh!
The scoops come from a new book, "Peril," by DC veteran Bob Woodward and aided by Washington Post reporter Robert Costa, and tells the tale of Joint Chiefs Chairman Gen. Mark Milley's successful attempts to keep the US from war and other fuck-ups as the T-Rump became even more unhinged after his defeat in the election.
Supposedly, Milley resorted to some off-the-normal moves to keep shit from getting even more insane:
News from PERIL@realBobWoodward + @costareports reveal Mark Milley was so fearful Trump's actions might spark war w/China that he placed secret calls to Beijing, one just before the election and another 2 days after Jan 6. That and many other findings: https://t.co/nP2RAQxGfb

— Isaac Stanley-Becker (@isaacstanbecker) September 14, 2021
Nothing real surprising or shocking, but does reveal how people knew T-Rump was a nutcase, but couldn't take action because of rules/Constitution/guidelines that kept the orange-flacked asshole in the Oval Office and in charge — and with a potential finger on the nuclear button. Everyone knew/knows T-Rump is one fucked-up, nasty, unhinged inhuman specimen, but it still mystifies how he can still be a threat — he ought to be locked in a criminal mental institution, not working-up idiotic behavior from his cult by playing with running for president again in 2024.
There's a readable review at The Washington Post.
However, best shock-value piece is at CNN — snips:
Woodward and Costa write that Milley, deeply shaken by the assault, 'was certain that Trump had gone into a serious mental decline in the aftermath of the election, with Trump now all but manic, screaming at officials and constructing his own alternate reality about endless election conspiracies.'
Milley worried that Trump could 'go rogue,' the authors write.
"You never know what a president's trigger point is," Milley told his senior staff, according to the book.

In response, Milley took extraordinary action, and called a secret meeting in his Pentagon office on January 8 to review the process for military action, including launching nuclear weapons.
Speaking to senior military officials in charge of the National Military Command Center, the Pentagon's war room, Milley instructed them not to take orders from anyone unless he was involved.
"No matter what you are told, you do the procedure. You do the process. And I'm part of that procedure," Milley told the officers, according to the book.
He then went around the room, looked each officer in the eye, and asked them to verbally confirm they understood.

"Got it?" Milley asked, according to the book.
"Yes, sir."
'Milley considered it an oath,' the authors write.
…
Milley's fear was based on his own observations of Trump's erratic behavior. His concern was magnified by the events of January 6 and the 'extraordinary risk' the situation posed to US national security, the authors write.
Milley had already had two back-channel phone calls with China's top general, who was on high alert over the chaos in the US.
Then Milley received a blunt phone call from House Speaker Nancy Pelosi, according to the book.
Woodward and Costa exclusively obtained a transcript of the call, during which Milley tried to reassure Pelosi that the nuclear weapons were safe.
Pelosi pushed back.
"What I'm saying to you is that if they couldn't even stop him from an assault on the Capitol, who even knows what else he may do? And is there anybody in charge at the White House who was doing anything but kissing his fat butt all over this?"
Pelosi continued, "You know he's crazy. He's been crazy for a long time."
According to Woodward and Costa, Milley responded, "Madam Speaker, I agree with you on everything."
Beyond nuclear war, the Jan.6 insurrection/riot at the Capitol and just being a crazed piece of shit:
Woodward's previous book on Trump was called "Rage," but "Peril," filled with expletive-laced shouting matches, takes the rage up a notch.

Top officials told the authors that Trump's outbursts reminded them of "Full Metal Jacket" at times and "Doctor Strangelove" at others.

In June 2020, after Black Lives Matter protests near the White House, Trump lit into then-Defense Secretary Mark Esper, who had just announced at a news conference that he opposed invoking the Insurrection Act in response to the protests.
"You took away my authority!" Trump screamed at Esper in the Oval Office.
"You're not the president! I'm the goddamn president."
But Trump wasn't done, according to the book, turning to the rest of his team in the room.
"You're all fucked up," he yelled.
"Everybody. You're all fucked. Every one of you is fucked up!"
…
The book also reveals that Trump is still angry with Republicans who blamed him for the insurrection, including House Minority Leader Kevin McCarthy.
"This guy called me every single day, pretended to be my best friend, and then, he fucked me. He's not a good guy," Trump said, according to the book.
While McCarthy has walked back his initial comments after the insurrection, Trump is quoted as dismissing McCarthy's attempts to get back into his good graces.
"Kevin came down to kiss my ass and wants my help to win the House back," Trump said, according to the authors.
What a horror. Go read both accounts, the Post story does have detail on Milley's two telephone calls to Chinese Gen. Li Zuocheng, a try to reassure him the US would not strike, but cowered a bit in the second call on Jan. 8, telling Li: "We are 100 percent steady. Everything's fine. But democracy can be sloppy sometimes."
However:
Li remained rattled, and Milley, who did not relay the conversation to Trump, according to the book, understood why.
The chairman, 62 at the time and chosen by Trump in 2018, believed the president had suffered a mental decline after the election, the authors write, a view he communicated to House Speaker Nancy Pelosi (D-Calif.) in a phone call on Jan. 8.
He agreed with her evaluation that Trump was unstable, according to a call transcript obtained by the authors.
In the pampered history of America, that's a mouthful and shitty to digest.
In any other time frame of that history, T-Rump would be Nixon-ed out of influence — but this is not 'normal' times at all. Too many people love the T-Rump — WTF! And why?
And once again, here we are…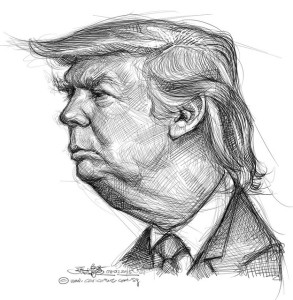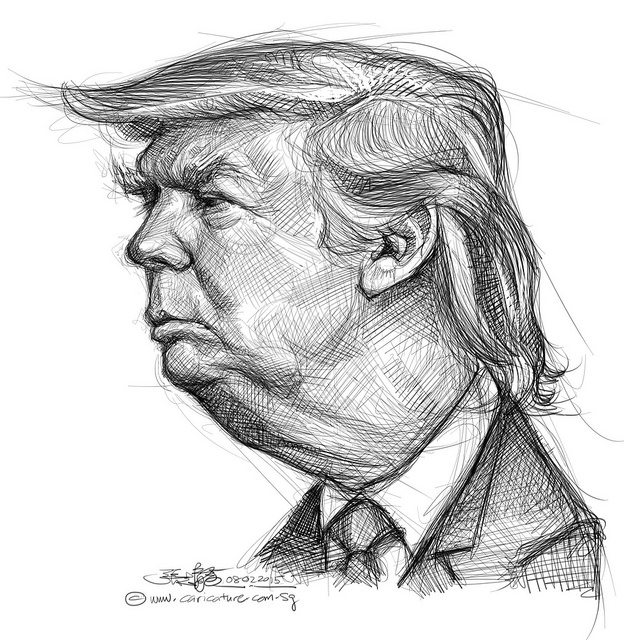 This is my favorite of the T-Rump mugs, though, 'favorite' does not mean in any form or fashion, as in, 'my favorite movie,' or 'my favorite song.'
It's more of an anti-appreciation/like.
And aptly titled, 'Basic Shapes,' by caricaturist/illustrator Chong Jit Leong (and found here), and displays the elemental form of a purloined sociopath — a bloated profile of flatulent bile and arrogant ignorance.