(Illustration: 'In Jail,' image via Michael Cohen from last May, and found here).
One of the more pleasant aspects of any thought about the T-Rump is the possibility of his fat ass sitting in a jail/prison cell — although the reality of such a thing is historically remote, there's still the wish. As long as the shithead's been alive he's been a shithead.
No morals, ethics, or empathy — a cold, self-centered asshole who of all people should spend years behind bars.
In the scope of legal action against the Orange Turd, nowadays is churning up good signs of at least some civil/criminal penalties he and/or his people will have to pay, even with maybe some lower-rank shitheads going to actual jail. T-Rump, though, we can hope him for the jail-house,  will most-likely walk, just not the perp kind.
However, a good legal line-up is bubbling — Bess Levin at Vanity Fair today:
In the year 2021, it's basically a full-time job keeping up with the many lawsuits, civil inquiries, and criminal probes against Donald Trump, which, if you can believe it, surpass the number of times a human woman has agreed to marry him.
On the lawsuit front, as of March, the ex-president was facing more than two dozen, which normal people who haven't spent their entire lives suing or being sued thousands of times consider a lot.
When it comes to civil cases, the New York attorney general is currently looking into whether the Trump Organization manipulated the value of its assets for loans and tax breaks, and recently won a major victory in court.
Then of course there are the criminal investigations, which are probably at the top of Trump's mind considering they could result in his going to prison.
Obviously, there's the one being led by the Manhattan District Attorney's Office, which has already produced numerous charges against Trump's business and longtime CFO, with more indictments expected.
On top of that, he's also under criminal investigation by the D.C. attorney general for inciting the attack on the Capitol, while in Fulton County, Georgia, the D.A.'s office is looking at his attempt to overturn the 2020 election. And according to legal experts, the latter situation may end very badly for him!
…
Among the charges Trump himself could be hit with, the authors believe, are "criminal solicitation to commit election fraud; intentional interference with performance of election duties; conspiracy to commit election fraud; criminal solicitation; and state RICO violations," in addition to violations of more than a dozen other Georgia state statutes.
"We conclude that Trump's post-election conduct in Georgia leaves him at substantial risk of possible state charges predicated on multiple crimes," the report states.
One wonders if a being in prison would ease his popularity among his craven, vile base. As in Saturday's rally in Georgia and screams of love for the lies and bullshit foaming out of his mouth — criminally crazy.
Meanwhile, one legal case, though, the T-Rump may not be pulled into/implicated, carries a personal note — the 'Mar-a-Lago Three,' who tried to fuck with my Department of Veterans Affairs, which is a mess anyway, and make a grifting dollar off veterans:
NEW: an @OversightDems and @VetAffairsDems investigation found that the "Mar-a-Lago Three" violated the Federal Advisory Committee Act and exerted influence over the @DeptVetAffairs during Trump's time in office. Story to come. pic.twitter.com/kNxH18pvci

— Nikki Wentling (@nikkiwentling) September 27, 2021
Three of T-Rump's big rich-asshole pals at Mar-a-Lago, with none of them with any experience, knowledge of veterans' affairs, or anything, tried to operate the second-largest US government agency to do their own bidding.
Full story at ProPublica this afternoon — including these update nuggets:
House Oversight Committee chairwoman Carolyn Maloney, D-N.Y., and House Veterans Affairs Committee chairman Mark Takano, D-Calif., said in a statement on Monday that the documents show "the secret role the trio played in developing VA initiatives and programs, including a 'hugely profitable' plan to monetize veterans' medical records."

"Ike Perlmutter, Marc Sherman, and Dr. Bruce Moskowitz, bolstered by their connection to President Trump's private Mar-a-Lago club, violated the law and sought to exert improper influence over government officials to further their own personal interests," the chairs said.

Perlmutter, Sherman and Moskowitz have previously said that they obtained no personal benefits, had no official role and exercised no formal authority.

But the newly released documents show that they did view themselves as an official advisory committee — and disregarded repeated warnings that they needed to comply with a Watergate-era transparency law.

"As the President asked, we can now formally create an official committee," Perlmutter, the group's leader and chairman of Marvel Entertainment, wrote in a February 2017 email after a meeting with Trump.
Perlmutter is a Mar-a-Lago member and one of Trump's biggest political donors.
There's only one point to T-Rump's existence — money/power.
They just need more law-and-order love:
And here we are, once again…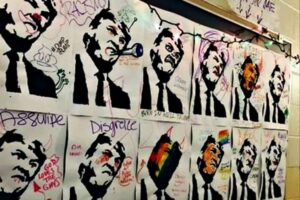 (Illustration out front is of a New York state high-school student exhibit: 'The piece was displayed during student-driven art show at Shenendehowa High School. It consisted of at least 12 identical black-and-white pictures of Donald Trump. There was also a sign above the pictures that read, "Draw on Me." Using markers from the art classroom, some students opted to scribble critical messages and profanities on the pictures' — and found here).