On occasion, a Friday news-story dump happens early, and sometimes it's not even a dumpster item — Joe Biden was straight today with his official dismissal of T-Rump's 'executive privilege'  bullshit, maybe allowing access to some criminally-cringeworthy documents.
All kinds of material shit, phone records, emails, whatnot, leading to the Jan.6 insurrection/riot:
Let's gooooo https://t.co/cEhbo21dzH

— Molly Jong-Fast (@MollyJongFast) October 8, 2021
In just the past few weeks, a tsunami of reporting on the criminal antics of the T-Rump in his last weeks in office, horror stories from the Woodward book, including (along with a shitload of other shit — all most-likely illegal) the infamous John Eastman six-step 'memo,' some vile, criminally-nasty shit from the Grisham book, and yesterday the Senate released a 400-page report on T-Rump's probably criminal behavior with the DOJ.
So much bad behavior one wonders why T-Rump and nearly all his gang aren't behind bars, or at least awaiting trial. The guy tried three swipes at a coup in attempts to overturn a fraud-free election loss — the Eastman memo, the DOJ, and finally the attack on the US Capitol building.
WTF?
And the action today by the Biden White House has the potential to open a can of worms, and a can of whup-ass — details on the move from NBC News:
In a letter to the National Archives obtained by NBC News, White House Counsel Dana Remus rejected an attempt by Trump's attorneys to withhold documents requested by the House Select Committee regarding the then-president's activities on Jan. 6, writing that "President Biden has determined that an assertion of executive privilege is not in the best interests of the United States, and therefore is not justified as to any of the documents."

"These are unique and extraordinary circumstances," Remus added. "Congress is examining an assault on our Constitution and democratic institutions provoked and fanned by those sworn to protect them, and the conduct under investigation extends far beyond typical deliberations concerning the proper discharge of the President's constitutional responsibilities. The constitutional protections of executive privilege should not be used to shield, from Congress or the public, information that reflects a clear and apparent effort to subvert the Constitution itself."

The White House now is authorizing the National Archives to turn over an initial batch of documents that fell under a broad category requested by the committee, covering Trump's actions and communications on Jan. 6, including his rally at The Ellipse on White House grounds, and subsequent meetings and communications throughout the day.

That request sought everything from Twitter messages, phone and visitor logs, and any videos and photos of events he participated in.
It also included documents and communications related to then-Vice President Mike Pence's movements and security, and broadly any other documents referring to the rally at The Ellipse and the subsequent violent riot at the Capitol, as well as to planning around the ceremonial event of counting of electoral votes during a joint session of Congress.
In light of that shit, I wonder if T-Rump's minions/henchmen/lackeys wonder if their own asses have been put on the line in the face of such obvious criminal activity up and down the line within the T-Rump administration. Especially for idiot players like Steve Bannon, who has blubbered-out he will defy a subpoena from the House Jan. 6 insurrection select committee to testify and present documents — he wasn't even in the White House at the time, having been gone for nearly three years.
Executive privilege, you're kidding:
The January 6th Committee puts out a statement this Friday afternoon saying that it will "swiftly consider advancing a criminal contempt of Congress referral" for anyone who is defying a subpoena aka Steve Bannon pic.twitter.com/LW0VgarwIR

— Elizabeth Landers (@ElizLanders) October 8, 2021
Bannon is a loudmouth asshole and dumb-ass. The mark is on if the committee develops a backbone and comes down hard — via The New York Times late this afternoon:
In a statement after Mr. Bannon informed the panel that he would not cooperate in the inquiry, the panel's leaders said they would "swiftly consider" a criminal contempt referral, raising the prospect of what could be a prolonged legal battle over what could be crucial evidence in the investigation.

The committee has ordered four former Trump administration officials — Mr. Bannon; Mark Meadows, the White House chief of staff; Dan Scavino Jr., a deputy chief of staff; and Kash Patel, a Pentagon chief of staff — to sit for depositions and furnish documents and other materials relevant to its investigation.

Mr. Meadows and Mr. Patel have had some communication with the committee, according to the joint statement issued on Friday by Representatives Bennie Thompson, Democrat of Mississippi and the committee's chairman, and Liz Cheney, Republican of Wyoming and the vice chairwoman.
Mr. Scavino had not been served the subpoena until Friday, Politico reported.
…
In their statement, the leaders of the select committee rejected Mr. Bannon's rationale for stonewalling their investigation.

"While Mr. Meadows and Mr. Patel are, so far, engaging with the select committee, Mr. Bannon has indicated that he will try to hide behind vague references to privileges of the former president," they said in their joint statement.
"The select committee fully expects all of these witnesses to comply with our demands for both documents and deposition testimony."
"We will not allow any witness to defy a lawful subpoena or attempt to run out the clock," they added.
…
"Steve Bannon was not in the executive branch and was not working for the president," said Representative Jamie Raskin, Democrat of Maryland and a member of the committee.
"Even if you make the assumption that Donald Trump has even a shred of executive privilege, how could that extend to Steve Bannon?"
…
Mr. Raskin, who is a constitutional law professor, said executive privilege hinges on whether national security concerns outweigh the need for government transparency. In this case, he said, they are not in conflict.
"There is no coup-against-the-government privilege a president can invoke," he said.
"They are trafficking in absurdities."
Today's other post title words, 'former guy,' comes from a Biden COVID speech last February: '"You had the former guy saying that, 'Well, you know, we're just going to open things up and that's all we need to do.' We said no, you've got to deal with the disease before you deal with getting the economy going," Biden said.'
A criminally-diseased 'former guy.'
And once again, here we are…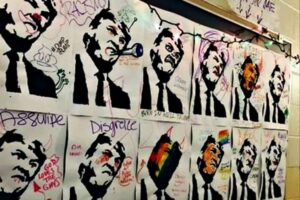 (Illustration out front is of a New York state high-school student exhibit: 'The piece was displayed during student-driven art show at Shenendehowa High School. It consisted of at least 12 identical black-and-white pictures of Donald Trump. There was also a sign above the pictures that read, "Draw on Me." Using markers from the art classroom, some students opted to scribble critical messages and profanities on the pictures' — and found here).