Fallout off Joe Manchin's back-stabbing Joe Biden's Build Back Better act continues to flare and fester, especially as it's known Manchin is just being a asshole-douchebag — news right-off-the-bat this morning and his core realities (HuffPost):
Publicly, his biggest gripes are about the cost of the bill.
But privately, Manchin has told his colleagues that he essentially doesn't trust low-income people to spend government money wisely.
In recent months, Manchin has told several of his fellow Democrats that he thought parents would waste monthly child tax credit payments on drugs instead of providing for their children, according to two sources familiar with the senator's comments.
As been noted before, the people know what they want/need:
My cousin in Looneyville (yes a real place), West Virginia sent me the recent front page of the Charleston Gazette-Mail. Messaging seems pretty clear. pic.twitter.com/sA6e4TEn2d

— SamanthaDunn (@SamanthaDunn) December 20, 2021
Polling indicates West Virginia is for the BBB — via DataForProgress last August: 'We tested support for the Build Back Better plan, the $3.5 trillion budget proposal Democrats in Congress are now considering. We find that likely voters in the state support this proposed investment plan by a margin of +43 points. Democrats, Independents, and Republicans support the plan by margins of +86 points, +33 points, and +22 points.'
And it's a needed enterprise.
Karen Dolan, director of the Criminalization of Race and Poverty Project at the Institute for Policy Studies, writing at MarketWatch this afternoon addressed the victims of Manchin's cruel act, with a big chunk being children:
Nearly 90-percent of U.S. children have benefited from the enhanced child tax credit, passed by Democrats last spring as part of the American Rescue Plan. That credit has meant monthly payments of up to $300 per child going directly into their parents' bank accounts for essentials like food, housing, school supplies, and diapers.

The program has been a stunning success. In October 2021, these payments alone kept 3.6 million children out of poverty—decreasing child poverty by nearly 30-percent compared with October 2020.
Unfortunately, that credit expires this month. Democrats had planned to renew it for a year as part of the Build Back Better Act. But with conservative Democratic Sen. Joe Manchin now joining all 50 Republicans opposing it, it may not be renewed at all.
…
The effects of Manchin's opposition will be devastating: Experts estimate it will plunge up to 10 million kids back into poverty, or even deeper into it.
It will strain millions of middle-class families as well — altogether, 65 million children and their families will lose benefits.

Should one multimillionaire senator really get to send millions of children back into poverty?

Manchin's own state would be hard-hit if he does. West Virginia ranks 46th out 50 states with regard to the economic well-being of its children. The enhanced child tax credit has reached 93% of West Virginia's children, nearly half of whom previously were too poor to receive the full tax credit.

"The tax relief, predictable every month, means that my child has food, a roof, electricity, and heat," West Virginia mother Kristen Olsen told me.
"It means I have less stress and can be a better mother. It means I can stay at my job as an educator because I can afford the child care now."

But the child tax credit is just the tip of the iceberg. The Democrats' American Rescue Plan also expanded the earned income tax credit, which helps another 100,000 low-income workers in West Virginia who aren't raising kids. It too will expire without Manchin's vote for the Build Back Better Act.

Paid family and sick leaves is another highly popular provision that Manchin's threatened "no" vote will kill.
This provision would provide millions of workers four weeks of paid leave to take care of themselves or a family member if they fall ill.
Currently, less than 10-percent of low-income workers receive any kind of paid leave.
And despite all Manchin's whining about inflation is just that, a whine to cover reality.
People like the BBB.
Oddly, too, coal miners are for the BBB, which includes benefits for miners suffering from black lung disease, asked Manchin to reconsider his cold-ass decision (The Hill): 'The United Mine Workers of America (UMWA), which represents West Virginia coal miners, urged Sen. Joe Manchin (D-W.Va.) on Monday to revisit his opposition to President Biden's Build Back Better plan.'
And it's not just one asshole causing pain to a shitload of people, it's an entire political party — a minority has equal measure with the majority.
Ian Millhiser at Vox, also this afternoon, did the math — the US Senate is a legal sweet swindle for Republicans:
Regardless of how Manchin's comments about Build Back Better should be read (he told Fox News that "this is a no — on this legislation"), the only reason why Manchin's opinion of the legislation matters at all is that the United States Senate is a malapportioned trainwreck that gives each resident of Wyoming more than 68 times as much representation as each resident of California.

Because smaller states tend to be whiter and more conservative than larger states, the constitutional design of the Senate, which gives each state two senators regardless of its population, offers Republicans an enormous advantage in the fight for control of the Senate.
Indeed, if the Senate were anything that could fairly be described as a democratic institution, Democrats would control closer to 56 or 57 seats, rather than only holding 50 seats in the Senate.

The Democratic "half" of the Senate represents 186,902,361 individuals.
Meanwhile, the Republican "half" represents only 143,857,375 people — a gap of 43,044,986. That means that Democrats represent nearly 57-percent of the population, but only control half of the Senate's seats.
…
It's worth highlighting just how much of an advantage Republicans derive from Senate malapportionment.
In the 25 most populous states, Democratic senators hold a 29-21 seat majority. Republicans, meanwhile, have an identical 29-21 majority in the 25 least populous states.

The 25 most populous states contain nearly 84-percent of the 50 states' total population. So 16-percent of the country controls half of the seats in the United States Senate (and that's not accounting for the fact that Washington, DC, Puerto Rico, and several other US territories have no real representation in Congress).
…
The American people elected Biden by a comfortable margin in 2020, and they also voted to give him a Senate majority that is large enough to enact his agenda.
That agenda is now on the ropes, not because the American people voted against it, but because the results in Senate elections bear little resemblance to the will of the people.
Oh, the will of the people? Where did that come from?
Here we are, once again…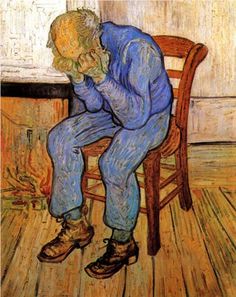 (Illustration out front: Vincent van Gogh's 'Old Man in Sorrow (On the Threshold of Eternity)' found here)