Monday morning and Omicron time:
US Surgeon General Dr. Vivek Murthy this morning (CNN): '"In the coming weeks, Tony, we are going to see a spike in cases. And that's because Omicron is incredibly transmissible, and you know, we have to be prepared for that," Murthy said. "But there will be a stark difference between the experience of those who are vaccinated and boosted versus those who are unvaccinated."'
On that regard, Philip Bump at The Washington Post, also this morning, those unvaccinated are Joe Biden critics, and T-Rump supporters:
The play here is obvious. For many on the political right — particularly on the loudest part of the right-wing fringe — the vaccine is viewed through a largely partisan lens, an effort by the government to force compliance.
That's one of the more charitable assessments, with others wandering further into the shadowy realm of conspiracy theory.
So Palin (looking for applause) and DeSantis (looking for votes) play to that group, one that has outsize influence in Republican politics and conservative media.
Most Republicans have been vaccinated by now, but most of the unvaccinated are Republicans.

For months, the course of the pandemic has been steered by the unvaccinated. Tens of thousands of people have died preventable deaths after rejecting the vaccines; some multiple more has wound up seriously ill after declining to get a vaccine dose.
For President Biden, this is a multilayered problem. Eager to contain the worst effects of the virus, he is left trying to change the behavior of those least likely to listen to him.
Too late even the orange-coated shitheel
This snippet of tape could save many lives

— Molly Jong-Fast (@MollyJongFast) December 20, 2021
Already might be too late, and It won't help, though. The T-Rump has already done his business — story via The Daily Beast this morning:
Trump's booster announcement came during Sunday's final stop on the "History Tour" he co-headlined with disgraced former Fox News star Bill O'Reilly.
The tour, which Trump had promised would bring "big crowds," has so far been beset by middling attendance and empty seats.
…
While boasting about his administration's role in vaccine development, Trump simultaneously expressed his opposition to vaccine mandates, drawing cheers from the MAGA attendees.
"If you don't want to take it, you shouldn't be forced to take it, no mandates," he declared.

The cheers, however, suddenly turned to boos and jeers when both he and O'Reilly confirmed they were fully vaccinated and boosted.
"Don't, don't, don't," Trump immediately reacted, pointing to one side of the arena where the groans apparently emanated.
"That's alright, it's a very tiny group up there," the twice-impeached former president then insisted.

Trump's affirmation that he has received a booster shot comes just a few months after he bashed the need to get an additional vaccination jab.
During an August interview with pro-Trump Fox host Maria Bartiromo, Trump — who has constantly peddled mixed messages to Republicans on vaccines — was goaded into dismissing the booster campaign.

"That sounds to me like the moneymaking operation for Pfizer, okay?!" Trump bellowed.
"Think of the money involved… the whole thing is just crazy. It doesn't—you wouldn't think you would need a booster. You know, when these first came out, they were good for life."

And in a September interview with The Wall Street Journal, the 75-year-old ex-president suggested that he would not get a booster shot, saying "it's probably not for me" and that he was "in good shape from that standpoint."
Remember, too, just a couple of days ago — on Friday, in fact — the House Select Subcommittee on COVID-19 released a shit-kicking report on just how bad T-Rump made the pandemic: '"The Trump Administration's apparent disregard of clear, urgent warnings about the looming coronavirus crisis significantly impaired the country's ability to procure needed resources, equipment, and supplies and contributed to the countless American lives lost." the report said.'
Ho-hum went the media. And keep in mind, as of this morning, 827,412 Americans have died from COVID-19, and most-likely a number much, much higher.
And in a new week, once again, here we are…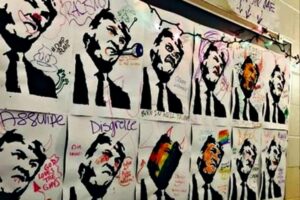 (Illustration out front is of a New York state high-school student exhibit: 'The piece was displayed during student-driven art show at Shenendehowa High School. It consisted of at least 12 identical black-and-white pictures of Donald Trump. There was also a sign above the pictures that read, "Draw on Me." Using markers from the art classroom, some students opted to scribble critical messages and profanities on the pictures' — and found here).