Early-evening Wednesday here in California's Central Valley, an easy end to another great-looking day with plenty of sunshine and warmish temperatures — probably the best it ever gets around here.
And good news, too, and a possible side companion to my post this morning on T-Rump's first possible steps to a jail cell (we can have aspirations) with a ruling from SCOTUS on the ex-POTUS:
Trump can't stop losing even with a group that he installed a third of. https://t.co/4zDK523efI

— Molly Jong-Fast (@MollyJongFast) January 19, 2022
In some fashion, the Supremes are there — via The Washington Post late this afternoon:
The order turned aside Trump's request to block the records release while the case continues through the courts regarding his assertion of executive privilege.
It means there is no legal obstacle to release of the materials from the National Archives, and Trump's lawyers have argued that would make the case moot.

The House select committee is making an expansive effort to subpoena Trump's allies, focusing on the president's actions during the insurrection at the Capitol.

"This is a very good ruling for the Jan. 6 committee and our pursuit of the truth," said Rep. Pete Aguilar (D-Calif.)
He added: "We anticipate this to be incredibly helpful in our efforts to understand what Trump was doing during those 187 minutes that he refused to ask his supporters to leave the Capitol."

The Supreme Court's order, with only Justice Clarence Thomas noting his dissent, did not provide detailed reasoning for rejecting the former president's application.
Nor did Thomas explain why he would have granted the request. Neither is uncommon when the court is addressing an emergency request.
Snatch that curtain:
Anyway, once again here we are…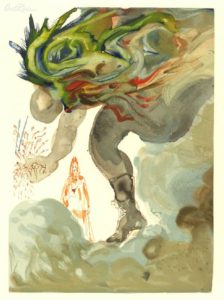 (Illustration out front: Salvador Dali's 'Hell Canto 2: Giants,' found here)