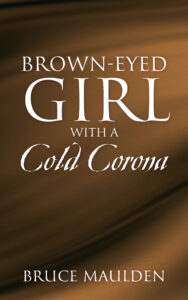 Here we are, shamelessly and audaciously without an ounce of any marketing savvy, crying for you as readers of this blog — that handful of sad intellectuals off the vast InterWebs — to buy my novel, "Brown-Eyed Girl With A Cold Corona," self-published last March by Outskirts Press.
Although set in the genre FICTION/Romance/Fantasy, "Corona" can also be labeled as 'Horror' — this guy falls in love with a ghost, and we all know when a 'ghost' is involved, it's 'horror.' In this case, though, the ambiance is not the slasher/gore variety, but more of a delusional, near-erotic dream than anything else. He falls in love with a murder victim after the murder.
The book's Amazon/Kindle page is here,
My author's page at Outskirts Press is here.
I know nothing about marketing, and have always been shy about blowing my own horn, but "Corona" is a good read (if I should say so myself). Original post last March here.
A literary prize now nearly 30 years old.
Retired on Social Security, I live with a daughter and hope sales of the book will allow me my own place. I've never been good at planning, especially something like old-age retirement, and the hope that the book sales will eventually take off — as I said, it's a good read, and quick, too.
I wrote the first draft of "Corona" in the summer of 1994. After several drafts and edits, the manuscript languished in a cardboard box for more than 20 years — until I hired Outskirts Press last fall, and went the self-publishing route.
Although "Corona" is fiction, it's structure is based upon my own life during that summer. Maybe a fable, but dipped in personal life-story fact.
Summary at the Amazon/Kindle page:
Spring break mid-1990s in a small California beach town. A middle-aged man suffering a 'mid-life crisis' meets a young woman while out barhopping with a friend, and in less time than it takes for a few strokes of a Corona bottle, she creates an emotional whirlpool that will threaten his sanity. Yet will eventually lead to uncovering a murder.

Narrated in nearly-stream-of-consciousness by the man as he spends the next couple of days floating through a movable bubble of strange, but wondrous daydreams beyond his imagination, spiced by illusions of the young woman. Engulfed within those hallucinatory outings still churns the 'crisis' he is experiencing — divorce after a longtime marriage collapsed, then financial ruin, followed by guilt over not being there for his children, chaos made the worse by booze.

A mental state also intensified by his desire to creatively write again, dabbling even in poetry, a literary form he hadn't messed with for near two decades. And also discovering he can cry too easily.
Instead of employment at a level with his age, his life's work, and education, he's chief night cook at a popular Italian pizzeria in Pismo Beach, an old, old guy compared to his way-youthful co-workers. However, he develops a knack for the phrase, 'Yeah right,' and the music of 4 Non Blondes.

Spring break at a pizza joint is beyond the concept of pandemonium, yet he handles the pressure, though, in a whining-like poise. Despite the restaurant getting slammed, and all the rush, disorder, and craziness that comes from it, the young woman makes two visionary visits, once playing out the scene at the bar — near-insane situations he conceals by playing dumb, which as it turns out, is quite easy.

Along with the cook's job, he also occasionally prepares legal documents for his friend from the bar, a lawyer who's reeling through a similar 'crisis' of divorce, and child guilt, who can't seem to stay sober. In a short time, the two had developed an intense camaraderie of oddball misery — listening to their conversations one would think they were illiterate rednecks, cussing everything, and using the most-horrible grammar. Nonetheless, they're 'best buds,' so in the words of the cook/writer's 15-year-old daughter, with whom from time to time also shares a toke or two off a joint.

Two days following the meeting in the bar, and after a county courthouse visit to file a motion in a nasty divorce case, he encounters the young woman on the sidewalk, finds her to be much older in age, and too, carried a long-forgotten footnote tied to his distant past. A sensual trek through a seemingly hallucinogenic-like wormhole into a nostalgic neighborhood fabricated from a youthful, maybe more-secure time, generates an unraveling criminal scenario.
In like manner, he faces an abhorrent sacrifice in obtaining justice for that story.

A mystery is a mystery until it's not. Visually written, "Brown-Eyed Girl With A Cold Corona" is a quick-paced exploration of life and love through the years, even beyond murder, with knowledge of the crime elucidated by the murder victim.
And as I've said, it's a quick, satisfying read, told in first person so you get the view of a guy losing his marbles via the old-fashioned way — screwing his mental health with a beautiful woman (even if she's dead).
Did I mention the Amazon/Kindle page is here?
Thanks…and it's shameful crying-pleading time as here we are once again…